Rail travel in the United States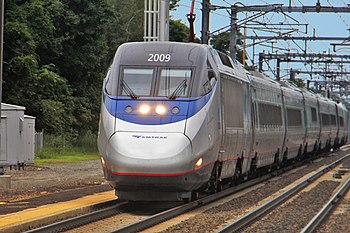 The
United States
may be the land of the car, but it is also one of the greatest countries in the world to be explored by passenger train. There are a number of private operators who offer exclusive and luxurious packages on private passenger trains, but it is on board the trains of the state-owned and subsidized Amtrak that most tourists and travelers experience America by rail. The coast-to-coast journey from
San Francisco
to
New York City
by train is one of the world's classic rail journeys, and is known for both its breathtaking scenery and historical significance.
Understand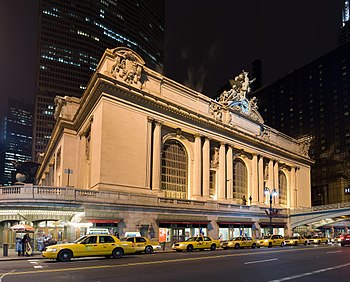 The United States was one of the pioneers of rail travel. In the days before flying, rail transport was the main way to travel long distance, and played an instrumental role in the colonization of the
Wild West
in the late 19th century. Perhaps the most significant event in the history of American railroads was the driving of the final spike at
Promontory
,
Utah
in 1869, which marked the completion of the First Transcontinental Railroad between New York City and San Francisco. The advent of rail transport also played a key role in the
industrialization of the United States
, as it allowed raw materials and goods to be transported rapidly across the country, and allowed people to travel relatively quickly from their homes in rural areas to the large, industrial cities to work in the factories. Surviving examples of railroad stations from the pre-war era, such as Grand Central Terminal in New York City and Union Station in
Washington, D.C.
, serve as reminders of the glamour of rail travel in days gone by.
Prior to the 1960s, many of the large private rail companies provided passenger service between America's major cities, competing on price, luxury and speed. However, after the advent of the automobile, commercial air travel, and later the interstate highway system, people traveled by train much less and less, leading to the rail companies being on the brink of financial ruin and electing to severely curtail passenger service. This led to the formation of Amtrak in 1971 to run passenger service in the United States. While the United States still has the longest rail network in the world, it is primarily used for freight transport, with many former passenger lines now solely used for freight.
Before setting out on a railroad adventure around America, it is worth understanding the precarious situation in which Amtrak exists today. Somewhere between being a private and a public company (all of Amtrak's preferential shares are owned by the U.S. government), Amtrak has to provide a public service and concurrently seek to be profitable as a competitive mode of transport. At present, Amtrak is the only operator of regularly scheduled intercity trains in the United States. Despite increasing ridership (driven by rising gasoline prices and the increasing inconvenience of airline security measures), Amtrak is dependent on more than a billion dollars per year in hard-won government funding and often subject to contradictory and bizarre political mandates from Congress.
Amtrak's financial situation is not its only problem. Most of the rail lines that Amtrak uses are owned and maintained by private freight companies. While Amtrak has a legal right to be given priority over freight trains, in many instances Amtrak services are disrupted due to freight traffic. Many rail lines are not double-tracked, and passing places are often few and far between. And in stark contrast to many countries in Europe or East Asia, electrified lines outside the northeast corridor are the exception rather than the norm and while modern diesel trains are a lot better than their predecessors, they are still limited in acceleration and top speed compared to similar electric train sets.
Amtrak's situation has been slowly but surely improving since the turn of the millennium and its passenger numbers have risen either caused by or leading to local statewide and federal investment in rail travel. Since 2000, passenger numbers per year have grown by over 50%. Rising passenger numbers encouraged Amtrak to extend its services by introducing some additional railroad lines (for example from Lynchburg, Virginia to Roanoke). While the big high speed rail programs either failed or are a decade or more from completion, many marginal improvements (sometimes combined with Amtrak or local entities buying track from freight railroads) have helped in improving on time performance and overall travel times. A growing consciousness about the ecologic disadvantages of airplanes and cars contributed to the efforts of some, even smaller cities, to introduce small commuter rail systems. Positive examples of this are
Nashville
or
Albuquerque
who introduced some commuter railroad lines just in the mid-2000s. Additionally states have sometimes stepped in when the federal government wanted to cut funding for routes through their state so some states now see more service and less risk of service cancellation than ever before during the Amtrak era.
The largest cities of the United States with no single railroad station (either Amtrak, a commuter railroad or a heritage railroad) in service are
Phoenix
(light rail present),
Columbus
and
Las Vegas
(a short monorail line exists).
The closest thing the U.S. has to a
high-speed rail
line is Amtrak's Acela Express, running between
Boston
and
Washington, D.C.
via
New York City
. While the trains themselves are capable of attaining very high speeds, unlike high-speed lines in Europe or East Asia, they do not run on dedicated high-speed tracks and are thus limited to rather low speeds for most of the route. As such, expect journey times to be only marginally faster than taking the regular trains that stop more often and have a lower top speed but cost significantly less. While plans have been mooted to build dedicated high-speed rail lines, successful lobbying by airlines and car manufacturers against government funding for such projects have repeatedly scuttled these attempts
With the exception of the Amtrak-owned-and-maintained Northeast Corridor (between
Boston
, New York City,
Philadelphia
,
Baltimore
, and Washington, D.C.), and some services in
Pennsylvania
,
California
, and around
Chicago
, Amtrak services are substantially slower, less reliable, and less frequent than those of virtually every other developed nation in the world. And yet they remain popular with many travelers because of the social atmosphere on board, the lighter environmental impact compared to planes, the spacious design of the cars, the scenic routes, and the overall comfort of the train ride. With no high-speed lines (and a general speed limit of ), trains in the U.S. often take longer than cars or planes, and are often not cheaper than flying (though minor towns can be vastly cheaper to reach on Amtrak than a plane), but the unique experience can trump the high cost and long ride.
A trip from one coast of the U.S. to the other is surely one of the greatest railway journeys that you can make anywhere in the world, and with the different classes of on-board accommodation and a variety of tickets and passes available, it can also be remarkably affordable.
Stations

Just like in Europe, the rail companies of the 19th century built grandiose "bourgeois cathedrals" as a testament to their wealth and the status of rail travel. Later, many cities built "Union Stations" often in even more grandiose fashion to serve as transfer points between trains run by different companies. Perhaps the newest of the grand old stations is
Los Angeles
Union Station, built in the 1930s in California's Mission Revival style, though other notable old stations still operate in
Boston
,
Chicago
,
New York City
,
Philadelphia
,
San Diego
, and
Washington, D.C.
.
With the decline of rail travel, many stations were abandoned or put to other uses, with some even torn down, the most notable casualty being New York City's original Pennsylvania Station. The grand, ornate railroad stations of old were often replaced by relatively plain, uninspiring buildings that only served the bare minimum of functions, which were derisively referred to as "Am-shacks". However, the worst years seem to be over and many a grand old station has been painstakingly restored and regained train service, with some notable examples of recently restored stations being those of
Cincinnati
,
Denver
,
Kansas City
, St. Paul, and
Seattle
. There has even been some construction of spectacular new stations, such as the replacement for the Transbay Terminal in
San Francisco
. Many cities are also planning on bringing Amtrak back to their historic train stations, but costs are often a concern.
In many cities, many of the train stations also serve as bus stations for various
intercity bus lines
as well as a hub for the local city buses operated by city or county government. The "bus station" can be a series of bus stops lined up on a street or streets by the train station or in a lot or another building next to the train station with the ticket counters for the bus companies inside the train station or the bus station building next door. A few train stations are also connected to local
urban rail
but many systems weren't developed with the train station as the central hub and thus access can sometimes be awkward. Notable examples of train stations serving as local urban rail hubs are Denver and Los Angeles Union Station.
Passenger rail companies
This article talks primarily about travel using Amtrak, the United States' primary national passenger railroad company. For more information on traveling on regional (commuter) railroad services, see the "Get around" section of the city or region you wish to visit.
Amtrak
, . Amtrak is the quasi-state-owned passenger railroad company of the United States, operating services over some 35,000 km (22,000 miles) of track, serving more than 500 communities in 46 American states and the three largest
Canadian
cities. Trains carry one or more classes of accommodation: coach, business, and sleeper. A seat in coach class is generally competitive with the price of a Greyhound bus ticket, while sleeper accommodation may be competitive with the price of an airline ticket; however, this depends on the route, and in some cases, a coach ticket is more comparable to a plane ticket, while a sleeper costs even more. Most of the information in this article relates to Amtrak.
The
Alaska Railroad
, , is a long-distance railroad owned and operated by the state of
Alaska
for carrying both passengers and cargo entirely within Alaska. The railroad is famous for its summertime passenger services but also plays a vital part in moving Alaska's natural resources to ports in Anchorage, Whittier and Seward as well as fuel and gravel for use in Anchorage. Some of their cargo trains are also connected to the lower 48 states via rail barges between Whittier and Seattle. Passenger trains run from
Seward
through
Anchorage
,
Talkeetna
, and
Denali
to
Fairbanks
, with a spur to Whittier. The
Hurricane Turn
route between Talkeetna and Denali features North America's last remaining "flag stop" train service: a stretch of track along an area inaccessible by road where residents wait by the side of the tracks and "flag" the train to stop, giving it its name. These trains sometimes are moving fairly quickly and there's a procedure to flag it a significant distance before you actually want it to stop. See the web site for more details.
Throughout the US, many
heritage lines
have been maintained or rebuilt as privately owned,
tourist lines
, which occasionally connect to Amtrak or regional systems. Most of these lines use old railroad equipment (such as steam locomotives) which have been refurbished. There are many such lines, but some of the most notably scenic are the
Durango & Silver Narrow-Gauge Railroad
in
Colorado
, the
Grand Canyon Railway
in
Arizona
, the
Cumbres & Toltec Scenic Railroad
in
Chama
,
New Mexico
;
Sierra Railroads
in Northern California and the
Cass Scenic Railroad
near
Marlinton
,
West Virginia
.
Many large American cities have short- to medium-distance
commuter rail
systems that connect the city centre to nearby suburbs or smaller cities. Per their name, commuter lines generally focus on serving commuters during weekday rush hours, and thus offer their most frequent service during these times. But some also offer evening or weekend service, which can make them a great way to get out of the big city for a day or weekend trip. In the American Northeast, several commuter rail systems converge and are inter-connected; it is possible, for example, to go from Connecticut to Delaware using only commuter lines, although this would take much longer than on Amtrak and involve numerous transfers. See the individual state's or city's
Get around
section for more information on traveling by commuter rail.
In particular,
Boston
,
Los Angeles
,
New York City
,
New Jersey
,
Philadelphia
,
Washington
,
Chicago
and
San Francisco
/
San Jose
have well-established commuter rail systems that are expansive, run very frequently, have high ridership and are well-connected to local transit systems and Amtrak. Outside of these areas, commuter rail systems tend to be more limited in scope and service, with cities such as
Dallas
,
Fort Lauderdale
/
West Palm Beach
,
Miami
,
Minneapolis
,
Orlando
,
San Diego
,
Seattle
, and
Salt Lake City
having constructed new systems only within the last decade or so; many of these newer systems operate on only a single route with very limited service outside the weekday rush hours.
California
has a set of prominent commuter rail systems that serve the state's largest cities; of particular note there is the
Amtrak California
system, a set of three Amtrak routes (the Capitol Corridor, the Pacific Surfliner, and the San Joaquin; all described in more detail below) and connecting Amtrak Thruway bus service that is subsidized by the state of California and which run more frequently than typical long-distance Amtrak routes.
Planning your trip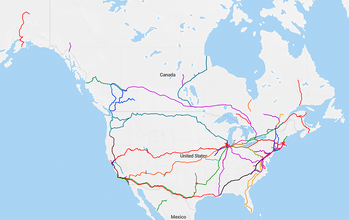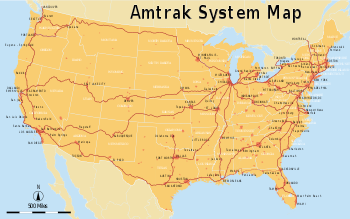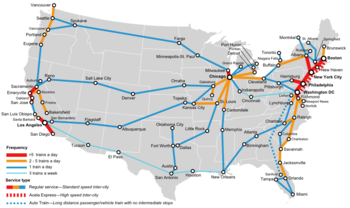 Chicago is Amtrak's main hub for long distance trains, so those who wish to cross the country from the east coast to the west coast by train will most likely have to change trains in Chicago. For instance, someone who wishes to retrace the classic transcontinental railroad journey from San Francisco to New York will need to take the
California Zephyr
from San Francisco to Chicago, then transfer to the
Lake Shore Limited
from Chicago to New York.
When to travel
The peak period for most rail companies in North America is somewhere between April to September, and the cost of rail passes and tickets will rise during these periods to reflect this. If you're planning a visit to the U.S. and travel a lot by train, the spring and fall (autumn) periods are likely to give you the best combination of lower ticket prices and hours of daylight for viewing the scenery from the train. Trains fill up much quicker in the summer and around national holidays (especially Thanksgiving weekend), and coach class passengers in particular will have less room to stretch out.
Timetables and brochures
All the major rail operators in the U.S. have websites with information about timetables, routes and on-board facilities. However many passengers still prefer to plan their trips using printed timetables. Amtrak, for instance, publishes a number of brochures, including the
Amtrak America
travel brochure, but the
Amtrak System Timetable
(with timetables for every Amtrak train and Thruway bus) can only be found
online
. However, Amtrak does publish individual timetables for each route.
Further reading
On-Track-On-Line.com
has a number of travel tips for the first-time Amtrak user, as well as an online forum. Seasoned rail travelers can be found online in a number of dedicated rail forums, and are usually more than happy to answer your questions about which route to take. Some other forums worth searching and joining are:
Amtrak has also gotten into the act by publishing user-submitted stories at their
"Whistle Stop" webpage
.
Additionally, the following book goes into much greater detail about the major rail routes of North America:
USA By Rail by John Pitt, 8th edition, February 2012, Bradt Travel Guides ()
Rail passes
If you are planning more than one journey on an Amtrak train, you may be better off investing in a rail pass, which allows unlimited rail travel within a certain period and area. You should, however, compare the cost of individual tickets when pricing and planning your trip.
The USA Rail Pass. The amount of travel you can do with this pass is calculated in "segments"- roughly speaking one segment starts when you board a train and ends when you leave it, no matter the distance. If your planned itinerary involves many stops or changes of trains, regular tickets can be better value. There are 15-day (8 segments), 30 -day (12 segments), and 45-day (18 segments) passes ; however, all travel must be completed within one year of purchasing the pass. Restrictions apply.
The California Rail Pass. This pass offers seven days of travel within any 21-day period on most California trains.
Rail passes are not tickets and you should reserve your ticket (and your seat) as soon as you know which train you will be taking, as the number of seats reserved for rail pass holders is limited.
Tickets
Amtrak tickets can be purchased in person from any staffed Amtrak station, over the phone in the U.S. and Canada) or on the
internet
. Tickets can be printed at home, downloaded on to a smart phone, or provided at the desk/kiosk. Passengers who purchase tickets at staffed ticket desks should have a government-issued ID with them on hand but can also request that the tickets be sent to their email address instead. A number of travel agencies that sell Amtrak tickets in other countries are listed on the Amtrak website but these may come at a surcharge.
Tickets for most routes are priced in incremental 'buckets': in other words, as seats on a train sell out, the remaining tickets become more expensive. When buying point-to-point tickets, especially during busy holiday periods, it is important to book in advance. Round-trip (return) tickets are priced by simply adding together the two cheapest available one-way fares.
Discounts
Many passengers are able to receive a discount on the cost of the ticket. Discounts are available on tickets (but not accommodation upgrades) to members of the following organizations:
Discounts are also offered to active members of the military, war veterans, senior citizens, passengers with disabilities and their companions, and students. Students now save 15%, no membership necessary; the former 10%
Student Advantage
card discount is thus terminated. Students of foreign institutions who do not have a student ID in English (required for the 15% discount) may benefit from an
International Student Identity Card
(ISIC), which provides for a 10% discount. In all cases, you should provide your membership number, if any, when booking your ticket, and show your membership card or other applicable ID on request on board. To obtain a discount on Amtrak trains, passengers must reserve three days in advance on all trains.
Hot Deals
Amtrak offers heavily discounted coach fares on certain trains on the 'Hot Deals' section of their
website
. These non-refundable and non-changeable fares are generally available for travel in the next thirty to sixty days on routes that have spare capacity. The page is updated every Friday, and you should check back regularly if you want to snap up a bargain. Long distance coach fares of $70 from
Chicago
to
Seattle
(for example) are not uncommon, although they become much less common during the more popular summer months. These fares cannot be upgraded to sleeper accommodation at the time of booking, although you may be able to upgrade to a sleeper if one is available after you board the train.
Since 2005, Amtrak's offering of many of these heavily discounted coach fares has been limited by language in the legislation which grants Amtrak a yearly subsidy. However, this legislative language does not affect routes that receive a subsidy from individual states. Accordingly, those train routes tend to appear frequently on the 'Hot Deals' page of the website.
Boarding the train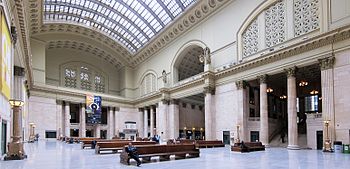 Amtrak tickets generally do not indicate a coach or seat number, merely that you have a place in a reserved coach. Pay close attention to announcements and station staff, who will tell you where to wait and board the train. Attendants will need to see your ticket, ID, and/or pass as you board the train, and they will direct you towards the carriage you should sit in. In some cases, your ticket may show a seat reservation number and a carriage number. If this is the case, the numbers of the carriage are displayed on the doors; pay attention to these as the trains rolls in, so you can be at the right spot on the platform in time to get into your carriage. Some stations have indicators on the platform to show where each carriage will stop.
If you have a specific seat number on your reservation, you are advised to occupy it. Otherwise, follow the directions of the conductor who checks your ticket, and once on board your coach, you may select your own seat. Once you find your seat, you will want to stay there until the conductor comes by to check your ticket after departure. Upon doing so, the conductor will place a seat check (a small piece of paper) above your seat, to indicate that the seat is occupied. Take this with you if you decide to change seats, especially if you are leaving the train en route, because this piece of paper carries a station code to help the conductor let you know when your stop is imminent and shows you have given a ticket to him/her already.
Baggage
Baggage services on long-distance Amtrak trains are comparable to that of air travel, though with far fewer restrictions and little in the way of security checkpoints. Long-distance Amtrak trains will have a dedicated baggage car for checked baggage that you check-in at the station and retrieve at your destination; you are allowed up to four checked bags – the first two free of charge and two more for $20 per bag, each not to exceed 50 lbs. Special items such as bicycles are subject to different restrictions. Passengers are allowed up to two carry-on bags, excepting small items needed for the trip. Passenger cars will have overhead racks or special compartments near the entrance. Detailed baggage policy info can be found
here
.
Unfortunately, some Amtrak stations do not offer checked baggage as a service, and it would be advisable to check with Amtrak before boarding. A good indicator of whether your stop offers checked bags is to look at the arrival/departure time of your stop. Many stations, such as all of the stations serviced by Amtrak's Capitol Limited and Lake Shore Limited inside the state of Ohio are only accessed by those trains, which arrive in the predawn hours of the morning; as such they are unstaffed, and do not offer checked bags.
On board
The information here relates specifically to services operated by Amtrak. Private train companies and commuter rail services will offer differing standards of on-board facilities. Generally, commuter trains will have unreserved seats and little in the way of amenities aside from restrooms, although some systems might offer services like room for bicycles or quiet cars. Commuter train networks are described under the appropriate regional or city articles.
Coach class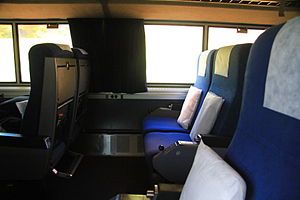 Coach (economy) is Amtrak's most affordable class of travel and is offered on all trains except the high speed Acela Express trains of the northeast corridor (between Boston, New York City, and Washington, D.C.). A ticket in coach guarantees you a seat in a carriage with 40 to 60 other seats, arranged in pairs either side of the aisle. Seats can be arranged in facing sets of four, but in almost all cases you will find that seats will all face the direction of travel. Luggage racks and spaces for larger items are provided, along with toilets either at the end of the coach or in the lower level of two-level trains.
Unlike typical intercity trains in, say, Europe, Amtrak trains don't allow you to reserve a specific seat - a "reserved" seat merely guarantees that a seat will be available somewhere on the train. Groups of 4 facing seats are theoretically reserved for families and groups of three or more. How strictly this is enforced depends on the route and how busy the train is. Staff will normally ensure that children are able to sit next to at least one of their parents or guardians, even if it involves shuffling other passengers around.
An Amtrak coach class seat is roughly comparable with a business class airline seat: there is ample leg room, a reclining seat back and fixed armrests on the outside of each pair of seats. If there is a seat in front of you, a fold-down table will be available. On longer distance routes, there is more legroom as well as a deeper recline and a padded rest that folds up to support your legs when you recline.
Business class
Business class is offered on most trains where there is no first (sleeper) accommodation. There is more room than coach class, as well as an at-seat attendant service with complimentary refreshments and a newspaper. On some trains, seats are arranged "2+1" style, in pairs to one side of the aisle, and singly on the other side of the aisle. In other cases seating is similar to coach class, just with a bit more legroom and probably easier access to power sockets. Long-distance trains that travel overnight generally do not offer business class; sleeper class is available instead.
Regular first class
The only first class service offered by Amtrak that does not include a sleeper is found on the Acela Express trains along the Northeast Corridor. These trains offer only first and business class service. Acela Business Class has 2+2 seating, First Class includes wider, 2+1 seating and complimentary at-seat meals.
First (sleeper) class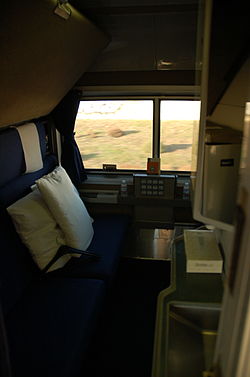 Amtrak markets and prices sleeper accommodation as 'first class', with a level of service that aims to be equal to that of a hotel. In addition to a private room on board the train, first class passengers can take advantage of a number of other amenities, including:
Pre-departure access to Club Acela and Metropolitan Lounges in Boston South Station, Chicago Union Station, New Orleans, Miami, New York Penn Station, Philadelphia 30th Street Station, Portland, Raleigh, Saint Paul-Minneapolis, and Washington, D.C. Union Station
All on-board meals included in the cost of your ticket
An on-board attendant service
Fresh linen and towel service
Complimentary bottled water
Complimentary daily newspapers
First class accommodations are priced in addition to the lowest available coach fare, and are priced in incrementally priced 'buckets' according to availability. As each 'bucket' of rooms sells out, the price goes up. It is worth noting, however, that after an Amtrak train departs its originating station, if there are any sleeper accommodations still available on the train, they revert in price to the cheapest originally available price. For example, if a train has one remaining room available prior to departure, it would be priced in the most expensive 'bucket'. Once the train leaves, however, a coach passenger on board the train can approach the conductor and upgrade to the sleeper for the price the room would have been when it first went on sale.
Amtrak operates two types of sleeper carriage; the precise standard of accommodation that you will have depends on the type of train you will be riding on. Check the timetable or Amtrak website to discover which sort of train you'll be riding on.
Superliner coaches
Superliner two-level coaches are used on all long distance trains west of Chicago, and certain other routes. They offer superior ride quality and better views than single level coaches. Most accommodations are located on the upper level, with toilets and other facilities located on the lower level. You can see the inside of Superliners
here
. Superliner sleeper cars offer the following sleeper accommodations:
Roomette (for two people, with no en-suite toilet or shower)
Bedroom (for two people, with an en-suite toilet and shower)
Bedroom Suite (two bedrooms connected by an opening door)
Family Bedroom (for two adults and two children, with no en-suite toilet or shower)
Accessible Bedroom (for two people with an en-suite toilet, but no shower)
While there are no actual limitations, accessible bedrooms should only be booked by those with reduced mobility or a physical disability, and family bedrooms should only be booked by families traveling together. Family Bedrooms and Accessible Bedrooms are located on the lower level of the Superliner carriage.
Viewliner coaches
Viewliner single-level coaches are generally used on all long distance trains that operate in and out of New York Penn Station (where Superliner trains are too tall to enter the tunnels that approach the station). They are distinctive because of the two rows of windows on the side of the train, allowing both upper and lower berth passengers a view from their beds. They offer the following sleeper accommodations:
Roomette (for two people, with an en-suite toilet, but no shower)
Bedroom (for two people, with an en-suite toilet and shower)
Bedroom Suite (two bedrooms connected by an opening door)
Accessible Bedroom (for two people with an en-suite toilet, but no shower)
Accessible Bedrooms should only be booked by those with reduced mobility or a physical disability.
Eating and drinking on board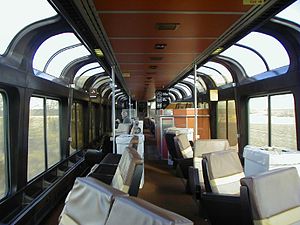 On the shortest of journeys, Amtrak offers an at-seat trolley service of drinks and light refreshments. On most journeys however, there will be a dedicated café or lounge car that offers a marginally broader selection of hot and cold drinks, beer, wine, and spirits, and refreshments, although all snacks will be pre-packed and all hot snacks will be microwaved. Expect to find a very basic selection of overpriced sandwiches and snack food items, although a few trains may surprise you with other options (for instance, the cafe cars on many trains sell local wines and craft beers). Café and lounge cars offer an open area of seating around tables that will be open for most of your journey, so even if you don't purchase something from the café you are welcome to sit in the car, enjoy the view and maybe meet some other passengers and on-board staff.
On almost all long distance trains, Amtrak offers a dedicated dining car that will be open for breakfast, lunch and dinner. Meals are generally prepared off the train before departure and then reheated and plated on board. During lunch and dinner service, for example, customers are presented a preprinted menu with a selection of a couple of appetizers, about six entrees, and a few dessert items.
The Amtrak Lead Service Attendant, or LSA in Amtrak-speak, who runs the dining car will seat travelers together to fill a table, instead of assigning individuals or couples to a table by themselves (however, the LSA will seat a family together). This practice tends to surprise those unfamiliar with it. In many cases, a traveler will find an interesting conversation happening that would never come about otherwise.
As mentioned above, all meals (but not alcoholic beverages) are included in sleeper tickets. Coach passengers can pay according to the menu except on the Auto Train which offers free meals to all passengers, including Coach passengers. Per meal, the breakfast menu is the cheapest and dinner is the most expensive. Reservations are required for lunch and dinner; after boarding the LSA will travel through the train taking reservations. Reservations are handled in time increments, so during meal time the LSA will periodically announce when each group of reservations will be served.
Given the high price of meals from the dining car, many seasoned travelers bring their own snacks with them on the train, and then supplement them with the odd item from the lounge or café car. However, you aren't allowed to consume any food you bring on board in the café car, and federal guidelines prohibit the dining staff from handling any food you bring on board (even if it's just to reheat something in the microwave).
Amtrak trains offer at seat meal and refreshment service for disabled passengers who are unable to access the dining car and the cafe.
With the exception of sleeper passengers who consume them in their own cabins, passengers are not allowed to bring their own alcohol on board any Amtrak train.
Other amenities
Many of Amtrak's short and mid-range trains as well as some of the busiest stations offer free
wi-fi
, though this service can be rather unreliable, and blocks some high-bandwidth uses such as video streaming sites.
Some short and mid-range lines, namely those in the Northeast Corridor, also offer a
Quiet Car
where cell phone conversations are specifically prohibited and any device that creates noise must be silenced (and you
will
get dirty looks and be asked to move if you break the rules). This is a relatively new service and is slowly being expanded to other short-distance routes.
Private rail cars
Particularly on Amtrak's long distance Western routes, you'll see
privately owned railcars
attached to the end of the train with some frequency. Prior to the advent of the private jet, these were the last word in luxury travel in America, and a number of wealthy individuals still own private cars, some of which can be rented through a number of different web sites.
This is still a very expensive way to travel, as you must pay not only to rent the car but also for Amtrak to haul it around, and for any switching moves. Think of it as the equivalent of luxury trains overseas, such as South Africa's Blue Train or the Orient Express in Europe. If you have a large enough group, the per-person cost can approach affordability, though it will still be a multiple of a sleeper berth on Amtrak. See the Amtrak web page linked above for information on how to arrange a trip via private car, and links to several brokers.
Delays

Unfortunately, delays are common on long-distance Amtrak routes. This is because private railroads own most of the tracks used by Amtrak, and they are more concerned about their own freight trains than about Amtrak's passenger trains. Average delays vary considerably among routes. In the last decade Amtrak has increased its effort to ensure trains are on time, and most trains arrive on time well over 50% of the time. Some states (most notably California, where three of the six most popular Amtrak routes run) have taken steps to ensure higher punctuality by giving Amtrak priority over freight or investing in infrastructure themselves.

Routes
Amtrak has over 30 different passenger train services. There is a high concentration of routes in the Northeast and Midwest, with a lot of interconnecting lines and routes are more likely to run multiple times a day. In the South or the West (save for a small concentration of lines in California), services dwindle dramatically with only a few lines and a small number of connecting points, however these lines are also among the most scenic in the country.
The Acela Express takes you from Boston, Massachusetts to Washington, D.C. via New York City, Philadelphia, Pennsylvania and Baltimore, Maryland. It also stops in Providence, Rhode Island and New Haven, Connecticut, providing easy access to Brown and Yale Universities. This is the only route in the country which resembles a high-speed rail line, with a top speed of 150 mph (241 km/h), though it can only go this fast on a few short segments. There are multiple daily departures and the length of the ride from Boston to D.C. is seven hours. The Acela is pitched mainly toward business travelers, and is fairly expensive by US, and indeed world, standards. The Northeast Regional (described below) serves every station (and more) that the Acela serves, often with little reduction in comfort or travel time, and is usually much cheaper. On Amtrak's website, entering a city pair and desired travel date will show all available trains between those destinations, so it is easy to compare them.
The Adirondack travels from New York City to Montreal via Albany and is one of Amtrak's most scenic routes, passing through the Hudson River Valley and the Adirondack Mountains. The autumn colors along this route are renowned and make it a spectacular trip in the fall. The route runs daily and takes 10 hours.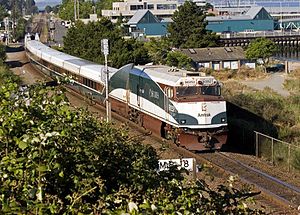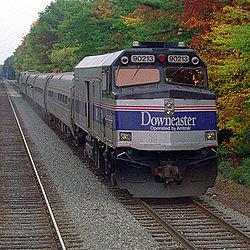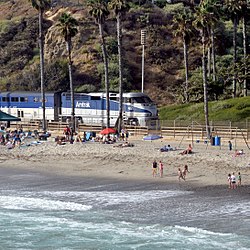 Thruway buses and other connections
Amtrak operates numerous "Thruway" bus services that connect with its trains, providing services to communities with no train service or in some cases filling in "gaps" in its network. These are typically fairly modern, comfortable motorcoaches. For the most part, these can be booked via Amtrak's website as if they were trains - the website makes it clear which part of the journey will be by bus. If a train is late, the bus will be held in order to meet it. As convenient as it might sometimes be, you can't in most cases book a journey that only includes a bus, though if you've not got checked baggage there's nothing stopping you from booking a bus-train journey for one stop down the line past your destination, and just not getting on the train.
Amtrak's
service map
also shows some ferry services and, in at least one case (the Grand Canyon Railroad), a private rail operator as thruway connections. These are generally not operated by Amtrak, cannot be booked through Amtrak, and will not necessarily wait for a late train.
See also