Rajahmundry
Rajahmundry
is a city in
Andhra Pradesh
,
Southern India
.
Understand

Rajahmundry was founded in the 11th century by Raja Raja Narendra. It is the cultural capital of Andhra Pradesh and the city is the birthplace of Nannayya, a Telugu poet.
Telugu, is the major language. Almost everyone can understand a few words in English and it should be sufficient for basic conversations and transactions. Local people under the age of 30 years may be able to converse in fluent English as that language has been taught in the schools for many years.

Climate

The climate is mostly hot and humid, with mostly a tropical climate and therefore no distinct seasons. The mean maximum temperature is 36 °C. The hottest season is from April to June, with temperatures ranging from 34 -48 °C with maximum of 51 °C recorded in May 2007. The coolest months are December and January, when it is pleasant at 27 –30 °C. There is a lot of rain due to the monsoon and cyclonic storms in the Bay of Bengal.

Get in
By plane
Prepaid cabs are available.
By train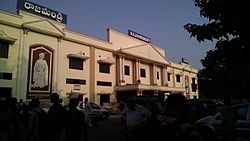 Rajahmundry Railway Station

phone: +91 883 242 3535 (Train timetables)

The city is on the Howrah-Chennai main line running across the eastern coast. It is 150 km (2½ hours) from Vijayawada and 220 km (3½ hours) from Visakhapatnam which has international flights. All the trains between Visakhapatnam and Vijayawada stop here.
The cheapest mode of transport are autos. Tourists should fix a rate beforehand and make sure the driver knows the destination. Taxis are available at the railway station.
By car
Located on NH5, the city is on the east portion of the Golden Quadrilateral connecting Kolkata and Chennai.
By bus
Bus stations:
The main APSRTC bus complex is located on the Morampudi High Road.
The Kotipalli bus stand is in Innispet.
Gokavaram bus stand is in Aryapuram.
The Kakinada bus stand is near Kambalcheruvu.
By boat
There only way to visit Rajahmundry by boat is from
Bhadrachalam
via the River Godavari.
See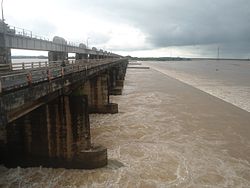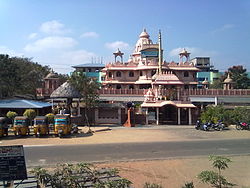 Cotton Museum

Damerla Ramarao International Art Gallery

address: Between Godavari Railway Station and Gokavaram Bus Stand

Art gallery of a famous artist Damerla Ramarao now managed by State Government of Andhra Pradesh.

Dowleswaram barrage

Goutami Ghat

ISKCON Temple

address: Tyagaraja Nagar

ONGC base complex

Rallabandi Subbarao Archaeological Museum

address: Gowthami Bund Road, Opposite Thyagaraya Kala Samithi

River Bay Water park

Sri Veerabhadra Swamy Temple

address: Pattiseema

On a hill known as Devakuta Parvatha in the middle of the Godavari river. Pattiseema is 120 km from Eluru and is picturesquely located on a hillock known as Devakuta Parvatha in the middle of the river Godavari. In mythology, Veerabhadra was born out of the lock of Shiva's hair during his tandava performance on sighting his wife getting burnt in the fire of the yagna being conducted by Daksha, his father-in-law. You have to cross the river on board a crude motorboat to reach the temple.
Do
There are many ritual places of visit including Draksharama, Kotipalli, Samalkot, Pattiseema the famous Siva temples. One temple at Ryali has both a god and a goddess in a single idol called
Jaganmohini Avataram
.
Other local destinations are; Maredumilli, Dowleswaram, Annavaram, Dvaraka Tirumala, Water Park, Gowthamighat, Iskon Temple, Pushkar Ghat, Everbusy RJY Main Market.
Godavari cruise.
Cruise Boat Service from Rajahmundry Papikondalu. Scenic views Godavari River Cruise. papikondalu trip up&down would cost from Rajahmundry at ₹600.
Bamboo Cottages Huts. Kolluru island. A/C cruise with vegetarian and non-vegetarian food available and an overnight stay at the huts on the island.
Movie theatres
Rajahmundry is one of the highest centres of box office revenues in South India. On an average day gross collections would be over ₹8 million.
Ashoka Mahal
Annapurna Theatre
Geetha Apsara Theatre
Jayaram Theatre
Kumari Picture Palace
Lakshmi Talkies
Menaka Theatre
Nagadevi Theatre
Nataraja Theatre
Raja Theatre
Rama Krishna Theatre
Sai Krishna Theatre
Ramba Theatre
Sree Sivajyothi Theatre
Surya Mini
Surya Palace
Swamy Talkies
Syamala Talkies
Urvasi Theatre
Lakshmi Theatre (Dowlaiswaram)
Durga Theatre (Dowlaiswaram)
Veerabhadra Picture Palace
VS Mahal
Buy
Rajahmundry is also called Southern Bombay. It is the commercial capital of the two Godavari Districts. The city is famous for textile business.
Mahatma Gandhi Wholesale Cloth Complex has around 500 wholesale cloth shops catering to the retailers in Godavari, Khammam and Visakha districts. A wide variety of clothes is available at lower prices.
Rajahmundry is also famous for variety of furniture manufacturers. Top quality furniture is bought by people from nearby districts. One of the most reputed furniture manufacturers is 'Madireddy Bangaram and Sons' who've been in this field since 1909.
Rajahmundry is home to many traditional pen-making shops (e.g., Ratnam Pens near Fort Gate) where people can place orders for a variety of vintage-style fountain pens in bulk.
Vijayas Designers

phone: +919290097840

address: 79-17-5/8, Raja Street, Near Tilak Road Sai Temple

Exclusive designerwear store for women. Prices vary. Mostly the collection is ethnic wear, hand crafted, bridal collection and party wear.
Eat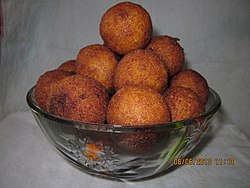 Budget
Mid-range
Green Park Family Restaurant

phone: +91 883 2467525

Danavaipet, Rajahmundry.

phone: +91 883 645 7222

address: A.V.A. Rd, Rajahmundryi

phone: +91 93979 18899

address: T.nagar Rajahmundry

milk kova and putharekulu

Rose milk center

phone: +91 94414 61477

address: Main road, Rajahmundry

Famous for its rose milk and kova.
Splurge
Drink
Laxman Rao Bajjila Bandi

phone: +91 98 66762880

address: Kanchumarti Vari St

Water luring bajjis of different varieties of vegetables like potato, chilli, brinjal, tomato, capsicum and also famous for paper, boondi, and pakodi.

Satish

phone: +91 98 49280601

address: Kanchumarthi Vari St

Bajjis, such as brinjal, mirchi, capsicum and some spicy stuff.
Sleep
There are a wide variety of options for travellers, from business travellers, to nature lovers.
Akshay Residency

phone: +91 90301 77385

address: Door No: 7-28-3, Kumari Talkies Road

phone: +91 883 246 1201

3-star hotel within the city. Vegetarian and multi-cuisine restaurants, a bar, WiFi and a gymnasium.

phone: +91 883 248 8888

address: Pushkarghat Road

phone: +91 883 249 9999

address: APSRTC Complex Rd

3-star hotel in the commercial district.

Hotel Jetty Grand

phone: +91 883 247 7815

address: Vygram Road

phone: +91 98665 52403

Resort on the banks of the Godavari River. Primarily for leisure travellers. Restaurants, boat rides on the river, swimming pool, gymnasium and a small water park.

Sangam Residency

phone: +91 883 246 1038

address: 36-26-5 Kotipalli Bus Stand
Cope
Hospitals
Government and major private hospitals
Abhaya Emergency Hospital, Syamala Nagar
Akira Eye Hospital, Papermill Rd, Aryapuram, Rajahmundry
Alert Emergency Hospital
Apex Hospitals
Bollineni Heart Care Centre
Chakradhar Hospitals
The District Hospital of the East Godavari district
ESI Hospital
Government Hospital, Rajahmundry
GSL Medical College and Hospital, Diwancheruvu
Haritha Hospital
Life Emergency Hospital
Prasad neuro hospitals
Raju Neuro and Multispeciality Hospitals
Raju Rehabilitation Centre, (Rehabilitation centre for paralysis)
Sai orthopedic
Sri ram nursing home (Dr Uttama Lakshmi hospital)
Suraksha Emergency Hospital
Swatantra Institute of Medical Sciences (SIMS), Kambala Tank
Vasan Eye Care Hospital
Yogananda Nethralaya, Vemagiri
Go next
Annavaram 70 km
Ryali, 40 km from Rajahmundry, 74 km from Kakinada and 34 km from Amalapuram and it is between the rivers Vashista and Gautami, and tributaries of Godavari River. This is the site of the Jagan Mohini Kesava Swamy temple. The exquisite idol, made of black stone depicting Maha Vishnu and Mohini on its front and rear sides, is a real marvel of sculptural dexterity.