Rajgir
Rajgir
(or
Rajagriha
) is a city in
Bihar
in
India
. It is 15 km from the ruins of Nalanda University, and 100 km from
Patna
, the capital of the state.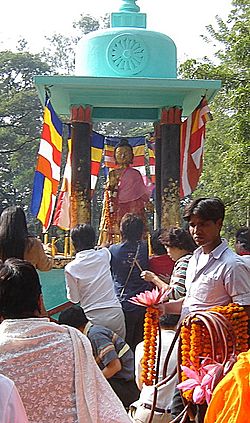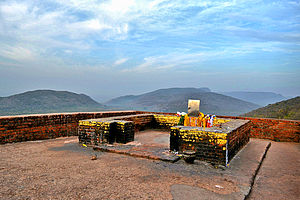 Understand
Rajgir, meaning the abode of Kings, has been mentioned fist in the ancient Hindu epic Mahabharata as the capital of Magadh, ruled by the mighty King Jarasandha. Although the exact time of the origin of this city has not been established, it is estimated by scholars that it must be around 3,000 years old.
Rajgir has been mentioned in ancient Buddhist and Jain scriptures and also in the travelogues of Buddhist travellers Huen Tsang and Fa Hian who visited India during the Mauryan and Gupta times. The city is divided in two parts, the old fortified city which lies in the valley surrounded by seven hills (Chhatha, Ratna, Saila, Sona, Udaya, Vaibhara and Vipula) and the new city established by Ajatshatru, the son of Bimbisara and a contemporary of Lord Buddha.
Rajgir has been closely related to Hinduism, Buddhism and Jainism and has played host to Lord Buddha and Mahavira, thus has many archeolgical sites related to Buddhism and Jainism.

Get in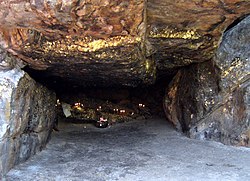 By plane
Patna
and
Gaya
are the nearest airports which are connected to the major cities of India.
By train
Rajgir is on the secondary line linking Patna and Gaya. There are two local train from
Patna
and one from
Gaya
. As well as Express trains from
Kolkata
and
Delhi
.
By bus
Rajgir is connected to Patna by road and one can reach there form Patna by using NH 31-82. There are some direct buses from Patna to this town but more frequent with the connection at
Bihar Sharif
.
Tourist buses from
Bodh Gaya
operate twice a day (7am and 2pm) during peak season.
Buses from
Gaya
leave every half hour during the day, even in off season. The bus station is located in suburb of Manipur on the east side of the river. There are shared rickshaws from the train station, and also direct from
Bodhgaya
for ₹20.
By car
One can also take a rented car to reach the place.
Get around

Tanga (horse drawn carriage) is the main mean of the transportation. Ongoing rate to the base of Ratnagiri or Gridhakuta (Vulture's Peak) is ₹150 return including waiting but can be negotiated down to ₹50 one-way. Shared ride in town (between Makhdum Kund and bus stand) is also available for ₹10.
There is a chairlift to the top of Ratnagiri where Shanti Stupa is located. The rate is ₹60 return ticket only. You can also walk up 600+ steps to the top. Gridhakuta, the meditating place for the Buddha, is however located on the half way and not on the path of the chairlift.

See
Bimbisara's jailThis archeological site is believed to be the jail in which King Ajatshatru imprisoned his father Bimbisara. From his prison cell, Bimbisara could see Buddha meditating on the Vulture Peak (Gridhakuta).

Chariot TracksThe Chariot Route and shell inscriptions consist of two parallel furrows cut deep into the rock ground for about thirty feet and are believed to have been made by Lord Krishna's Chariot. Several undeciphered shell inscriptions are engraved in the rock around the chariot marks.

Cyclopean wallsBelieved to be 2500 years old, these Cyclopean walls are a 40 km long and 4 metres wide fortification running around the city.

GridhakutaThe place is atop a small hill and believed to be a meditating place of Buddha. You can continue on to the top of Ratnagiri hill, there is a Viswa Shanti Stupa (Peace Stupa) build by the Buddhist school Myohosan of Japan. One can reach the stupa by using the ropeway or the flight of 600+ stone steps leading to the top of the hill.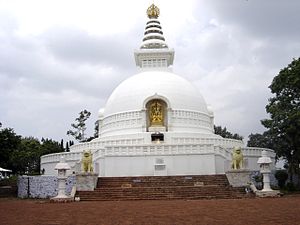 Japanese Stupa

Makhdum KundThis is the shrine of a Muslim Sufi Saint Makhdum Shah and has warm springs similar to Tapodharma.

Maniar MatthDating 1 century CE, the Maniar Matth is said to be a monastery of a cult which worshipped snakes. Several snake and cobra figurins have been found in the vicinity in excavations.

Rajgir Heritage MuseumIt has 49 rare items of archaeological and sculpture finds. It also has a collection of antiques along with several Buddhist and Hindu stone sculptures, bronze images of the Gupta and Pala period and terracottas.

Saptaparni CavesThese caves hosted the First Buddhist Council and were used by early Buddhist monks as resting places as well as centers of debates.

SonabhandarThis ancient structure is said to be the treasury of Magadh.

Tapodharma/Lakshmi Narayan MandirTapodharma was the site of an ancient Buddhist monastery over which a Hindu temple is built today. The place has hot water springs which are rich in sulfur and said to have a curative effects.

VenuvanaIs said to be a bamboo grove gifted to Lord Buddha by Bimbisara, the then king of Magadh.
Do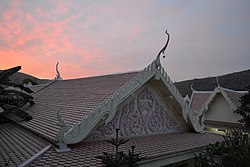 Hot springsTake a deep bath in a hot spring (Kund).

RopewayEnjoy the ride on the ropeway.
Eat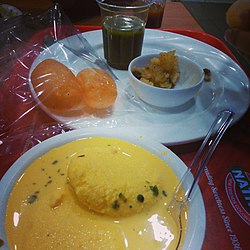 address: Near Rajgir railway station

Very cheap, delicious food served by family members of restaurant.
Sleep
There are a few places to stay near both the railway station and the bus station, and on the 2km road in between. The town has many budget hotels (Double ₹300), as well as Bihar tourist run hotels (Double ₹1200). 9am checkouts are common, but can often be negotiated before money is exchanged.
Go next
Bihar Sharif; Buses leave about every 30 minutes from the main bus stand. (about ₹20 in 2012)
Bodhgaya — often requires a change of bus in Bihar Sharif or Gaya
Deo —city of the Sun Temple.
Kakolat — a good waterfall
Nalanda; Buses leave about every 30 minutes from the main bus stand. (₹8)
Patna; a direct bus from Rajgir to Patna only leaves once a day. Often the better option is to take a regular bus to Bihar Sharif (about ₹20 in 2012), then change for a bus to Patna (₹60 in 2012)