Rajshahi Division
Rajshahi Division
is a region in
Bangladesh
.
Districts
Cities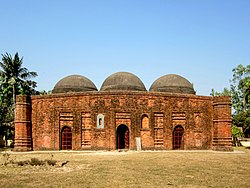 - the capital of the division
- the ancient capital of Pundravardhana.
Other destinations
- a complex of ancient Hindu temples
- a historical center with lot's of important mosques
Paharpur - a small village 5 km. west of Jamalganj in the greater Rajshahi district where the remains of the most important and the largest known Buddhist monastery south of the Himalayas, Somapura Mahavihara, has been excavated. This 7th century archaeological find covers approximately an area of 27acres of land. The entire establishment, occupying a quadrangular court, measuring more than 900 ft. externally on each side, has high enclosure- walls about 16 ft. in thickness and from 12 ft. to 15 ft. height. With elaborate gateway complex on the north, there are 45 cells on the north and 44 in each of the other three sides with a total number of 177 rooms. The architecture of the pyramidal cruciform temple is profoundly influenced by those of South-East Asia, especially Myanmar and Java.
Understand
Rajshahi Division was split in half on 25 January 2010, with the northern eight districts becoming part of the new
Rangpur Division
.
Talk
Bengali
is spoken widely. English is spoken by many in the larger towns and cities.
Get in