Raleigh
The capital of
North Carolina
and the largest city of the
Research Triangle
,
Raleigh
is the primary political and economic driver of the metro area. Indeed, business and politics are the main draws to Raleigh, which lacks the more trendy feel or active arts scene of
Durham
or
Chapel Hill
to the west. However, a concerted effort to expand the residential base and move events downtown has led to significantly expanded retail and restaurant options in the downtown core. Also, visitors will find many of the state's cultural institutions here, namely a major performing arts center downtown and three state museums, and a college town atmosphere in the neighborhood around the campus of North Carolina State University, the state's largest university.
Understand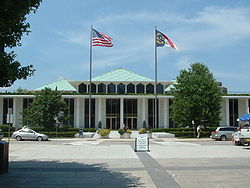 History
Raleigh is one of the few U.S. state capitals that was specifically established and planned to serve as a capital. Its location was chosen partly for being near the center of the state and partly because it was close to Isaac Hunter's Tavern, where North Carolina legislators and other government officials liked to stay. The story goes that the commissioners couldn't decide on an exact plot of land until Isaac Hunter and his friend Joel Lane had the idea of throwing a big party with plenty of local jam and whiskey. The next morning, the hungover commissioners voted 5–1 for a plot owned by Joel Lane himself.
The new city was officially established as the state capital in 1792 and was named for Sir Walter Raleigh.
Visitor information
The Greater Raleigh Convention and Visitors Bureau
operates the
Raleigh Visitor Information Center
. The Visitor Information Center (VIC) is located at 500 Fayetteville Street between the Raleigh Marriott City Center and The Raleigh Convention Center. Phone: +1 919-834-5900 / +1-800-849-8499. The VIC is open Monday thru Saturday, 9AM to 5PM and offers brochures, event calendars, coupons, maps, and other visitor information. Stop by and pick up a brochure or visit the website to view a visitor guide online or order one to be mailed before your trip.
Get in
By plane
Raleigh-Durham International Airport
(
RDU
). A former hub of American Airlines and Midway Airlines, the airport today is a fairly large focus city for Delta Airlines. The airport has bus service in the form of GoTriangle Route 100, which stops at the airport on the way from the Regional Transit Center to downtown Raleigh.

By car
Interstate 40 goes to points west including Durham, Chapel Hill, Greensboro, Winston-Salem, and Asheville. Two and a half hours east on I-40 is Wilmington.
Interstates 85 and 95, though they do not directly enter Raleigh, provide easy access to the city from up and down the Eastern Seaboard; large access routes from these interstates provide easy access to the city.
US 1, the East Coast corridor route, cuts through Raleigh on its way from New York to the Florida Keys; within the city limits US 1 is known as Capital Blvd.
By train

Amtrak provides train services to Raleigh; the Piedmont runs three times per day from Charlotte, a trip of just over three hours. There are also two daily long-distance routes: the Carolinian and Silver Star lines, both of which head north through Richmond, Washington, D.C. and Philadelphia to New York City. Southbound, the Carolinian follows the Piedmont south to Charlotte and the Silver Star heads south through Columbia and Savannah to Florida. The new , at 510 W Martin St, has completely replaced the old station.

By bus
Greyhound, 2210 Capital Blvd, +1 919 834-8275.
Megabus stops in nearby Durham.
Triangle Transit, +1 919 549-9999. The Triangle's inter-city bus service runs routes between Raleigh, Durham, Chapel Hill and RDU, with a hub near the Research Triangle Park. Fares are $2.25 per trip and $4.50 for a day pass.
Get around
Within the
I-440
Beltline are mostly fashionable older neighborhoods and the NC State University area. The North Raleigh neighborhoods are aligned along the "spokes of the wheel"—major thoroughfares emanating from the I-440 Loop and passing through the northern edge of the much larger I-540 loop.
Downtown Raleigh provides easy travel and access through its grid of one-way streets. If you're just passing through, the major thoroughfare is Capital Boulevard (US 401), which splits into Dawson Street heading south and McDowell Street heading north. From the west, it is Hillsborough Street, interrupted midway by the state Capitol building. To the east, it continues as New Bern Avenue (US 64).
The I-440 Beltline was once denoted with "Inner" and "Outer" labels, but they have been phased out in favor of "East" and "West." I-440 West was previously the Outer Beltline, and I-440 East was previously the Inner Beltline. I-440's concurrency with I-40 through the souther portion of Raleigh has also been removed; therefore, the Beltline no longer loops back on itself.
Raleigh is known for particularly aggressive parking enforcement and towing, so be sure to follow all parking signs and rules. Most parking meters have been converted to electronic pay stations that accept coins and MasterCard/Visa. Most metered areas are only enforced on Mon-Fri from 8AM-5PM. Some parking garages are free on evenings and weekends as well, but "special event" rates are common during major downtown events regardless of the time or day.
By bus
For information on routes, schedules and fares, check
GoTriangle.org
, for a helpful trip planner.
Triangle Transit Authority (TTA), +1 919 549-9999. Routes between Raleigh, Durham, Cary, and Chapel Hill as well as Research Triangle Park and the Raleigh-Durham International Airport.
Capital Area Transit (CAT), +1 919 828-7228. Routes within Raleigh city limits including a free downtown circulator bus, the R-Line.
Wolfline, +1 919 515-9653. Routes in and around NC State University; free and open to the public.
Note that Triangle Transit passes ($4.50 for a 1-day pass) can also be used on CAT and buses in Durham and Cary. But the reverse is not true; CAT passes ($2 for 1-day) are only usable on CAT.
By taxi
There are 36 licensed taxi operators in Raleigh of varying quality. Spanish speakers will appreciate Velo Taxi +1 919 271-5719, Taxi Poly +1 919 538-1750, or Amigo taxi +1 919 862-6162.
See
Historic neighborhoods
Boylan HeightsA national historic district from the early 20th century.

Cameron ParkAn early 20th century historic neighborhood, originally a high-end suburb.

Five PointsA cluster of five suburban neighborhoods set up in the 1910s and 20s.

Glenwood/Brooklyn"Raleigh's first master-planned neighborhood", first established in the early 20th century as a streetcar suburb for working- and middle-class white families.

OakwoodThe oldest surviving neighborhood in Raleigh, full of historic homes, many carefully restored.

MordecaiAn important historic neighborhood with interesting old houses.
Do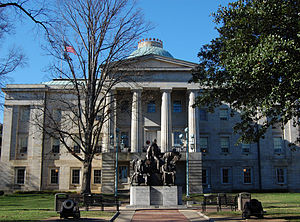 Buy
phone: +1 919 821-1350

address: located inside the Beltline on Oberlin Road between Hillsborough Street and Wade Ave

The first shopping center between Atlanta and DC, Cameron Village is today a major destination point. Home to many of Raleigh's oldest boutique stores, the development also includes restaurants, a grocery store, and the Wake County's flagship public library. Hours vary depending on the store.

address: on Glenwood Ave

Belk, Macy's and Sears anchor. Largest mall in the region, featuring the state's only H&M store.

phone: +1 919 792-2222

address: on Capital Blvd

Includes Dillard's, Belk, Macy's, Sears and North Carolina's only Saks Fifth Avenue.

address: 4217 Six Forks Rd

Recently transformed into a mixed-use center, North Hills has transformed itself from a drab 1960s mall to a mixed-use mecca. Along with Cameron Village, the complex houses a large number of trendy boutiques in Raleigh; the center also is home to a grocery store, movie theater, Target, JC Penny, and a variety of restaurants and retail. Hours vary according to the store.

Seaboard StationDesigned to showcase the local, independent retailer, shopping at Seaboard Station is a bright, airy prospect. Along with many unique specialty shops, you'll also find a salon, fitness center and options for dining.

City MarketHome to art galleries, restaurants and specialty shops. Cobblestone streets lit by lamps give the area a 19th-century feel.

address: 1025 Blue Ridge Rd

The Flea Market, featuring 600 vendors offering all sorts of antiques, collectibles, furniture, electronics and more.

phone: +1 919 870-6066

address: 10941 Raven Ridge Rd

Voted best medical spa in America 3 consecutive years. The home spa boutique is a great place to indulge or to pick up a great hostess gift.
Eat
Due to the large influx of residents from around the USA and the world as well as the large student population, there is a fairly large variety of cuisine available at a wide range of prices. And, being a Southern city, there are still plenty of options for traditional Southern food and a few modern interpretations of those traditional foods. Of course, no visit to North Carolina would be complete without trying some NC-style barbecue pork. There are actually two major styles in the state: Lexington-style (named after
Lexington, NC
) which uses only the pork shoulder and is served with a tomato and vinegar sauce and Eastern-style which uses the "whole hog" and is served with a vinegar-based sauce. Both styles are available around Raleigh and some restaurants include both types of sauce on the table.
Budget
Mid-range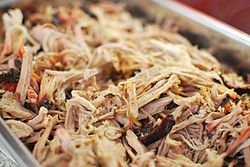 Splurge
Food trucks
Thanks to relaxed regulations first in Durham and later in Raleigh, the Triangle area has a lively food truck scene with a wide variety of cuisines available in street food form from burgers and pizza to Chinese dumplings and Belgian waffles, and of course, barbecue. Many have since expanded to brick and mortar locations as well and a few popular restaurants have launched their own trucks. At lunchtime, trucks can usually be found near office parks with few restaurants nearby or on college campuses (there is almost always at least one truck serving weekday lunch on NC State's Centennial Campus). In the evening they often serve dinner at local breweries (see
Drink
below). Downtown Raleigh hosts occasional food truck "rodeos" featuring over 50 trucks from as far as
Charlotte
. See
their website
for upcoming dates and links to truck websites. A partial list of trucks that occasionally serve Raleigh is given below.
Drink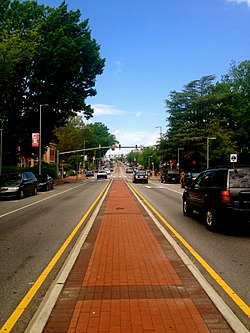 Southwest Raleigh, particularly the area along Hillsborough Street, resembles a college town, so there are plenty of places to find a drink. What is more, the city has a number of microbreweries. For cheaper places, try near the campus of North Carolina State University on Hillsborough Street. (A scene in "Bull Durham" was filmed in Mitch's Tavern.) The downtown area known as Glenwood South has a few more upscale bars and is located between Glenwood Ave and Harrington Street and between Peace Street and Hillsborough Street just northwest of downtown. The City Market area around Moore Square and the area around Fayetteville Street also offer a good mix. Those not from the American South should be sure to order "sweet tea". Sweet tea, along with Sundrop and Cheerwine, has long been considered a native beverage, and is served in most restaurants. The sweetness will vary in accordance with the locale, but is nevertheless much sweeter than any tea served elsewhere in the nation.
address: 140 Thomas Mill Rd

In Holly Springs - CBC conducts weekly tours on Saturday afternoons, and it's best to arrive anywhere from 15-30 minutes early to make sure you get a sample of their beer both prior to the tour. No fear if you arrive late, however, as the taps are typically open for an hour afterwards as well. CBC brews an India Pale Ale, a Nut Brown Ale, and the Carolina Pale Ale year round (available at the brewery, in local stores, and in many local bars and restaurants) and usually has one or two seasonal beers available only at the brewery or on tap at select local establishments.

address: 1249 Wicker Dr

In Raleigh - Big Boss conducts monthly tours on Saturday afternoons, and it's usually best to check the website to find out exactly when. As with CBC, it's a good idea to get there a bit early, as there's usually a pretty good crowd there. Big Boss brews an assortment of seasonal beers that are distributed locally in addition to their year-round Bad Penny Brown Ale, Helles Belle Belgian Blond, and Angry Angel Kolsch Ale that are also sold in bottles at local stores. Big Boss also features an on-site pub called Horniblows Tavern. Though not located in one of the trendy areas of town, Horniblows is a great place for knocking back a couple of brews and solving the world's problems with your mates.

address: 8816 Gulf Court #100

In Raleigh near the airport and Brier Creek. One of the areas nearest breweries, it has quickly penetrated the market. Often considered a brewers brewery, they offer a handful or more of well-crafted beers. Brewery tours fairly regularly at about once a month.

The Raleigh Times Bar

address: 14 E. Hargett St

Snug in the offices of the former Raleigh Times newspaper, this broadsheet turned gastropub is the place for people watching over a pint (or a half pint) of craft-brewed beer.

address: 319 W. Davie St

Brewpub in the warehouse district that opened in 2013.

phone: +1 919-322-0128

address: 237 S Wilmington St

A trendy, upscale bar featuring traditional and creative cocktails along with a small, but interesting selection of craft beers.
Sleep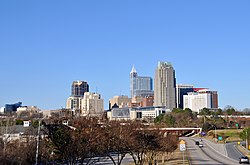 Downtown, there are three major hotels: the Clarion, Marriott City Center, and the Sheraton.
AmeriSuites Raleigh/RDU Airport-RTP

phone: +1 919 405-2400

address: 200 Airgate Dr

Adjacent to Raleigh Durham International Airport and the Research Triangle Park.

phone: +1 919 832-0501

address: 320 Hillsborough St

The 20-story hotel is undergoing its first major renovation since the 1960s. Try to get a room on the lower floors, which are being fixed up first.

Comfort Inn & Suites Crabtree Valley

phone: +1 919 782-1112

address: 6209 Glenwood Ave

6 ml from Raleigh Airport, with free airport transfers.

Days Inn

phone: +1 919 828-9081

address: 300 North Dawson St

Closest to Glenwood South, where many bars and restaurants are located.

Embassy Suites Raleigh - Crabtree

phone: +1 919 881-0000

address: 4700 Creedmoor Rd

All-suite hotel with tropical atrium featuring full-service amenities, indoor pool, and fitness center. Free breakfast and reception daily for all guests.

Fuquay Mineral Spring Inn and GardenBed and Breakfast.

phone: +1 919 833-1120

address: 500 Fayetteville St

Attached to the new Convention Center.

phone: +1 919 781-7000

address: 4500 Marriott Dr

Close to Crabtree Valley Mall, NC Museum of Art and Time Warner Cable Pavilion at Walnut Creek.

phone: +1 919 231-0002

address: 1209 Plainview Dr

phone: +1 919 231-0002

address: 411 North Bloodworth St

B&B in a historic neighborhood.

phone: +1 919 832-4100

address: 1520 Blue Ridge Dr

address: 4100 Main

Sheraton Hotel

phone: +1 919 834-9900

address: 421 South Salisbury St

Another 20-story hotel, a touch fancier, but located on the mostly uninteresting Fayetteville Street Mall.

phone: +1 919 447-4000

address: 100 Woodland Pond Dr

Convenient to downtown, the newer Umstead is the only 5 star hotel in the area.

Wingate by Wyndham State Arena Raleigh/Cary

phone: +1 919 847-7383

address: 115 Corporate Ridge Rd
Stay safe

Raleigh's crime rate is below average for an American city of its size (and arguably one of the lowest in the Southern USA), but one still must be cautious and intelligent. In particular, stick to the busy and well-lit parts of downtown after dark, and avoid the neighborhoods immediately south or east of downtown after dark. The NC State University campus and vicinity are safe and heavily trafficked during the day and evening, but use the university's public safety escort service in the early hours of the morning. Throughout Raleigh, you should think before using an automated teller machine (ATM) after dark, unless it's located in a mall or other heavily travelled, well-lit area.

Connect
Panera Bread

phone: +1 919 781-1112

address: 4421 Six Forks Rd Ste 119

Free wireless access.
Cope
Consulates
phone: +1 919 754-0046

address: 336 E Six Forks Rd

phone: +1 919 645-1100
Go next
Umstead Park, easily accessible by car, bus, or bike, Umstead is a natural haven from the Triangle's urban zones, centrally located next to RDU Intl. Airport. Miles of trails, both paved and unpaved, provide access for hikers, campers, bikers and joggers to three lakes and over 5380 acres.
Chapel Hill, about 25 miles from Raleigh, is home to the University of North Carolina (UNC-CH). Chapel Hill has many good restaurants and bars on Franklin Street, adjacent to the UNC campus.
Durham about 25 miles away, the home of Duke University. Durham has many trendy cafes, bars, theaters, art locations and four star restaurants.
Wake Forest, about 18 miles away, features access to the vast Falls Lake Park Recreation Area and boasts a small downtown carefully preserved in time.