Ramsar
Ramsar
is a city on the
Caspian coast
of
Iran
. It is a popular sea resort for Iranian tourists. The town offers hot springs, the green forests of the Alborz Mountains, and the Ramsar Palace (vacation palace of the last Shah).
Get around
==See==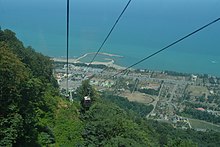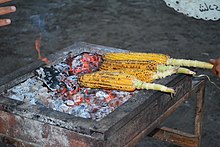 Markooh spectacular views
Javaherdeh Village which is an important tourist attraction in Ramsar county. It offers beautiful scenery of seemingly endless green fields, snow-capped mountains, vast dense woods, rolling green hills and pictoresque north-Iranian farms and villages. The houses in this area of Iran has unlike many other areas of Iran roofs that are tilted rather than flat.
Tamashagage Jhazar

phone: +98 11 5526 6530

address: Ramsar to Chaboksar road

Using cable car, you can go through the jungle and clouds to the mountains and enjoy the wonderful view.
Do
The Sea Park that reaches to the beach is a good place for a stroll.
The Casino

Ramsar Plaza Complex (Telecabine)including telecabine, seashore, restaurant, coffeeshops, shopping center, funfair, etc.

Hot Spring
Eat
Sleep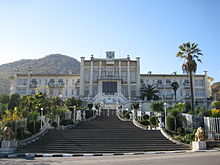 Hotel Ramsar

phone: +989196396185

address: No 69, Abrisham1 Alley, Shohada St. Ghasemabad Sofla village (15 Km after Ramsar to Rasht)

In Gileboom homestay, you feel Iranian hospitality in a traditional clean house and taste Guilani cuisine with classic local dishes. it is located between Caspian Sea and Hyrcanian mixed forest. You can have a hiking in the jungle and visit workshops of local handicrafts in the neighborhood. Vegetarians also may have local food. "The price is fair" as our guests say. If you visit Iran and all historical sites you should also visit Gileboom to round up your overall impressions of the country.
Go next

27 km south of Ramsar and 2700 meters above sea level in the Alborz mountains is Javaher Deh village, which is an important tourist attraction in Ramsar county.