Ranakpur
Ranakpur
is in
Rajasthan
in the
West
of
India
.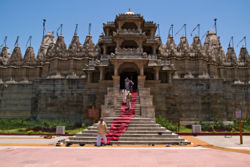 Get in
From
Jodhpur
, take a train to Falna station (₹250) and get a taxi to Ranakpur (~₹350).
From
Udaipur
, Ranakpur is reachable, by car or bus ($95 from Udaipur Central bus station, counter #6), with direct buses at 8:30am and 9:30am for the best times (~3 hrs). Make sure to get to bus station at least 20 minutes early, to fight crowds and get ticket on time, as bus may leave early as well. For the return trip, there is a bus every 30-45 minutes.
Distances:
Get around
Ranakpur is a small village, and there are no rickshaws or taxis touting to take you around. Near the Ranakpur temple, you can hire a private car to take you to hotels in and around the village. Most tourists make Ranakpur a stop on a day trip from Udaipur, although there are a number of nice hotels nearby.

See
The Ranakpur Temple is one of the most famous Jain temples and dedicated to the first Jain Tirthankar (enlightened human) of our time cycle,
Adinath
(aka Lord Rishabha). It is a very big temple (ceiling around 7m high), made up of white marble, offers sculptures of same quality but different type than
Dilwara
, but is beautiful from the outside, too. It has more than a thousand columns none of which are alike.
Nearby, there are two smaller temples built after two other Jain Tirthankars, Neminath and Parsvanath. There is also a small temple built near the main temple for the Hindu Sun God, Surya.
The cost is 300 rupees for non Indians (100 ticket + 200 mandatory audio guide).
Sleep
Hotel Maharani BaghSpacious, clean rooms set among a mango grove. Doubles are around ₹5000 per night. Room service is slow, especially in the morning.

You can get a room in the temple premises for ₹200 a night. The rooms, which were constructed for temple devotees, are spartan but have attached toilet/bathrooms. Hot water for bathing is available in the morning. A breakfast thali is available for ₹15. The temple has a right to refuse you a room, so it's best to present yourself in a humble manner and willing to learn more about Jainism. Hindus should have no problem in getting a room.

phone: +91 9829191099

address: Near Jain Temple

Shivika Lake Hotel is set in an idyllic setting with hills around. Shivika Lake Hotel has in total 13 rooms and 5 tented accommodation. All rooms are tastefully and traditionally furnished with local material, colour & design, rooms give a camp atmosphere with modern amenities. You can also trek or have a safari from there.
Do
Jeep Safari or nature hike through the Ranakpur valley or the nearby Kumbhalgarh Wildlife Sanctuary
Horseback Safari through the Aravalli Mountains, the Ranakpur Valley and the Kumbhalgarh Wildlife Sanctuary

phone: +91 98290-42012

address: Udaipur

Arranges horseback safaris from Udaipur to Ranakpur, around the Aravalli Mountains and through the Kumbhalgarh Wildlife Sanctuary. Contact also for jeep safaris, night drives and nature hikes around Ranakpur.
Go next
A local bus to
Udaipur
stops right outside the Ranakpur temple every hour and costs ₹85. The journey back to
Udaipur
takes around 3 hours.
You may go by bus to
Mount Abu
, a relaxing, peaceful hill resort. A nice place to rest and hike. A bus goes every 30 minutes to Sandera, from there busses leave to Mt. Abu or Abu Road (27km downhill from Mt. Abu, around ₹200 for uphill taxi).