Randers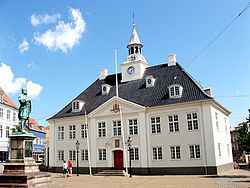 Randers
is a city in
East Jutland
.
Get in
It is next to the E45, the main north-south motorway in
Jutland
, so getting in by car is an easy option.
Randers is well served by regional buses (blue) and train. It is possible enter Randers from the seaside, by the fjord, but only if you travel in your own boat.
Get around
The central train station and the bus terminal are in the city center on the northern shores of the Gudenå River. Most of the town can be reached within a 30 minutes walk from these places and as the inner city is home to most of the attractions, and larger parts of it pedestrianized anyway,
walking
is a recommended form of transportation. If you plan to visit more outlying places such as the Memphis Mansion for example, it would be a good idea to rent a city-bike or take a local bus.
City-bikes
for tourists and visitors can be picked up for free at five spots in the inner city, including the central station and the busterminal. The city-bikes are quite good quality bikes, but requires a rather large deposit and a
special instruction
when using foreign credit cards.
Randers has a local network of
buses
(yellow) and
taxi
cabs is also an option.
See
The Museum of Cultural History and the Museum of Art are in the same building.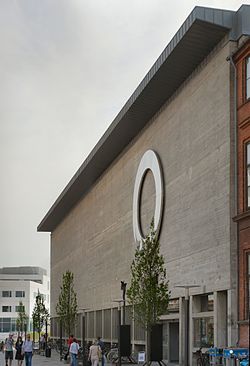 Do
Randers UgenA cultural festival around the city with music, art, theatre and sports, including a traditional boat regatta on the Gudenå river and the larger running event of Fjordløbet. The festival last ten days and is an annually recurring event every year in mid-August. The whole city is involved and the public space is full of cultural activities.
Eat
There is a good selection of restaurants and eateries in Randers. Most places have take-away options.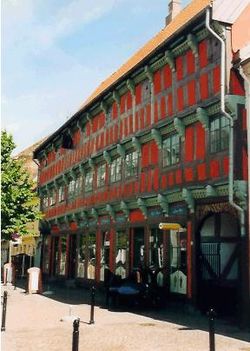 Traditional Danish
Danish-style cuisine of various kinds can be had at many places across Randers, but most places are not dogmatic about it and has often been inspired by other cooking styles and also serve other kinds of foods; see the general list for examples. Some places that seems to have specialized in traditional Danish dishes, and offering a fair selection, includes
Asian
Steakhouse and barbecue
phone: +45 86 40 52 90

address: Middelgade 11

Two restaurants in the same building. Hereford is a steak house restaurant with high quality meat from grass fed, free range Hereford and Angus cattle. Great wine card. Vegan steak option and special kids menus. Valhalla is a buffet restaurant with a good selection of dishes based on homemade ingredients and cooking in tune with the season. Various starters, meat cuts, sauces, vegetables, salad options, stews, cheeses, cakes, ice cream and fruit. The kitchens close F Sa at 20:30, 21:00.

Bone's

phone: +45 88 33 19 29

address: Søndergade 1-3

Local branch of a Danish chain of American-style barbecue restaurants.

Jensens Bøfhus

phone: +45 86 43 43 00

address: Rådhusstræde 3-5

Local branch of a Danish chain of steak houses.
Cafés
Several cafés offers quality burgers, sandwiches, salads and brunch and some places also a number of hot dishes.
Kro
Kro is a Danish-style inn. Usually situated in the countryside, these places are held in higher regard than the typical English inns and usually offers good food and overnight stays for the general public. Perfect for a quick getaway.
Drink
A lot of the action takes place around Storegade in the central pedestrianised parts, but not exclusively.
Tante OlgaMusic venue, bar and dancefloor.

phone: +45 86 41 19 70

address: Søndergade 2

Bar with a good selection of beers, cocktails, Scottish single malts and South American rum. Also a café with a brunch buffet Thursday to Sunday at 10-14 hours.

Café SmagløsRegular bar

phone: +45 86 300 400

address: Langelandsvej 4 D

A micro-brewery opened in 2007, with quality beers. All beers are unfiltered and unpasteurized to maximize flavour. Visit the brewery or try their brews across town.

address: Stoegade 5

Music venue and dancefloor. Changing its name from Rock'Sann to Club 5 in 2016.

Barry's Pub

address: Middelgade 14

A place for people of all ages, with what they claim is the largest beer selection in Randers. Pubquiz, karaoke and live music. Televised major sports events.

address: Storegade 1

One of several Old Irish Pubs in Denmark.
Sleep
Hotel RandersCentral hotel with an attached fashionable café. Café Mathiesen also works as an evening restaurant and lounge bar in the night.

Stephansens HotelA central hotel with a great restaurant.
Go next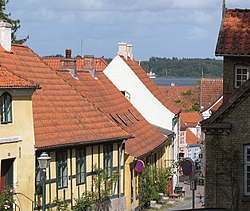 Visit Mariager, a quaint romantic old village at the coast of Mariager Fjord about 20 km north of Randers.
Vikingcenter Fyrkat. Fyrkat is the name of a large circular Viking fortress built in 980. there is a Viking center at the site with several events and activities. Fyrkat is located northwest of Randers and near Hobro and is an important historic and archaeological site.
Fussingø