Rangpur Division
Rangpur Division
is the newest division in
Bangladesh
, splitting from the
Rajshahi Division
on 25 January 2010. But it is certainly not the newest tourist hotspot. Outside the capital, Rangpur Division is fairly devoid of attractions and touristy activities. However, don't be disenchanted, as Rangpur is the place to absorb the true Bangladeshi lifestyle, learning of local traditions and culture that have lasted for generations.
Districts
Dinajpur
Site of the intricate and beautiful Kantajew Temple (Kantanagar Temple)
Gaibandha
A laidback lifestyle with intriguing villages
Kurigram
Ruins and remnants of ancient buildings
Lalmonirhat
Contains a number of old mosques and rajbaris
Nilphamari
Home to a once bustling railway yard
Panchagarh
More old mosques and the largest mango tree in the country
Rangpur
The Division's capital, complete with palaces, temples and other British-era delights
Thakurgaon
Even more old buildings and temples, vegetables and crops cultivation and natural beauty
Cities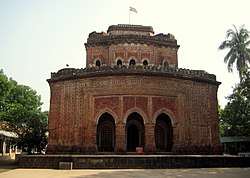 - the capital of the division
- location of Kantanagar Temple
Talk
Bengali
is spoken widely, but the local dialect
Rangpuri
is also common throughout the populace. English is spoken by many in the larger towns and cities.
See
There are many palaces and British-era buildings in the Division's capital.
You will have very candid and childlike poor people here to visit. Almost everyone will welcome you with whatever they have available to serve. Evergreen villages ornamented by brook and canal, with spacious field of paddy, potatoe, sugarcane can be visited.
Kantanagar TempleA late-medieval Hindu temple, one of the most magnificent religious edifices belonging to the 18th century