Rankin Inlet
Rankin Inlet
is in mainland
Nunavut
,
Canada
.
Understand
The community of Rankin Inlet was formed next to a nickel mine in 1959, which employed most of the town's people. Rankin Inlet is well known for its strong winds in winter. Rankin Inlet, or
Kangiqiniq
as it is known in Inuktitut (meaning
deep bay
), is an active community which serves two purposes, a government village as well as an air transport hub for travel between Nunavut and the centre and west of Canada.
The town is the second largest community in Nunavut and before 1999, Rankin was a regional centre for the
Northwest Territories
government. After the signing of the accord which separated Nunavut from the Northwest Territories, Rankin Inlet became principally a political centre of the territorial claims. It is again growing rapidly and serves as a hub for countless companies and organisations.
With the development of a new gold mine and the recent opening of a correctional facility, the community is growing fast. Rankin hosts a wide range of recreational facilities like arenas for hockey and curling, a turf baseball diamond, and courts for volleyball, basketball, soccer and badminton. The community also boasts a football ground, an 18 hole golf course and playgrounds for children.
Rankin Inlet does not have any alcohol restrictions and alcohol can be imported for personal use.
Get in
By plane
Rankin Inlet has flights from
Ottawa
,
Winnipeg
, and
Yellowknife
through airlines such as First Air and Calm Air. No roads are connected to any larger cities in Canada, due to the location of Rankin Inlet.
Rankin Inlet Airport

phone: +1 867-645-3403

Rankin Inlet is the waystation for flights between Iqaluit and Yellowknife.

phone: +1 867 645-3445, +1-877-873-3718 (for those with hearing difficulty)

phone: +1 867 645-2746

phone: +1 867 645-2470

phone: +1 867 645-2992
Get around
Rankin Inlet is very small, so one could reasonably get around by foot.
S&G Taxi

phone: +1 867 645-4000

Fluffy's Taxi

phone: +1 867 645-2233
See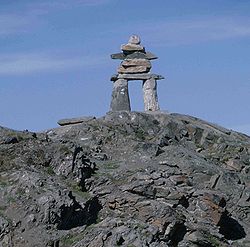 Inukshuk

Matchbox Gallery

phone: +1 867 645-2674
Do
The
midnight sun
adds a magical element to travel in the Arctic! Rankin Inlet doesn't have 24-hour sunny days, but days are longer in June and at the start of July. Winter is the time of darkness. Light starts to disappear mid-October and usually does not rise again until Christmas. There are only about four hours of twilight during this time, but the light starts to return in January.
A visit in autumn or winter gives you a chance to see one of Earth's most spectacular phenomena – the
Aurora Borealis
. They can be easily seen from October to March in the centre of the community, but by taking a walk out of the town, they can be more spectacular. Inuit people have many legends about the auroras, which can be heard by talking to people in Rankin.
A walk five minutes outside the community will give you the opportunity to see terrain which appears untouched by humans. You will most likely discover the
siksiit
. Spring and summer brings squirrels, which are everywhere, chattering incessantly from their perches, as do peregrine falcons and gyrfalcons. Keep a watchful eye on the area to see loons, geese, swans and cranes, which will keep photographers busy.
Iqalugaarjuup Nunanga Territorial ParkIqalugaarjuup Nanang Historical Park a half day adventure and a favourite spot for hiking, fishing and bird watching. The archaeological site of Thule near the Ijiraliq River offers a historical perspective. Although water from the Rankin Inlet valve is treated and safe to drink, many locals use the river as a source of fresh water during the spring and summer. Visitors can plunge into stone age culture while visiting this park and take a glimpse at ancient Inuit Arctic traditions.

Marble IslandMarble Island figures prominently in Inuit traditions and received the special designation of area of exclusive possession in the accord which separated Nunavut from the Northwest Territories. A boat trip to Marble Island located nearby offers a beautiful contrast with the purple flowers of dwarf fireweed growing amongst the rocks. The tombs of the crew of the Knight Expedition from 1921 are still visible on Dead Man Island. At low tide on clear days, one can clearly see the silhouette of the whaling ship, the Orray Taft, which sank near the island in 1893.
Hockey forms part of the Rankin Inlet community. Rankin is particularly involved since it is the hometown of hockey player Jordin Tootoo (of the NHL Detroit Red Wings). In addition, there are major hockey tournaments held in the community each year. In April the annual Pakallak Tyme festival is held, offering outdoor games and competitions, dog sled racing and snowmobile racing. May hosts the annual fishing tournament that attracts people from other communities. July 9 is Nunavut Day which is celebrated with pride throughout the territory. In autumn, the community usually hosts the annual trade show for Kivalliq Region inviting companies from all seven communities in the region. 
During the holidays there are organized events, including snow sculptures, games, talent shows, concerts, craft sales, pageants, dog sled races and snowmobiling. Traditional sports like "one foot high kick," "two foot high kick," "arm pull," "knuckle hop", "head sweater", "airplane" and others are still practiced in the community and are presented at many events throughout the year.
Events
February/March
April
Pakallak TimeThe most popular of the annual events, Pakallak Time includes a sled race, snowmobile races, igloo building and community celebrations.

Hamlet DayInvolves a barbecue with the community, square dancing at the arena and outdoor games.
June
National Aboriginal DayThis is an event across Canada and is celebrated on June 21 every year.
July
Canada Day1 July. Communities across the country organise celebrations often including parades.

Nunavut Day9 July. Nunavummiut celebrate the "Agreement on the Nunavut Land Claims Act and the Nunavut Act," with the Nunavut Day. All government offices are closed to mark this occasion.
Buy
There are many shops in Rankin which sell the work of local artisans and artists. Matchbox Gallery represents highly qualified artists who produce beautiful ceramic sculptures and carvings of stone, bone and antler, wall hangings, paintings and original prints. The work of many of these artists can be seen at the National Gallery of Canada in Ottawa.
Ivalu represents small businesses in many Inuit communities in Nunavut. Here you will find sealskin clothing, knitted hats and vests, sculptures, jewellery and meat products.
Andy's Airport Gift Shop also offers original art pieces, jewellery, pottery, and clothing. The Co-op store and Kissarvik Siniktarvik Hotel shop sell sculptures and crafts.
RBC Bank

phone: +1 867 645-3260

address: 220 Okingutigit Building

CIBC Bank

phone: +1 867 645-2863

Northern Store

phone: +1 867 645-2823

address: Tupirvik Ave

General store and grocery.

phone: +1 867 645-2801

Grocery store, also provides cable television services and property and video rentals for residents of the community.

Ivalu Ltd.

phone: +1 867 645-3400

Equipment and supplies, arts and crafts, gifts.

Truserv Kativik

phone: +1 867 645-3280

address: Building 93

Clothing, hobbies. arts and crafts, electrical goods.

Quick Stop

address: Tupirvik Ave

Convenience store with a Tim Horton counter.
Eat
Sugar Rush Café

phone: +1 867 645-3372

address: 116 - 24 Inukshuk Ave

Coffee, doughnuts, soup and sandwiches.

Turaarvik Inns North Restaurant

phone: +1 867 645-4955

Dining room and daily menu.
Drink
Bars and other nightlife are practically nonexistent in Nunavut, where alcoholism is a problem for many inhabitants. These restrictions are so strongly applied that the police search the bags of people entering the territory. All alcohol entering
dry
communities is rapidly confiscated. Rankin Inlet is one of the rare places outside
Iqaluit
where alcohol can be legally served. Two main bars - and hotels - in Rankin are authorised to sell alcohol within their premises: Siniktarvik Hotel and the Nanuq Inn, whose license is limited to guests.
Sleep
Siniktarvik Hotel and Conference Centre

phone: +1 867 645-2807

address: Rankin Inlet, NU X0C 0G0

Though not as great as most hotels further south, this hotel is calm and comfortable.

Katimavik Suites and Conference Centre

phone: +1 867 645-2275

cuisine communautaire

Turaarvik Inns North Hotel

phone: +1 867 645-4955

phone: +1 867 645-2650

Tara's Bed and Breakfast

phone: +1 867 645-3478

Colleen Napier
Stay safe
Health centre

Royal Canadian Mounted Police (RCMP)

phone: +1 867 645-1111

Fire services

Kivalliq Wildlife Offices

phone: +1 867 645-8084
Connect
High-speed wireless internet is available in all parts of the community, and providers include Netkaster, NorthwesTel and Qiniq (available in every community).
Only mobile phones from Bell work well in Iqaluit and Rankin Inlet.
Radio
CHAR-FM (92.7 FM) – James Sandy
VF2410 (97.9 FM) – Municipality of Rankin Inlet
CBQR-FM (105.1 FM) – CBC North – public news/talk
Newspaper
Kivalliq News – published every Wednesday, $1.00.
Post
Canada Post

phone: +1 867 645-2680

address: Rankin Inlet, NU
Go next