Ranomafana National Park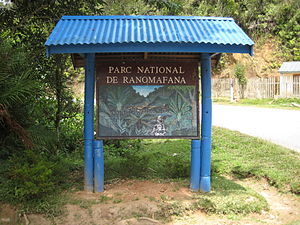 Ranomafana National Park
is located close to RN7 in
Fianarantsoa Province
of
Madagascar
. It is holds 41,600 hectares (161 square miles) of rain forest that is home to several lemur species, is accessible by paved road, and contains a variety of lodging options, making it a popular destination for visitors to Madagascar. It's one of the six national parks that make up the
UNESCO World Heritage Site
Rainforests of the Atsinanana.
Understand
History
Landscape
Flora and fauna
Climate
Get in
The only way to get to Ranomafana National Park is by road. The entrance is right next to the national road RN25, it is impossible to miss it. It is possible to take a taxi-brousse directly from
Antananarivo
(gare routière de Fasan'karana), from
Fianarantsoa
(2 hours) or from
Manakara
. From the intersection with RN7, RN25 is in a very good state as of November 2017 and a normal passenger vehicle is sufficient.
There is no transportation between the National Park entrance and the village where most accommodation is located. You have to rely on empty seats in taxi-brousse passing by; the distance between National Park and village is a bit too long to be walked comfortably (given the temperatures and the fact that you have been walking all day in the park). If you want to be flexible, consider chartering a car for your trip. Doing so for a two-day (one night) trip in Fianarantsoa will cost around €100 for car, petrol, driver and driver's expenses.
Fees and permits

As of November 2017, for each adult foreign visitor, an entrance fee of 55,000 Ar per day has to be paid, children are 25,000 Ar. On top, a "community charge" of 2,000 Ar per day per person is due in a booth near the park's checkpoint. The park offers a menu of guided walks to choose from. The fee for a guide for these walks has to be paid on top of the entrance fee and are between 80,000 Ar and 120,000 Ar, depending on the length of the walk. Payment in Ariary cash only.
It is not possible to go into the forest without a guide. Repeatedly, foreigners lost their way in the jungle and had to be searched for. Moreover, it does not make sense as you will not see any animals without a guide knowing where and how to spot them. Apart from your guide, there are animal spotters in the park who inform your guide by mobile phone about where the animals are.

Get around

Unless you have your own car, you can rely on taxi-brousse passing by. While possible, this implies that you lose time, in particular in the morning, when the national park employees use the taxi-brousse to go to work.

Do
Take a guide for guided walks in the
phone: +261 20 75 523 02
Shorter walks are very easy and lead into secondary forest where lemur species can be observed. Longer walks lead into very dense primary forest where very rare species can be observed. The park management proposes walks lasting 6 to 8 hours; while this sounds tough, they can be done by persons with insufficient fitness as most of the time is spent observing animals. It's worth to do more than only one of the walks. Be prepared to wake up early as this is when the animals are most active. Be aware that not all trails start at the reception, you will need a transportation to get to the starting point of a few of the trails. Bring insect repellent and sufficient water. Wear long-sleeve clothes to avoid being bitten by insects and good shoes.
KayakingIn the restaurant behind the National Park's reception (see "Eat" section), you can book a tour down the river in inflatable Kayaks. It starts in Ranomafana village and takes you a few kilometers eastwards through sparsely populated area, not through the national park's forests, however. The price includes transfers to the starting point and from the end point back to the reception (or your accommodation, which is likely to be on the way).

Hot springA small pool with water from a hot spring. Leave all your valuables at your accommodation when going. Ask around about when it is refilled, as it closes for this purpose.
Buy

Souvenirs are sold in the reception booth at the national park. Apart from this, there is nothing special you might want to buy.
There is no big shop in Ranomafana, if you need anything special (food, medication, electronics), then ensure you bring it with you.
Don't expect any working ATM. Bring enough Ariary cash for all your expenses.

Eat
Restaurant at the National ParkAcceptable food and drinks are available near the reception of the national park in an unnamed restaurant.
Drink

You can have a drink in the restaurant of your accommodation. Apart from that, you will find Ranomafana's night life disappointing.

Sleep
There seems to be no shortage of accommodation in Ranomafana village, you will find plenty of options when driving along RN25. If you have enough time, you can choose something you like after arrival.
Lodging
Domaine NatureWhile this lodge was once the nicest lodging option in the park, today it is sadly in need of maintenance and thus will probably not be the first choice of most visitors. The lodge does boast an impressive view from rooms perched on the hillside, and the walk up to the rooms passes by a mountain stream and lush vegetation, but the downside of this view is that you'll have to trek up an impressive number of stairs to get to the room. The restaurant is OK and offers a nice view of the valley. Rooms have showers and mosquito nets, but as of 2014 were in poor repair, with electric sockets falling out of the walls, toilet seats missing, etc. The lodge is the closest accommodation to the park's main trekking area, but still not close enough that you would choose to walk instead of taking a vehicle. Should you choose to stay here, you will need to make your payment in person in their office in Antananarivo prior to arrival, and only cash will be accepted.

phone: +261 33 09 010 22

Rents out bungalows built on the hill besides RN25 with working warm showers, mosquito nets and fan. English spoken. Booking ahead is recommended. Acceptable food is served for dinner and breakfast. For those who stay longer, there is a laundry service. Accepts credit cards with a 5% surcharge on your bill.
Camping
There is a covered camping site right next to the park's office. However, as of November 2017, the facilities (toilet, shower) are in extremely bad condition. Given the number of inexpensive options for sleeping in Ranomafana village, camping should be the absolute emergency solution.
You can, however, arrange an overnight stay inside the National Park. This has the advantage that you are already in the jungle at daybreak when it's best to observe animals. Arrange with the national park's administration before your arrival; also in this case, a guide will look after you all the time.
Stay safe
Protect yourself against insect (especially mosquito) bites
Wear proper shoes
Watch out what you touch in the jungle, don't hold yourself on spiny branches
Go next
Most vehicles travelling along the RN25 go to either
Fianarantsoa
or
Manakara
, which makes these two cities the natural next stop of your trip if you rely on taxi-brosse.
You can also consider visiting the small town of
Sahambavy
with its tea plantation and botanical-garden like Lac Hotel. For this purpose, take a car heading towards Fianarantsoa, alight in Ambalakely, from where taxi-brousse go to Sahambavy on a very bad road.