Ranong
Ranong
(ระนอง) is both a town and a province on the
Northern Andaman Coast
in the
south
Thailand
.
Understand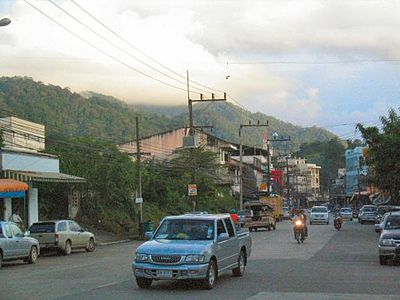 A small border town with limited tourist magnetism and hence still quaintly Thai. Border access via boat to
Kawthoung
in
Myanmar
allows visas to be renewed.
Ranong is the first southern province on the west coast, 568 km from Bangkok. It is also known for the long rainy period, which lasts for 8 months each year. Ranong occupies an area of 3,298 square kilometres, with the Kra Isthmus which is the narrowest part of the Malay Peninsula, and is bordered by Myanmar and the Indian Ocean to the west. Within its compact area, Ranong contains various natural attractions and is blessed with hot springs and relatively unspoiled mangrove forests.
Get in
By plane
Train
The nearest train station is in
Chumphon
.
Minibus
Minibuses to Chumphon leave from the bus station, cost 180 baht, and take around 3 hours. They drop off in most parts of Chumphon. You can minibus it all the way to Bangkok from Ranong.
By bus
The bus from Chumphon's central bus terminal stops some 6 km out of town at the booking agency for this particular bus company (Rangsit Tours). There is little in the vicinity, and you will be approached by drivers who will take you wherever for a price.
The city centre (Ruangrat Rd) can be reached by songthaews 2 or 6 (15 baht). Be prepared to walk if you arrive later than 21:30 as there are no songthaews anymore at the bus station (low-season, April 2015). You can also travel directly to the pier for boats to Ko Chang or Ko Phayam by songthaew (15 baht).
Hotels are nearby or 10 min by motorcycle taxi to the main street.
Numerous and relatively frequent full-sized buses of various classes connect with
Chumphon
and
Bangkok
and all major points in between; with
Phuket
and
Krabi
via
Takua Pa
and
Khao Lak
and other key points in
Phang Nga Province
(most direct route to
Trang
and
Satun
is via Krabi); and with
Surat Thani
which acts as the gateway to just about everywhere else.
By boat
Hundreds of longtail boats connect Ranong with
Kawthoung
in
Myanmar
, and take about 20 minutes to cross. They can be chartered individually or shared with other travellers and/or locals.
Hourly boats (a little larger, also taking about 20 min) ferry gamblers to and from Thahtay Kyun, a small island adjacent to
Kawthoung
where the Andaman Club casino and golf resort has its own immigration facilities. Kawthoung is also the point of access to the islands of the Mergui Archipelago which offer excellent diving.
The islands Ko Chang and Ko Phayam can be reached by longtail boat several times per day (high season) from the ferry terminal 4 km west of the town center. Take the red number-3 songthaew which leaves the market on Ruangrat St and travels west along the main road.
Get around
Several songthaew lines offer transport in the city. They have numbers and are easy to recognize. Services stop at about 9pm, so you might have to walk later in the evening, e.g. when visiting the hot springs until late.

See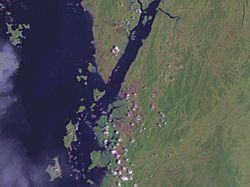 Rattanarangsarn PalacePhraya Damrong sutjarit Mahitsornpakdee (Kor Sim Kong) built this throne hall for the residence of King Rama V during the royal visit to Ranong Province on 23–25 April 1890. It is on the hilltop named "Niwest Kiree". The original throne hall was later dismantled and replaced by the city hall and then the new provincial hall was built in 2002. It was made of teak.

Ranong Governor's GraveThis Chinese grave of Phraya Rattanasetthi (Kho Su Chiang), Ranong's first governor, is on a piece of land dedicated by King Rama V. There are three tiers of stone platform with steps leading up to the grave with antique granite sculptures of Chinese noblemen, horses, goats, and lions on both sides.

Wat Hat Som Paen (วัดหาดส้มแป้น) This temple is on Khlong Hat Som Paen and provides a sanctuary for a shoal of soro brook carp.

Wat Suwan KhiriIt contains a Burmese style chedi (temple, over 70 years old and 10 metres in height, which was built by a Burmese, a main ordination hall, or phra ubosot where a beautifully bejewelled standing Buddha image is enshrined and a belfry decorated with a feline pattern.

Namtok PunyabanFormerly known as Namtok Set Takuat, this waterfall is at km597 on Highway 4 towards Chumphon.

Namtok Ton Phet (น้ำตกโตนเพชร) Surrounded by moist evergreen forest with Ranong's highest Phota Chong Dong Mountains being the source of water, each tier of the falls cascades down boulders all year round.

Phukhao Ya (Grass Hill) or Khao Hua Lan (Bald Hill)Known to locals by a variety of names and endearingly referred to as Thailand's version of a Swiss pasture, this hill is something of an anomaly as it is completely treeless, being covered instead by a thick blanket of grass.

Ngao Mangrove Forest Research CentreA World Biosphere Reserve Zone by UNESCO owing to the essential role this mangrove plays in maintaining the region's ecological integrity. Many species of marine life come to the mangrove to mate, incubate their eggs, and care for their young.

Hat Chan DamriThis small beach and pier, and a nearby hillside viewpoint offer good vantage points from which to witness seafaring life along the mouth of Ranong's principal river.

Victoria Point or Ko SongAn island in neighbouring Myanmar.

Ko PhayamPhayam is known for both its long fine white sandy beaches and for the cashew nuts which are grown on the island. A number of sea gypsies, or Chao Le, live on the island.

Mangrove ArboretumIn Pa Khlong Lamliang-La-un National Reserve area and reforested under the Khlong La-un Mangrove project. Two years later, it was developed into a mangrove arboretum with a boardwalk being constructed.

Royal Initial StonesAn area where the royal initials of King Rama V were inscribed onto a stone to mark his royal visit. There are also inscriptions of King Bhumibol Adulyadej and Queen Sirikit as well as Princess Maha Chakri Sirindhorn's initials.

Kho Khot Kra or Kra Isthmus'The Kra Isthmus is the Malay Peninsula's narrowest point, spanning a mere 44 kilometres from the Gulf of Thailand to the Andaman Sea. The Kra Isthmus provides an excellent vantage point from which to see the Kraburi River forming a natural boundary between Thailand and Myanmar.

Tham Phra KhayangDespite its small scale, this cave is related to a legend of the establishment of the district. Some 40 metres deep inside, a staircase leads upward and further outside the cave to where some rare herbs are believed to have been grown.

Namtok Chum Saeng or Namtok Sai Rung (น้ำตกชุมแสงหรือน้ำตกสายรุ้ง) In the rainy season, a lot of water cascades down the boulders creating rainbows in the mist. This is why it is called "Namtok Sai Rung" or "Rainbow Waterfall".
Namtok Bok Krai (น้ำตกบกกราย) At the end of the road, a 20-metre walk through farmland and a moist forest will lead to this enormous waterfall that runs throughout the year.

Khlong Nakha Wildlife ReserveThis wildlife reserve houses a breathtaking waterfall known as Namtok Phan Met (น้ำตกพันเมตร) amid a stretch of verdant forest.

Khao Fa ChiThe hill provides an excellent vantage from which to see two rivers, the Kraburi and the La-un, converge. Japanese soldiers used this area as a port, sending support to Burma during the Second World War.

Japanese Shipwreck (ซากเรือรบญี่ปุ่น) Approximately two kilometres beyond Chao Fa Chi, a wreck of a Japanese freighter used in World War II between a pier in Tambon Pak Chan, Kra Buri District and Burma is visible at low tide.

Image Boat Procession and RacesHeld cooperatively by Thai and Burmese people during the first three days of the waning moon of the eleventh lunar month, the event features a Buddha image boat competition. Boats will be decorated to carry Buddha images and will float in procession along the Kraburi River, near the Kra Isthmus, passing by riverside communities. There will be a boat song contest and boat races as well as other forms of entertainment in front of the Kra Buri District Office.

Ko Chang (Ranong)An island in tambon Ko Phayam. With an area of 18 square kilometres and 80 homes on the entire island. Cashew and para rubber plantations as well as coastal fisheries are the main industries

Namtok Ngao National ParkCovering a total area of approximately 417,500 rai (668 km 2 ) it was declared a national park on 3 June 1999.

Laem Son National ParkIt covers a total area of 196,875 rai (31.5 hectares). It also includes islands in the Andaman Sea; namely, Ko Khangkhao and Mu Ko Kam. Places of interest within the national park include:
Hat Bang Ben (หาดบางเบน) is a long sandy beach shaded by pine trees where the national park headquarters is located.
Hat Laem Son (หาดแหลมสน) is a white sandy beach approximately four kilometres next to Hat Bang Ben.
Hat Praphat or Hat Hin Thung (หาดประพาส หรือ หาดหินทุ่ง) Similar to Hat Bang Ben, Hat Praphat is a large beach shaded by pine trees.
Ko Khangkhao (เกาะค้างคาว) is an island with fine sandy beaches and a gravel beach known as Hat Hin Ngam in the north.
Ko Kam Yai (เกาะกำใหญ่) is a scenic island with white sandy beaches.
Ko Kam Nui (เกาะกำนุ้ย) is not far from Ko Kam Yai with beaches on one side and many other nearby islets.
Do
Hot Springs and Raksawarin Public ParkThe hot springs have been a popular tourist spot ever since King Rama V visited Ranong in 1890. There are three natural spring pools. The temperature of the water in the pools remains constant at about 65 °C. There are several pools with very hot, sulphurous water, believed by many locals (and visitors) to have healing properties. The water is hot enough to boil eggs, which are sold by a vendor near the pools. There are also some pools with cooler water for bathing. These are managed by a local hotel and there is a small entrance fee (around 40 baht). Some pools are for free, ate least in the evening (Dec 2015). The hot springs are by the river, which offers cool, shady spots under the trees to spend a few hours. Stalls and simple restaurants at river bank sell food and drinks. Nothing spectacular, but a pleasant enough way to spend some time if you are waiting for a night bus. There is also a paved area to rest on, heated by the water. Locals "chill" out here, nap or chat. Generally a lovely relaxed atmosphere.

Visa runA visa run is the likely reason to come to Ranong. You can catch a songthaew from the market on the main road. It costs 10 baht to get to Saphan Pla, the fishing port providing the link to Kawthoung (aka Victoria Point), a fishing town in Myanmar. Most songthaews end up here eventually, though some follow a longer route than others. You will either be dropped across the road from the immigration office, or at a small roadside cafe a few metres away. Your first stop is to go the immigration office where you must formally exit Thailand. Get your passport stamped and then head for the pier.
It is likely you will be offered a boat by touts. A longtail boat should cost around 300 baht (return), whether you're on your own or in a group. The price you pay for a boat should be negotiated before you get in. There have been stories of tourists being charged up to 1,000 baht. There is also a big boat which is used by more organised visa runs, and a small-scale trip via longtail usually coordinated by a white haired chap in a gold coloured pickup who hangs around the bus station. Longtails are faster and fewer people mean less waiting time at the various immigration points. The big boat is slower and takes longer because of the number of passports to be checked, but can work out cheaper.
You will need USD10 (in the form of US dollar banknotes) to enter Myanmar and they like the notes to be in top condition, especially with no writing on them. Local touts sell US dollar notes, but at very noncompetitive rates. On weekends the Myanmar authorities also require photocopies of your passport made in a small shop at the immigration office for 10 baht.
The boat will first go to a Thai Immigration checkpoint, and the driver will take your passport to be inspected, then to a Myanmar Immigration checkpoint a few km on. For some reason they don't need to see your passport there. When you arrive in Kawthoung there will be plenty of touts offering cheap whiskey/cigarettes/guided tours. You must first enter the country by going the immigration office to the left as you exit the short pier. It is here you hand over your $30 and tell them (they have English) that you're a day-tripper. In fact they'll sell you a visa which entitles you to stay for up to 2 weeks. This should be given serious consideration, Kawthoung would be well worth a few days. If you're just staying the day, Myanmar immigration will stamp you in and out in one go so you won't have to go back there again on your way out.
After the boat trip back, you must return to the Thai immigration office to formally re-enter the country.

Diving the Similan and Surin IslandsAnother activity that starts from Ranong. Although most companies that offer dive tours to the Surin Islands and Similan Islands are further south on the west coast of Thailand in Khao Lak and Phuket, you can also go diving at these areas from Ranong. Also famous dive sites like Richelieu Rock, Ko Tachai and Ko Bon are included in the liveaboard tours. In Ranong are a few liveaboard dive companies, of which The Smiling Seahorse and Aladdin Dive Safari are best known for their consistent tour schedule and various dive tours. You can also join dive tours to the remote and fantastic dive sites of the Mergui Archipelago in Burma. The dive season runs yearly from end Oct-May. You can also learn diving or enhance your diving skills while joining a PADI dive course at the dive centres in Ranong. Some courses are given during the liveaboard dive tours.

Visit Ranong and Andaman FairHeld in March, the fair features exhibitions by various organizations, booth displays of travel agencies and folk sports activities.
Buy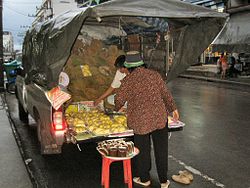 Eat
The
central market
on Ruangrat Rd has food stalls during the day. The
night market
is a short walk from the centre: at the bottom of Ruangrat Rd, turn left onto Permphon Rd. Follow this street for a few hundred metres. After the CAT building, the night market is on the right-hand side.
Ranong HideawayBy far the best restaurant in Ranong. Established since 2004 and has a very good reputation with international clientele. This is the restaurant of choice for the more affluent Thais and when they have a good crowd, you can really have a good night out. Thais enjoy mixing with foreigners at this restaurant. They serve both Western and Thai foods. Local fresh seafood, steak, pizza, cocktails, wine, and beer.
Drink
JaJaa CoffeeCoffee is good and has free Wi-Fi, but if you want to use their electricity there is a 20 baht charge. Food portions may seem particularly tiny for farang. Locals seemed to be getting better-sized portions. Do not under any circumstance order the breakfast: one piece of toast, a sloppy fried egg, a square of ham, and two 3 cm pieces of sausage.
Sleep
Budget
Bakhla BarMattress-on-floor rooms with shared baths.

Kiwi OrchidDon't buy boat tickets from here, as you will be charged 100 baht per person to be driven 10 minutes to the ferry. Walk round to the bus station and take songthaew 2 to close to the ferry stop. Also, do not book accommodation on the islands through them, as contrary to what you might be told, there is plenty of accommodation available.

Palmy Home

phone: +66 77 811005

address: 32/29 Kamlang Sap Rd

Small family-owned guest house with 18 rooms stretching into a back garden. English is spoken by manager Ms. Nalinrat Rakkhu. Clean sheets and towels. Free Wi-Fi. Songthaew to pier for a boat to Ko Chang or Ko Phayam drives by frequently (in the morning) at the entrance.

Sintavee HotelChinese-run and sometimes used for short-time action by the local working girls and their clients.

phone: +66 84 2459888

address: 41/32-34 Tah-Muang Rd

Open 24/7. Good Service, friendly staff, small menu. Free Wi-Fi.
Mid-range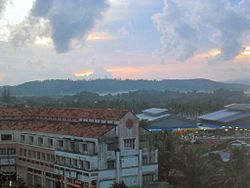 phone: +66 77 832707

address: 311/1 RuengRaj Rd Kaoniwet

Air-con, fan, cable TV, free Wi-Fi. Call reservation for your convenience. Pick-up taxi 100 baht/ person, 300 baht for car. For taxi: show this message to Farm House Hotel: ไปโรงแรม ฟาร์มเฮ้าส์ ตรงข้ามที่ทำการอำเภอเมือง.

Le Ranong Bistro HotelGood hotel, clean rooms, the ones facing the street a bit noisy due to traffic. Good cafe with fine brownies and decent cappuccino. Can arrange taxi to Ko Phayam ferry.

phone: +66 77 835240

address: 41/144 Tamuang Rd

Well signposted.
Go next