Rapid City
Rapid City
is in the
Badlands and Black Hills
region of
South Dakota
. It is a convenient base for travel on to the
Mount Rushmore National Memorial
, the Crazy Horse Memorial, the
Badlands
, and the
Black Hills National Forest
.
Rapid City is often referred to as just "Rapid" by the locals, and the name Rapid City originated from Rapid Creek.
It is known for its convenient tourist attractions located near city services. Reptile Gardens, Bear Country, and Cosmos are just a few.
Get in
By plane
Non-stop services offered:
United Airlines (operated by SkyWest) Multiple daily flights to Denver, Colorado, multiple weekly flights to Chicago (O'Hare), Illinois, and seasonal flights to Houston, Texas.
Delta Air Lines (operated by SkyWest) Multiple daily flights to Salt Lake City, Utah and Minneapolis/St. Paul, Minnesota.
American Airlines has nonstop flights to Dallas/Fort Worth and seasonal service to Chicago.
Allegiant Air (Budget airline) has nonstop flights to Las Vegas and Phoenix/Mesa.
Connecting an overseas flight to Rapid City is often relatively cheap. Flights to
Amsterdam
start at $500.
By train
By car
I-90 is the main highway that passes through Rapid City, South Dakota. The highway is more scenic coming from the west, however the Badlands lies east of Rapid City, which has a scenic highway for more aesthetic appeal.
By bus
Rapid City can be reached from almost anywhere in the US with two or less connections. There are daily services aboard
Jefferson Lines
from the Twin Cities, Sioux Falls and on to Wyoming. Jefferson lines contracts with Greyhound, while offering a superior service to Greyhound one can book them in connection with Greyhound quite economically. Powder River Lines (Operated by Coach USA) offers service to Wyoming and on to Denver and the West Coast.
Get around
Many people choose to use a personal vehicle, but it is not necessary. All of downtown Rapid City's attractions are walkable.
To reach other places, such as the Rushmore Mall, one can use the
Rapid Ride System
from the Milo Barber Transit Center. There are four loop routes featuring buses going in both directions about every 70 min around each loop. Fare is $1 and includes a transfer.
If you want to travel before 6AM or after 6PM, you will have to take a taxi, there are plenty in Rapid City for your needs. Also, there are several travel services that are available for the "night life" to ensure a safe and inexpensive ride home, Scooters and Jonesy's Party Bus.
See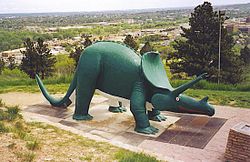 The Journey Museum & Learning Center

phone: +1 605 394-6923

address: 222 New York St

Interesting exhibits about Native American History.

Dinosaur ParkConcrete Dinosaurs on hill overlooking the city.

Storybook IslandA kids' park

Hotel Alex JohnsonAn old hotel

phone: +1-800-335-0275

address: Mount Rushmore Rd

This is a serious herpetological park (as well as a "fun" place) with one of the best collections of lizards, gators and snakes in the country-quite possibly the best. "Gus" (short for "humongous"), the resident 14-foot-long American alligator, is a favorite.

Fort Hays Chuckwagon Supper & Show, Dances with Wolves film setMovie-set buildings from Dances With Wolves are part of the fun of this traditional cowboy supper with music and comedy show. All you can eat 99¢ pancakes 6:30AM-11AM. Supper bell rings at 6:30PM nightly for a hearty meal of BBQ beef, chuckwagon potatoes, spice cake, baked beans, biscuits, applesauce and coffee or lemonade. Then is time for our foot-stomping music/comedy show by the Ft. Hays Wranglers.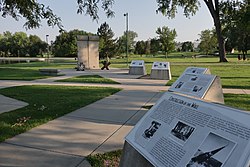 South Dakota Air and Space MuseumThe museum is open from 8:30AM to 4:30PM seven days a week and admission is always FREE! Witness the changes through time by experiencing the aircraft and technology that changed the world.

address: 1314 North Elk Vale

The water park concept is wonderful.

Berlin Wall ExhibitSegments of the Berlin Wall.
Do
address: 6th. & 7th. Between St. Joseph & Main

Art Alley is an unusual art gallery in downtown Rapid. Art Alley and the area around it are where the Black Hill's under thirty locals hang out. The alley is always changing. Artists paint on the building walls with the owner's permission.

Elks TheaterA converted traditional theater, featuring the largest screen in South Dakota, the lowest prices in Rapid City, first run movies and a lot of fun kids-all right downtown.

Go antiquing.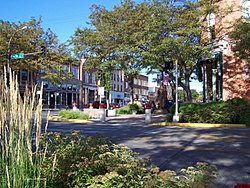 Cool off at one of the water parks.
Talk to the locals.
Taste the wonderful coffee at any local coffee shop

phone: +1 605-716-6986

address: 725 Saint Joseph St.

A hookah bar where customers can sample many different varieties of flavored tobacco. They also serve beer & wine.
Buy
Prairie EdgeAmerican Indian goods.

phone: +1 605 348-3378

address: 2200 N Maple Ave

The only indoor mall within a 350 mile radius. It features many typical suburban stores. It is surrounded by Lowes, Borders, Kohls, Best Buy, Hobby Lobby, Chuckie Cheese, two multiplex cinemas, and other retailers.

Rushmore CrossingNewly developed strip mall containing major brand stores; i.e. Furniture Row, Scheel's, Sam's Club, Target.
Eat
Rapid City is one of South Dakota's culinary centers.
There is a Gelato stand on Mount Rushmore Roadwith the best Italian ice cream in the west. Baken Park (at the intersection of W Main St. and Mountain View Rd.) offer several fast-food chains. North Rapid, the area around Rushmore Mall, offers several sit-down chain restaurants as well.
Botticelli's Restorante Italiano

address: 523 Main St

Has the best selection of authentic Northern Italian dishes and pizzas.

Hana Korean Grill and Sushi Bar

phone: +1 605 348-0299

address: 3550 Sturgis Rd

Sushi and a wide variety of beverages, as well as Korean favorites such as Bulgogi (Barbecue) and Gal Bee (Barbecue Short Ribs).

phone: +1 605 341-2202

address: 620 Main St

Best coffee shop in Rapid City. Wonderful Staff, environment, and coffee. They also serve breakfast items, sandwiches, soups, and deserts.

phone: +1 605 791-1664

address: 609 Main St

Delmonico Grill is one of several great choices for dining in Downtown Rapid City. This is where locals and visitors will find whatever cuisine they are craving and will be fascinated by our unique and evolving city center!

phone: +1 605 716-0600

address: 445 Mt Rushmore Rd

An upscale restaurant where you will experience a unique fashion of service with delicious foods that are the passion of fusion cuisine.

Armadillo's Ice Cream Shoppe

phone: +1 605 355-0507

address: 202 Main St

Many different flavors of delicious ice cream. Great place to eat and relax don't be surprised if there is a huge line. Totally worth the wait.

Great Wall Chinese RestaurantLocated in Rapid City for over 15 years, it is one of the premiere oriental restaurants with authentic food that will tantalize taste-buds.

Ichiban Sushi Bar & Japanese CuisineThe only restaurant serving Japanese food in Rapid City. Watch the chef use the most freshest ingredients while they create your perfect dish.

Fireside InnLocated close to Rapid City, but nestled in the Black Hills. An up-scale restaurant with affordable food, a place very worth the experience.

Alpine InnThe warm atmosphere (which Wally refers to as Gemutlichkeit) of the Alpine extends beyond the surface Wally's kitchen and arms have always been open to those in need of a good ear and good advice. Several of her original employees have remained with her through the years out of the sense of "Family" that Wally and the Alpine have brought to them.

phone: +1 605 342-4640

address: 2501 Mt Rushmore Rd

Good down home cooking. The C house serves breakfast, lunch and dinner. when you go for breakfast make sure to get the caramel rolls, they are homemade and to die for. All deserts are made in house by Master pastry chef Jeff Slather. Voted number 3 in all of Rapid City by trip adviser. This restaurant is a must stop while enjoying your stay in Rapid City.

Sanford's Grub & Pub

phone: +1 605 721-1463

address: 306 7th St

Great food and drinks are served in a unique atmosphere. Don't be surprised if there is a wait if going on a weekend or during the Stock Show.

Shooters Steakhouse & Sports Grill

phone: +1 605 348-3348

address: 2424 W Main St

Broad variety menu from Mexican cuisine to steaks and pastas, but best known for their buffalo chicken wings. With their multiple television screens, Shooters is a great place to watch the Monday Night Football Game or any other sporting event.
Drink
address: 610 Main St

The Firehouse is a restaurant and brewery built in the old downtown firestation. There is a great variety of food offered from Mexican, to German, to traditional hotdogs and hamburgers. In the summer, the outdoor patio features a full menu and bar in addition to live music and plays. They have large windows where you can view the brewing process. The beer menu changes seasonally to offer a variety of brews throughout the year. The options range from very light IPA's and ales to dark rich beers and even a house favorite red brew. You will not be disappointed with the menu, although the service can be hit or miss. Plan on going early in the summer to get a spot outside for the entertainment. In the winter, you can enjoy dinner theatre with new performances monthly.

Prairie BerryJust left Rapid City relocating to Hill City. They offer wines made from 100% South Dakota ingredients.

phone: +1 605-718-2675

address: 513 Sixth St

Casual fine dining, extensive wine list & beer menu, late night menu weekends. Located in one of downtown's historic buildings in the newly renovated 6th Street District. European and Californian cuisine made to order with the freshest ingredients. Enjoy casual fine dining amongst candles and fresh flowers in the main dining room, enclosed back alley or the seasonal outdoor sidewalk patio. Extensive wine list & imported & domestic beer menu. Food Styles: American (New), Burgers, French, Greek and Mediterranean, Italian, Mexican, Pizza, Seafood, Spanish/Basque, Tapas Bars, Vegetarian. Takes Reservations, Walk-Ins Welcome, Take Out, Waiter Service, Outdoor Seating.
Sleep
For easy access to I-90, look up the many hotels off LaCrosse St in North Rapid. Hotels and motels in Rapid City tend to have substantial seasonal variations in room rates, as Rapid City is a busy jumping-off point for the Black Hills in summer but frozen into torpor in the winter.
Campgrounds
are strewn all along Mount Rushmore Highway.
Budget
Microtel Inn & Suites Rapid City

phone: +1 605 348-2523

address: 1740 Rapp St

Econo Lodge

phone: +1 605 342-6400

address: 625 E. Disk Dr

Nice hotel room, questionable pool, helpful employees.

The Price Motel

phone: +1 605-343-1806

address: 401 East North St

An older motel that supplies you with the basic necessities. It holds a simple relaxed atmosphere. It also has a great location close to restaurants, shopping, gas stations, as well as the interstate.
Mid-range
phone: +1 505 348-8300

address: 445 Mt. Rushmore Highway

A "hotel" rather than a motel/motor lodge, with several hotel-type amenities. Starbucks on site.

phone: +1 605-342-8853

address: 1721 N. La Crosse St

The Grand Gateway has a 130 foot waterslide, 132 guestrooms, meeting and banquet rooms, fitness center, the Cheers Sports Bar & Casino, and is connected to Perkins.
Splurge
phone: +1 605 342-1210

address: 523 6th St

Historical downtown hotel, built in 1927.

phone: +1 605 791-2345

address: 1333 North ELK Vale Rd

Clean hotel with friendly service and upscale rooms. Rooms can hold 6-10 people.

address: 18 miles north of New Underwood

Family-run rural getaway situated on a 100 year old working cattle ranch on the banks of the Belle Fourche River.
Go next
Rapid City is the gateway to all the attractions and beauty of the Badlands and Black Hills. Simply start driving south.