Rathen
Rathen
is a spa town in
Saxon Switzerland
,
Germany
. It is close to the
Bastei
, the most famous rock formation and spectacular viewpoint in the Elbe Sandstone Mountains.
Get in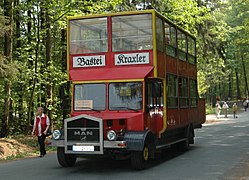 By plane
Dresden airport
(
DRS
) is about 45 km away. The local train connection (S2 from airport to Dresden-Neustadt, then S1 to Rathen) takes 1:15 hours.

By train
By suburban train (S-Bahn line S1) from Dresden (33 minutes from main station) or Bad Schandau (9 minutes). The train station is on the opposite side of the Elbe River which you have to cross by ferry (Gierfähre). Don't worry, it has very long operating hours, however the ferry does not accept normal VVO transport tickets.
In total, the train ride from Prague takes 2½ hours, from Berlin just under three hours (change in Bad Schandau).

By bus
For travelers heading directly to the Bastei, the OVPS public bus route 237 links the Bastei with Pirna and Sebnitz railway stations. Alternatively, the Frank Nuhn company operates tourist bus services linking the Bastei with Wehlen, Bad Schandau (old town), and Königstein under the Bastei-Kraxler brand name. Normal local transport tickets are not valid on the Frank Nuhn services. All these buses call at the main Bastei parking lot, about 500m away.

By boat
There is also a seasonal (touristic) steamer service from Dresden (prices and travel time are significantly higher than by train).

By bicycle
The town is a stop along the Elbe Radweg.

Get around
The village is absolutely walkable, and the stiff ascent up to the Bastei may only be done on foot.
Rathen Ferryfoot passenger cable ferry across the Elbe river, connects Niederrathen, on the east bank, to Oberrathen, on the west bank. Does not accept standard VVO transport tickets/passes.
See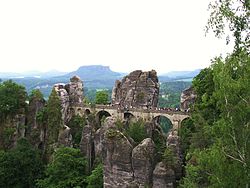 The Basteia group of rock outcroppings that form a popular tourist destination in Saxon Switzerland. They offer spectacular views of the Elbe and you can see the remains of an old medieval stronghold.
The walk from Rathen is steep, there are about 150 Metres in altitude difference, but well worth it. Paths are signposted and well-maintained and the steeper sections have steps.
There is no direct road route or public transport service from Rathen to the Bastei, although if you don't want to walk uphill you can take the bus routes from other towns mentioned above. The small access road to the Bastei branches off from the Lohmen- Rathewalde road. It is about 3 km from the main road. There is a parking lot about 500 m from the Bastei rock formation (parking fees apply). If that is overcrowded, as can easily happen in summer or any sunny weekend, there is another parking lot at the crossroads from the main road (parking fees). Walk or shuttle bus, 1,50 € pP.
Felsenburg NeurathenUsing the Bastei rock as a defensive position, the remains of this 13-century-castle are now an open-air-museum.
Do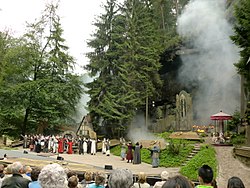 Hiking: Many hiking trails start or pass through the area.

Felsenbühne RathenAn attractive open-air theatre in a beautiful natural surrounding. Stagings include Karl May's works (like "Winnetou") and the romantic opera Der Freischütz ("The Marksman") by Carl Maria von Weber, using elaborate stage effects like fireworks and horses.
Buy
Souvenir shops have only the typical mass-produced tourist scrap on offer.

Eat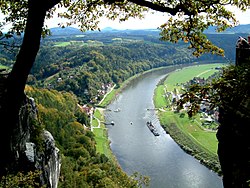 Once you step off the ferry various restaurants and small food stands (selling Bratwurst and the likes) line the road up the hill.
Bastei BerghotelThe hotel runs several places to eat, from the Panoramarestaurat with great views and steep prices, a Hotel restaurant with open log fire to beer garden and snack places. Opening times vary, depending on the season. Contact see Hotel.
Drink
There is a beer garden on the Bastei opened in summer.

Sleep
Information available on the
town website
.
phone: +49 35021 68524

address: Elbweg 2

phone: +49 35024 71066

address: Waltersdorfer Berg 12

phone: +49 35024 70250

address: Waltersdorfer Berg 17

Laasen Perle - Berg-Cafè & Pension

phone: +49 35021 68302

address: Laasensteig 1

phone: +49 35024 70205

address: Zum Grünbach 3-4

Pension & Gaststube Panorama

phone: +49 35024 70669

address: Zur Kleinen Bastei Nr. 4

phone: +49 35024 74333

address: Mühlenweg 1

phone: +49 35024 7600

address: Am Grünbach 10/11

phone: +49 35024 77 90

address: 01847 Lohmen/Bastei

in prominent position on the Bastei rock with splendid views. Pricey.
Go next