Ratnagiri
Ratnagiri
(रत्‍नागिरी) is in the
Ratnagiri (district)
of
Maharashtra
, Western India.
See
Bhagvati BundarAn old harbour, no longer in use as such but, instead, as a good white sand beach. A good beach with black sand is Mandvi Bundar.

Bhatyachi Khadi- KhadiAn area where river meets to sea. The village near this place is Bhatye, so known as Bhatyachi Khadi. The place is beautiful with a view of river & sea both. There is good casuarina cultivation on the sea shore. Also there is regional research centre for coconut & spices just near the casuarina plantation.

GanapatipuleA clean seashore and Ganpati temple, about 30 km North from Ratnagiri. This temple is reconstructed in Rajasthani stones and look.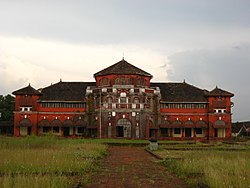 Lokmanya Bal Gangadhar Tilak SmarakThe monument and the home of a man who set off the 'Swadeshi Movement' and spearheaded the fight against the British Raj

Mirya Bunder

Patit Pawan MandirThe temple built by Swatantryaveer Savarkar for patit class of people.

Ratnadurga FortA fort covered by sea on 3 sides, with a temple of Goddess Bhagwati inside.

Thebaw PalaceBurma King Thebaw was imprisoned in this palace, built in Pagoda style. The Government had given part of this palace for Polytechnic college.

Tilak's birthplaceThe great Indian freedom fighter Lokmanya Bal Gangadhar Tilak's birthplace.
Sleep
Best Western Blue Ocean Resort & Spa

phone: +91 2357 235388

address: S No 127 Malgund, Ratnagiri, India 415612

The Best Western Blue Ocean Resort and Spa is an oasis of relaxation located in Konkan-Ganpatipule-home of one of the most spectacular beaches along the Konkan court. With a spectacular, sun-kissed, white-sand beach with beautiful clear water hitting the shore, our hotel is unique with elements of glamour, beautiful landscaping, and tropical gardening. Even as you walk along the coastline, you will find beautiful flora and fauna, including coconut palms. We take pride in being an ecotel, as we follow environmentally-friendly practices. If you are a culinary enthusiast, enjoy the delicious seafood and fruits which are a specialty of our coastal resort. Be our guest and discover the charm of a blissful coastal life.

Hotel PrabhaIt is the best place in Ratnagiri to stay. It has a restaurant also. Good rooms and good service. Its really wonderful to stay there.

Hotel PrasadIt is a safe place in the center of the city.

address: Bhatye, Ratnagiri - Pawas coastal Highway, Ratnagiri - 415612, Maharashtra, India

Housing all the top amenities you have ever longed for, it doesn't even leave a tinge of question on your mind that you surely are a very special person. You can choose from a wide range of 4 bungalows with 3 bedroom, a spacious hall with veranda and the 8 exotic Royal Suites with 2 deluxe bedrooms and a spacious hall with sitouts / terraces. The rooms designed are such that they mingle with your mood and taste. Relish the panoramic sea view that you can get from each and every room.