Ratnagiri (district)
Ratnagiri
is a district in the
Konkan
region of
Maharashtra
.
Cities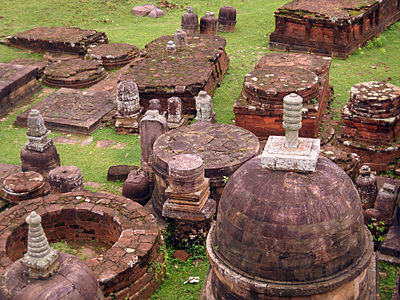 Get in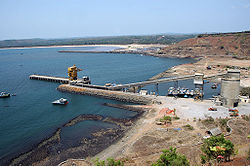 You can get in by train (Kokan Railway) or by bus (on Mumbai Goa Highway. Konkan Railways is one of the best railway tracks laid in India. It's a engineering masterpiece with very long tunnels and huge bridges. You will experience beautiful landscapes along the way.
Its 6-7 hrs journey in train from Mumbai to Ratnagiri.Ratnagiri comes in midway if one is travelling from Mumbai to Goa.
Travelling by Bus ( A/c & Non A/c ) is also equally comfortable. Most of the Busses leave around late evening around 7PM and reach ratnagiri early morning at 6AM.
But if one is going in a group with friends and that to during Monsoon Season, Taking a morning train and travelling trough Konkan Raiways is highly recommended.
Get around

Most of the trains running through the Konkan railway (KR) stop at Ratnagiri. You will get public transport bus or autos from railway station, which is little away from the town.

See
Bhagvati Bunder — an old harbour which is no longer in use as a harbour
Bhatyachi Khadi (Bhatye) — village located in an area where river meets to sea
Ganapatipule — clean seashore and location of Ganpati temple
Lokmanya Bal Gangadhar Tilak Smarak — monument and home of a man who set off the 'Swadeshi Movement' against the British Raj
Mirya Bunder —
Patit Pawan Mandir — temple built by Swatantryaveer Savarkar
Ratnadurga Fort — famous fort containing the temple of Goddess Bhagwati
Thebaw Palace — Burma King Thebaw was imprisoned here
Tilak Birth Place — birthplace of Lokmanya Bal Gangadhar Tilak
Eat
Mangoes- Alphanso Mangoes of Ratnagiri city are famous & available in month of March to June in local or streetside markets. Mango juice(pulp)is a seasonal sweet dish found during these days in Hotels.
Cashews- Ratnagiri is equally famous for cashews. Cashew curry prepared from tender cashew kernels is available in February - March or afterwards in many hotels.
Amboli- A pancake like food available in old hotels like Bhide upahargruha. Its available & eaten only for breakfast.
Sandan: Cake prepared from Jackfruit juice is available during months of March to June. Its available in selected restaurants.

Beautiful BeachesRatnagiri is a place where you can find lots of beaches. You have to go maximum 20-30 km and you will find an excellent beach is waiting for you.
Drink
Kokam Sarbat - cool kokam juice
Amba Panha - raw mango drink
Shahalyache Paani - tender coconut water

FishThe Sea Fish no one can miss. The type of cooking fishes in Konkan is totally different and thus must be tried.
Go next