Ravangla
Ravangla
is in
South Sikkim
.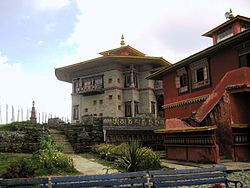 Understand
Ravangla is a relatively new tourist spot in South Sikkim. It is a small picturesque town on the highway from
Gangtok
to
Gyalshing
at an elevation of 8,000 ft. Ravangla is one of the few places in Sikkim which offer undisturbed views of the Greater Himalayas (Mt. Kanchenjunga, Mt. Pandim, Mt. Sinialchu, Mt. Kabru). In April and May lots of flowers are in full blossom. The weather in Ravangla is very volatile, so always be prepared for rains.
Get in
Ravangla is situated about 65 km west of Gangtok and 52 Km east of
Pelling
. It is directly accessible from Gangtok (2 hrs 15 mins),
Siliguri
(126 km - 4 hrs 30 mins),
Darjeeling
and
Kalimpong
. If you want to reach Ravangla by evening, make sure you book or hire a taxi by afternoon. Beyond afternoon, one can reach Ravangla by traveling to Namchi and from there another taxi to Ravangla.
By jeep or taxi
Jeeps arrive at and leave from the crossing at the southern end of the market . A few taxis go directly to Pelling, but normally you will have to change cars at Gyalshing.
By bus
Buses to Gangtok leave at 9am, to Gyalshing at 11am. There are two buses to Namchi at 9am and 1pm. If you want to go to Darjeeling, you will have to take a bus or taxi to
Jorethang
first and change cars there.
See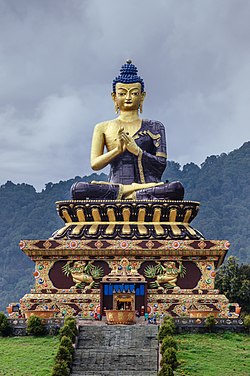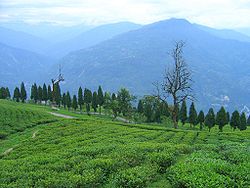 Bon MonasteryThe Bon faith was prevalent in Tibet until the 8th Century AD (before the advent of Buddhism). Presumably many of its rituals were taken over by Buddhism, such as the prayer flags and the burning of incense.

Borong and Ralang Cha-chuThese sulphur springs are traditional winter spas. Visitors spend there a few days soaking in the sulphur springs to which healing effects are attributed. Ralang Cha-chu is reached after a 1 hour downhill walk from Ralang monastery into Rangit valley. Borong Cha-chu is a 7 km drive from Ralang and an additional 45 minutes walk downhill. The hot springs are located along the banks of the Rangit River and are be visited best between December and February. Temporary huts are available for overnight stays at nominal rates, but you have to bring along bedding and cooking utensils. During the hot spring season basic vegetables are sold by the local village people.

Doling MonasteryA gompa of the Nyingmapa (Red Hat) sect of Buddhism, situated amidst cardamom plantations.

Khandosangphu and Sharchog BephugThese two holy caves where Guru Padmasambhava, who spread Buddhism in Tibet in the 7th cent, is said to have meditated on his journey to Tibet. Khandosangphu Cave is located 34 km from Ravangla (8 km beyond Legshep). Sharchog Bephug at Sangmo village (8 km from Ravangla) is the largest of holy caves, extending into the Menam and Tendong hills.
Ralang MonasteriesThere are two monasteries of the Kagyupa sect of Buddhism. The Old monastery was built in 1768.

Rangit Water WorldA dam across the Rangit river, for a hyroelectric project

Rayong Sunrise View PointThe viewpoint offers spectacular view of the sunrise up the snowy peaks of Mt. Narsing, Jopuno, Kabur, Rathong and Pandim.

Shiva Mandir(26 km) is a shrine revered by the local people on the bank of the Rangit river at Legshep

Tashiding Monastery(39 km from Ravangla) is the most sacred monastery complex in Sikkim. It was built in 1716.

Temi Tea Garden(15 km from Ravangla) is one of the most beautifully situated tea gardens of Sikkim. The journey on the winding road via Dentham is specatular. A 9 km trek from Dentham through the Tendon Sanctuary leads to a dormant volcano with views on the Kanchenjunga and Singalila range in the West and the plane in Southen Sikkim.

Tinkitam Village(6 km from Ravangla), a quaint little Sikkimese village, known to orchid lovers as the natural habitat of Paphiopedilum fairieanum (lady's slipper), which is in full blossom in October and November.

Buddha Park

phone: +91 95936 26269

address: Ralong Rd

A large Buddhist complex completed in 2013 with the main Buddha statue 40 metres high.
Do

Ravangla serves as basis for moderate treks to Menam (3,200 m) and Tendong (2,575 m).
Menam trek. The ascent to the Maenam is about 12 km long with a difference in altitude of about 1,000 m and takes about 3 to 4 hrs. Weather permitting it offers splendid views on the steep peak of Mount Narsing (5,825 m), Kanchenjunga, and other prominent peaks of Sikkim. It is not easy to find the path, therefore a local guide (₹1000-1500, group of 4 in 2015) is highly recommended. A small brick hut at the few minutes before the top can be used as accommodation. The hut can accommodate up to 5 people and can be managed for even 6 people. No availability of water at the top. There is a small Gompa(a small Buddhist temple) at the peak. The path winds through a forest of oak, chestnut, magnolia and rhododendron trees. There are few trees along the trek whose barks have unique property of glowing in the dark. The guide will get you one if you ask, but its effect is short lived(2 to 3 days) and not sure if it glows until you carry it back to your place. There are two types of paths along the trek, one which is made as a footpath for easy and gradual climb and another is a very rough short route which goes very steep crossing the footpath at many places. Only sufficiently fit people use the short route according to the guide. Flowers are in full blossom in April and May. The area is the natural habitat of the red panda, Himalayan black bear and many species of deer and is designated as a Wildlife Sanctuary.
Before starting the trek one must register his/her name in the forest barrack which is just near the entry point of the trek. If guides are not available to anyone, the person in the forest office will either help you find one or he himself will come as a guide. The forest entry fees is 25 rupees(2015) per day. The entry point to the trek is near the Buddha Park entry gate and any local will assist you to the forest office on asking for it.
Tendong trek starts with a 13 km drive to Damthang and 2 hrs 30 mins trek. Tendong peak (8.500 ft, 2,575 m) offers a spectacular view of the mountains of Sikkim and the distant plains of North Bengal.
Buy
Handicraft centre KewzingA training centre set up by the government in order to preserve the traditional Sikkimese handicraft and handloom. Here you an observe how young boys and girls learn the traditional arts of wood carving and weaving and buy some souvenirs.

Kheunpheling Carpet CentreIn the Tibetan Refugee Settlement Camp above Ravangla. Their traditionally designed woven woolen carpets belong to the finest Tibetan carpets.
Eat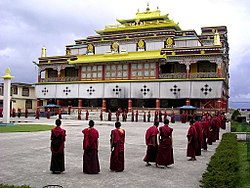 Florida Cafe

address: market street

best momos in town

Karma Cafe

address: market street
Be sure to have your dinner in hotels before 8pm as most of the hotels start closing by that time.
Taste of Sikkim

phone: +91 98326 74818

address: Ralong Road, Rabongla Bazar

While authentic Sikkimese/Tibetan is served, including momo dumplings and thukpa soup, the restaurant also serves standard North Indian food.
Sleep
Good accommodation options include
Hotel Meeenamla
and the
Mt. Narsing Village Resort
.
Budget
Medium
Meanamla Hotel

Hotel Rabong Valley

phone: +91 98312 35466

address: Ravangla Rabong Road

Newly constructed as of 2015, at the lap of a green hillock. Great views of Mt. Kanchenjunga.
Splurge
phone: +91 81458 41614

address: Legship-Rabongla Rd

The Mount Narsing Village Resort has two wings. One on the road and the other one 1 km up. The one by the roadside is cheaper (₹800-₹1000) but the food is just ok and so is the accommodation. The Annexe wing has suites and cottages. (₹1500 - ₹2100) and has great views of Mt. Kabru and the Narsing range. The food is quite tasty. The restaurant serves Sikkimese, Indian, Chinese and Continental cuisine.
Go next