Ravello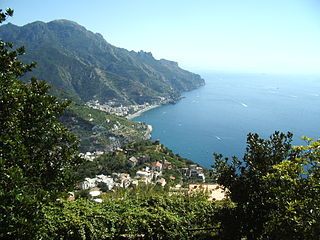 Ravello
is a town and commune in
Salerno
,
Italy
. A peaceful area with a small population, Ravello offers stunning views of the Mediterranean. Visit their renowned gardens, Villa Cimbrone and Villa Rufolo, and their spectacular Duomo, the Cathedral of Ravello in Vescovado Square. During summer months the city hosts the annual Ravello Festival, an event started in 1953 in honor of Richard Wagner and continued as a celebration of local art and music.
Get in
Ravello is in the hills above
Amalfi
. If you arrive by bus or boat from another city and plan on staying late for a concert, you will need to arrange return transportation. Your hotel should be able to arrange a car and driver to get you back to your hotel. This is a pricey option although it may be your only choice. The nearest airport is
Napoli-Capodichino International Airport
, and for trains you'll have to go to
Salerno
.
By bus
phone: +39 89 405 145

Buses run throughout the Amalfi Coast between the cities of Salerno, Positano, Sorrento. You will disembark at the city of Amalfi and from there you can either take a different SITA bus up the hill or walk to Ravello. SITA buses are air-conditioned. The city-to-city SITA buses are inexpensive but can become very crowded during the high traffic summer seasons. Check the bus schedule for times.

City SightseeingBuses from Amalfi to Ravello every half-hour, €5 each way.
By boat
The closest point for Ravello with boat and ferry arrivals is Amalfi, which shuttle between the coastal towns of Positano, Salerno, Sorrento or Naples. In good weather, the views are spectacular from the water.
Coop Sant Andrea
run the service between Amalfi, Salerno and Positano. For private and luxury charters,
Amalfi Coast Yacht
are based in Amalfi, service the entire coast and specialise in transferring guests who are staying in Ravello's five-star retreats.
By car
Ravello is accessible by car, although cars are not allowed into Ravello proper and there is only one parking lot near the main square.
The main highways in this region that traverse the Amalfi Coast are SS145, SS163, and SS373. Continue on Via Castiglione to arrive at Ravello.
Get around
The small town of Ravello is easily explored on foot. SITA buses run frequently between Ravello and Amalfi (which is the main bus terminal on the Amalfi Coast for connections) and taxis are available near the main bus stop in Ravello.

See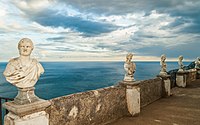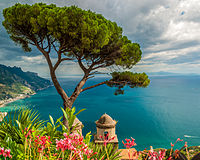 phone: +39 089 857459

address: via Santa Chiara, 26

Hotel and gardens. The villa is reached by a narrow pedestrian road and is situated on a cliff known as "cimbronium," which gives the Villa its name. Before becoming a hotel and a site for weddings, conventions, and other events, the grounds were passed down from one influential family to another since the 11th century. It became apart of a nearby monastery around the 17th century and eventually fell into disrepair. In 1904, a British baron named Ernest William Beckett fell in love with the villa and purchased it with plans to renovate the grounds. With the help from Ravello architect Nicola Mansi and a French botanist, Beckett added the Villa's garden, small temples, gazebos, and bronze and stone statues. The Villa has attracted many famous admirers, including E.M. Forster, Virginia Woolf, D.H. Lawrence, and Winston Churchill. Hollywood actress Greta Garbo and conductor Leopold Stokowski had a famous romantic getaway on its grounds in 1938. A stroll through the estate will reveal poetic inscriptions found on plaques and numerous replicas of Roman busts. One attraction is a statue of Mercury, the Roman messenger god, who invites visitors to a few moments of introspection. Another sight to see is the Terrace of Infinity, a serene location that sits high above a sheer cliff facing the ocean.

phone: +39 089 857621

address: Piazza Duomo, 1

Villa Rufolo is a palatial Moorish-style estate that was built in the 1270 for the Rufolo family. It is in Ravello's main square, a 10-minute walk from Villa Combrone. The Villa Rufolo is comprised of a main building that adjoins a chapel with a reception hall and an entrance tower. The tower, known as the Torre Maggiore, is 30 m high and was once used to spot pirate ships arriving to the Amalfi coast. The estate overlooks the Bay of Salerno and its upper terrace gardens contain cypress trees, cycads, yuccas and palms. The Villa remained with the Rufolo family until they sold it in 1588. Thereafter, the Villa slowly fell into disrepair due to earthquakes, negligence, and property subdivisions. Almost three centuries later it was restored by its new owner, a Scottish botanist named Francis Neville Reid. In 1880, a trip to Villa Rufolo's garden inspired German composer Robert Wagner to write the second act of his final opera, Parsifal. Every summer since 1952, Villa Rufolo hosts the Ravello Music Festival, an open-air concert held in Wagner's honor.

address: Piazza Duomo

The Duomo is Ravello's cathedral, which is in the town's main square. Founded in 1086, the entrance of the Arabic-inspired church features two bronze doors that picture the 54 scenes of Christ's life. These bronze doors are one pair of only two dozen in Italy. Inside, the cathedral's interior is made of sculpted white marble. Visitors can climb behind the altar to get a look of vials that contains St. Pantaleone's holy blood or see a fragment of St. Thomas' finger bone. In the crypt, the cathedral's two-room museum features a 3rd-century sarcophagus, marble slabs decorated with mosaics, and a reliquary bust that holds the skull of Saint Barbara, the patron saint of artillerymen and miners.
Do
Cruises
Down in Amalfi, you can take a full-day Amalfi Coast to Capri Boat Excursion, which departs everyday from Amalfi, Minori and Maiori. It includes village sightseeing along the Amalfi Coast as well as a chance to check out wondrous marine caves, grottos and rock formations. You'll circle Capri, then dock and spend three hours exploring the island. Don't forget your swimsuit, because the day will wrap up with a swim in the Mediterranean. A ticket costs €79, and advance booking is strongly encouraged. Or If you're short on time, you can opt for half-day Amalfi Coast to Positano Boat Tours, with departures in the morning or the afternoon. You'll see marine caves and grottos, and you'll pass by the towns of Ravello, Maiori, Amalfi, Minori, Scala, Praiano, taking a two hour stop in Positano. A ticket is €49, and advance booking is strongly encouraged.
Cooking courses
Cooking Class with Mamma Agata

phone: +39 089 857 019

address: Piazza S. Cosma 9

Talented and experienced chef Mamma Agata hosts this class in a state-of-the-art kitchen on her terrace overlooking Ravello. You will learn all about the art of homestyle Italian cooking, from growing organic vegetables to serving a beautiful meal. Following expert demonstrations, you'll use regional ingredients to make traditional dishes including antipasti, pastas, breads, main courses and desserts. After class, share your meal with your classmates while enjoying local wines and homemade liquors from the Amalfi region.

phone: +39 089 858 416

Chef Vincenzino runs a cooking school from his home in Ravello. To kick off your culinary experience, he'll guide you through the historic alleys of Ravello, visiting the local food shops. You'll meet the merchants and learn how the locals choose their fish, pasta, vegetables, and wines. Later, at Vincenzino's clifftop home, where you'll prepare a lunchtime feast, served (weather permitting) on a terrace overlooking the Mediterranean. The day starts around 09:00-10:00 and ends following your meal in the afternoon.
Other activities
The Ravello Concert SocietyOffers concerts in the evening. The concerts are usually outdoors, weather permitting. Tickets can be obtained in person or through arrangements with your hotel and cost around €25. This is a fantastic way to enjoy the artistic culture of Ravello.

The Ravello FestivalOne of Italy's oldest festivals, is an extensive offering of musical and dance performances, film screenings, art exhibits and more. It runs from June to September, with most performances on an impressive open air stage at Villa Rufalo. Events are also held at a variety of indoor and outdoor venues around Ravello.

Ravello's pathwaysIf you like to walk or hike, discover Ravello's trails and serpentine stairs carved into the hillsides. You can wind your way down along the Via Roma to Minori, taking in stunning views of the valley below. The incline is pretty steep, but you can take a bus back up to Ravello from Minori. The towns of Amalfi, Atrani, Scala, and Pontone are just an hour or two's beautiful hike down. Print out a trail map of Ravello to take with you.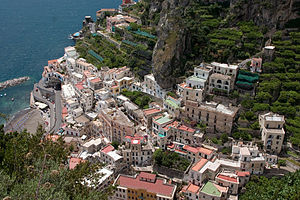 Buy
Small boutiques and outdoor markets abound in Ravello. The town has long been famous for attracting artists and craftsmen, and this is reflected in the handmade items available for sale. Many shops will ship your purchases home - but beware of your own country's customs procedures first! Because Customs will charge you money to check and search your purchase at their major custom's hub when it arrives from Italy and will only release your package (ceramic table top, dinner set, etc.) when you pay the customs import costs. And this can go into the thousands as it is calculated by weight.
phone: +39 089 858576

address: Via della Repubblica, 41

For unique handmade ceramics head to Ceramiche d'Arte where the product patterns and colors are inspired by hundreds of years of Italian tradition.

phone: +39 089 858437

address: Via dei Rufolo

Ceramiche Da Lena is another well-known ceramics shop found in Ravello. The company produces a wide variety of ceramics, from delicate boxes to umbrella stands. Designs span a wide range of tastes from a classic Arabesco to the light-hearted "animal" series.

Camo

phone: +39 089 857461

address: Piazza Duomo, 9

Ravello is home to Camo, a cameo store with a museum behind it so that you can get a dose of the history that goes into this intricately carved jewelry.

Wine & Drugs

phone: +39 089 858443

address: Via Ss. Trinita, 6

The small town is also known for its wine. A small shop, Wine and Drugs, often lures travelers in with its curious sign and keeps them for an impromptu wine tasting.

phone: +39 089 872264

address: Via Civita, 19

Buy limoncello and other gourmet liqueurs flavored with herbs and fruits, like fennel and strawberry, at this establishment dedicated to products made by local artisans.

phone: +39 089-858167

address: Via Trinità, 37

Another shop in town that sells limoncello, melon and strawberry-infused liqueurs. All products are made with local ingredients, according to traditional recipes.

phone: +39 089858467

address: Via trinità, 8

A cashmere shop, where you can find made-in-Italy products. Sweaters, scarfs, hats, etc.

address: via Roma, 26

Offers ceramics for 25 years.
Eat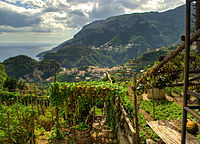 Food in Ravello is characterised by fresh, flavourful ingredients prepared by chefs who are passionate about their country's cuisine and determined to provide an authentic, welcoming eating experience. Be prepared for long, personal talks with your server, and for the owner to come out and greet you with open arms!
Cumpa Cosimo

phone: +39 089 857156

address: Via Roma, 44

A family-run restaurant, since 1929, with delicious pasta dishes and a welcoming atmosphere. Specialities include cheese crepes, fish stew and veal scaloppini, although chef/owner Netta Bottone has been known because of her on-the-spot creations. Past customers include Jackie Onassis, Mariah Carey and Gore Vidal.

Ristorante Bella Vista sul Mare

address: Piazza Fontana Moresca, 5

Inside the 4-star Hotel Bonadies, Ristorante Bella Vista sul Mare serves up fresh, authentic Mediterranean cuisine along with local specialities. For those who are not particularly hungry, there is also a snack menu to choose from. Enjoy a glass of wine in front of the stunning views from the restaurant and veranda.

phone: +39 089 857019

address: Piazza S. Cosma, 9

Home to the famous Mamma Agata Cooking School, this beautiful space also houses the Country Garden Restaurant, where the tables are communal and the food is unique. The tasting menu is drawn from the local traditions of Campania, as music is.

Salvatore

phone: +39 089 857227

address: Via della Repubbliche, 2

Salvatore is in the heart of Ravello, with amazing views of the hills and the seas. The seafood is a speciality here, with carpaccio of sea bass, but there is also an extensive pasta menu and many meat dishes (in fact, this is probably not the place for vegetarians). The wine list can be a little overwhelming, but the waiter is always on hand to help uncertain diners choose.

Rossellinis

phone: +39 089 818181

address: Via San Giovanni del Toro, 27

Located on the terraces of the Hotel Palazzo Sasso, Rossellinis has been awarded 2 Michelin stars. The true way to experience Chef Pino Lavarra's Italian cuisine is to try the eight-course tasting menu, including such delights as giant squid ravioli and lamb filet wrapped in rose crust. Service is respectful and attentive.

Ristorante Pizzeria Vittoria

phone: +39 089 857 947

address: Via dei Rufolo, 3

This family-run restaurant serves moderately-priced food in a casual, welcoming dining room. Menu items include spaghetti alle vongole, pesce alla griglia and wood-oven pizzas, such as the lauded spicy salami pizza. The homemade pastas are excellent, too.

phone: +39 089 857226

address: Via Bocaccio, 4

Offering mainly traditional Southern Italian cuisine, this restaurant is located inside the Hotel Garden atop the high mountainside of Ravello. The food is fresh, culled from the local fishermen, butchers and bakers and the nearby farms. Although the pasta dishes in particular are worth trying, it is the spectacular view from the hillside that draws tourists to this spot.

phone: +39 089 858302

address: Via della Marra, 7

Figli di Papa is inside an ancient palace off the main square of Ravello and offers an extensive selection of pasta, meat, fish and vegetable entrees. The food is fresh and prepared according to local recipes, and is carefully presented to satisfy all the senses.
Drink
The vineyards that cling to the hillsides below Ravello primarily produce white wines; two local DOC white wines of note are Vigna San Lorenzo from the Episcopio winery at the Hotel Palumbo and Selva delle Monache from the Ettore Sammarco winery, both located in town. To sample the area wines, make sure to tour a local winery, either independently or through a tour company. Those travelers looking for something a little stronger should visit the bars located in Ravello's luxury hotels and enjoy a cocktail in high style. Espresso and other coffee drinks can be found in cafes near the town center.
Wine tasting
Episcopio Winery at the Hotel Palumbo

phone: +39 089 857244

address: Via S. Giovanni del Toro, 16

The Episcopio winery, on the grounds of the Hotel Palumbo, was established in 1860 by the hotel's founder, Pasquale Palumbo, and is overseen today by his great-grandson. Over the years, many of Ravello's famous visitors, including Richard Wagner, have enjoyed the quality whites and reds that these beautiful terraced vineyards have produced. Tours of the winery are available, or you can relax with a glass at the hotel bar, where you can rub elbows with the ghosts of past celebrities and look out at the sea in an old world Mediterranean atmosphere.

phone: +39 089 872774

address: Via Civita, 9

A small, family-run and respected winery, in business since 1962. Wines, such as the DOC-designated Selva delle Monache, are produced from grapes grown exclusively in Ravello. Visitors to the winery may purchase wine and limoncello made onsite.

phone: +39 089-857019

address: Piazza S. Cosma, 9

The winery leads an evening wine tasting in which three local wines are paired with traditional foods. It has received rave reviews from travelers.
Hotel bars
The Piano Bar at the Hotel Caruso

phone: +39 089 858801

address: Piazza S. Giovanni del Toro, 2

18th-century ceiling frescoes, an elegant wood-paneled bar, white-jacketed waiters, and a dramatic view of the Mediterranean give this lounge a romantic 19th-century ambiance. Piano music from 19:00 onwards.

Bar Don Pasquale at the Hotel PalumboSee above listing for the Episcopio Winery.

Caffé dell'Arte at the Hotel Palazzo Sasso

phone: +39 089-818181

address: Via S. Giovanni del Toro 28

The decor at the Caffé dell'Arte combines antiques with a cool, vaguely 1920s art deco aesthetic. Choose from the hotel's collection of rare liquors and brandies, or enjoy a light meal. Panoramic views of the coastline, as always, complete the experience.
Cafés
Most cafés in Ravello are located in or just off of the Piazza Duomo and offer espresso drinks, a quick bite to eat, and outdoor seating.
Garden Bar

phone: +39 089 857 226

address: Via Boccaccio 4

A panoramic terrace with a stunning view over the Mediterranean Sea. Fresh sandwiches and light dishes.

Bar Calce

phone: +39 089-857152

address: Via Roma 2

Bar Schiavo

phone: +39 089-857142

address: Piazza Duomo 2

Bar Klingsor

phone: +39 089-857407

address: Via dei Rufolo 4
Sleep
Budget
Mid-range
Splurge
Go next
Nearby destinations include:
Amalfi: This is the heart of the magnificent Amalfi coast and a beautiful seaside setting. Home to the Duomo di Amalfi and a once strong maritime republic. Visit the Chiostro del Paradise, a famous graveyard dating back to the 1200s that also houses ornate statues and columns.
Positano: A city marked by fragrant citrus groves and brilliant white buildings stacked in tiers on the cliffs of the Amalfi coast. Positano offers lovely beaches, historic architecture and spectacular views.
Sorrento: Partake from a wealth of cafes, restaurants and shops. The town showcases striking architecture, and is a stop on the Circumvesuviana railway—a perfect diversion before visiting other locations such as Pompeii and Ercolano.