Redding
The
City of Redding
, in
Shasta County
,
California
, and its surrounding area has numerous outdoor and indoor activities, including two lakes and an inactive volcano within close driving distance. The area offers many parks, hiking trails, and adequate shopping.
Redding is a medium-sized city, and the second largest north of Sacramento after Chico. It is also the county seat and lies along the Sacramento River, an important waterway that provides 35 percent of the state's water. It is the last major city between the start of cascade mountain range slightly north and the Oregon border.
Understand
History
Redding was founded as Poverty Flats in 1868 during the gold rush, by a former Sacramento mayor named Benjamin Bernard Redding. He built property in the area so that the Central Pacific Railroad could build a train terminal there. While building the terminal they built the city in the same area, naming it Redding after Benjamin Redding.
Since then the town has gone through various periods of rapid growth, followed by slow downs and then more growth. In the early 20th century Redding had a thriving copper and iron extraction industry. However the town struggled in the twenties with the decline of the mining sector. It came back in the 1930s though and boomed in the 1940s due to the construction of Shasta Dam, which caused the population to nearly double. In the 1950s, the area stayed prosperous thanks to the growing lumber industry and tourism that the dam brought. Interstate 5 was built during the 1960s and 1970s. Further helping the surrounding areas economy.
Redding started to decline again in the early 1980s because of the stricter logging regulations put in place by the federal government that essentially crippled the logging industry. The town continued a slow decline throughout the 1980s, 1990s, and early 2000s.
It has had a slight economic resurgence due to increased business from people visiting the megachurch there.


Visitor information
Get in
By road
Interstate 5
is the main north-south road through Redding, going as far north as
Blaine, Washington
(near
Bellingham
) to
San Ysidro, California
(a community of
San Diego
).
Highway 299 is Redding's main link to the coast (namely
Arcata
) and to northeastern California (
Modoc County
). It is, however, one of the less-traveled roads because it is very narrow with very sharp curves much of the way.
Highway 44 is the main road to
Lassen Volcanic National Park
, stretching from Redding in the west to Highway 89 in the east. Many Redding locals go to Lassen National Park using this road in the summer, so that's when it is most crowded. Other times, parts of it are closed due to snow.
By train
Amtrak makes a once-daily stop in Redding at the which is next to the bus terminal at 1620 Yuba St with the following:
Amtrak Coast Starlight which makes an once daily trip in each direction between Seattle and Los Angeles, serving Klamath Falls, Dunsmuir, Redding, Chico, Sacramento, etc. Trains arrive in the middle of the night. The southbound train arrives at 2:21AM and the northbound at 3:06AM, but delays are quite common too. There are no ticketing or baggage handling services at this location.

Amtrak Thruway Motor CoachConnects Redding (via Red Bluff, Chico, Oroville, Marysville, Suisan-Fairfield, Davis, etc) to the Amtrak San Jaoquins and Capitol Corridor trains in Sacramento and only the San Joaquins Train in Stockton. Tickets on this bus are only available for connections to Amtrak trains. Thruway buses stop at the RABA Transit Center at 1530 Yuba St on the opposite side of the tracks from Redding Station (see below).
By bus
, is Redding's central bus station for the local city buses (
RABA
) and other bus lines. The station is at 1530 Yuba St next to the Amtrak Station. It is served by:
By plane
The next nearest airports for commercial flights with additional airlines are in
Medford
(
MFR
) located to the north, and in Sacramento (SMF) located to the south. Both are directly accessed from the I-5 corridor.

Get around
By bus
RABA (Redding Area Bus Authority)
is the city bus line in Redding. It also has routes that go to
Burney
and Anderson. Their central terminal is at 1530 Yuba Street which is also is the place to catch the Amtrak bus and the Greyhound (see "By bus" in the above under "Get In").
By bicycle
Drivers generally cooperate with bicyclists on major roads, but that rule changes dramatically with smaller, less-traveled roads. Other than that, follow the same guidelines on a bicycle as you would in any other city.
By taxi
ABC Cab

phone: +1 530 246-0577

Redding Yellow Cab

phone: +1 530 222-1234
See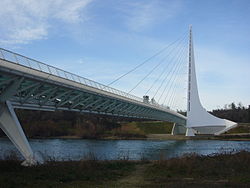 phone: +1 530 243-8850

address: 844 Sundial Bridge Dr

Turtle Bay Exploration Park, located along the banks of the Sacramento River, contains a museum and 20-acre (81,000 m²) gardens. The campus features permanent and changing exhibitions highlighting art, history, horticulture, forestry, and natural science.

Sculpture Gardens at City Hall

address: 777 Cypress Ave

Sculpture garden featuring pieces by artists from Redding.

Pilgrim Congregational Church

address: 2850 Foothill Blvd

Designed by Frank Lloyd Wright. A bit tucked away, but worth seeing if you're into architecture.

Sundial BridgeIn 2004, the Sundial Bridge at Turtle Bay was completed. The dramatic pedestrian span was designed by the noted Spanish architect-engineer-artist Santiago Calatrava and links the north and south campuses of the 300-acre (1.2-km²) Turtle Bay Exploration Park. The pylon holds up the bridge support cables and also acts as a sundial (which is accurate only on the summer solstice—June 21 or 22).
Do
Events
The Sundial Film FestivalThe Sundial Film Festival is Redding's annual film festival, and awards professional and novice film makers and photographers. Two programs are shown each year; student, animated and assorted films are in the afternoon and the premier films along with photography awards in the evening show

Lemurian Shasta ClassicThe Lemurian Shasta Classic Mountain Bike Race takes place the last weekend of April, includes a long course, intermediate course and short course in the gnarly terrain west of Redding

Whole Earth Watershed FestivalThe Whole Earth Watershed Festival is a day of events focused on the environment, offering vendors, performances and live music and educational opportunities for the entire family. Recycling education, fun-run and farmer's market, are just a few of the additional opportunities the festival offers

Redding Beer WeekRedding Beer Week is an annual celebration of local beers. The event begins with an opening ceremony and beer tasting followed by a week of more than 30 events hosted by local vendors, the closing ceremonies are full of more beer food and live music.

Freedom FestivalThe Fourth of July Freedom Festival takes place at the Redding Civic Center and includes a family friendly day of picnics, food vendors, live entertainment and a large fireworks display set to patriotic music.

Kool April NitesKool April Nites boasts more than 25 years of classic car excitement. This week-long event attracts participants from all over the country and is full of show and shines, The Friday Nite Cruise, music, dances and the car show at the civic center.

Banff Mountain Film Festival World TourBanff Mountain Film Festival highlights outdoor adventure and sports and as part of the international world tour and the Redding event showcases local outdoor sports with a Banff Street Fair on the demonstration block in front of the Cascade Theatre and spotlights local vendors and experts in outdoor fun.
Buy
There are many places to shop in Redding, including big-box retail outlets and specialized local stores. The Mt. Shasta Mall and the area around it are great places if you want large department stores, whereas downtown Redding, the Masonic area, and Enterprise all have smaller unique shops, including bookstores, secondhand stores, gift shops and boutiques.
phone: +1 530 223-3575

address: 900 Dana Dr
Eat
phone: +1 530 221-6270

address: 942 Hartnell Ave

phone: +1 530 241-9705

address: 1743 California St

It looks pretty shabby on the outside, but the food and service are nothing short of amazing. Be sure to have plenty of the salad: it's also very good. Scallops are wonderful as well, but the main attraction is the steak.

phone: +1 530 244-7663

address: 1100 Center St

A nice Italian place with good food.

Fratelli's Pizza Parlor

phone: +1 530 244-4121

address: 1774 California St

phone: +1 530 221-7600

address: 2605 Hilltop Dr

phone: +1 530 241-0136

address: 1320 Placer St.

Lim's Cafe Chinese and American Food

phone: +1 530 241-9747

address: 592 N Market St
Sleep
Budget
phone: +1 530 221-1800

address: 1640 Hilltop Dr

phone: +1 530 246-4470

address: 1250 Twin View Blvd

phone: +1 530 221-0562

address: 2385 Bechelli Ln
Mid-range
Splurge
Stay safe
Like many midsize American towns, Redding is fairly safe overall as long as you plan properly and take the same precautions everyone should while traveling in a new place. Although there are no truly unsafe places In Redding, care should still be taken when visiting certain areas of town. For instance, the South Market Street area, including South City Park and The Shasta County Library can be problematic depending. There are also sort of bad areas by Enterprise School. Again though, they are not any more unsafe than comparable lower income neighborhoods in other midsize cities.

Go next
Shasta - approximately west of downtown Redding on Highway 299, Shasta is a Gold Rush-era ghost town, that features an admission free courthouse museum, ruins of several brick buildings, 19th-century cemeteries, short trails, a picnic area, and occasional living history demonstrations.