Reggio Emilia
Reggio Emilia
, or officially
Reggio nell'Emilia
, is a city in
Emilia-Romagna
, in the north of Italy.
It's on the
Via Emilia
, between
Parma
and
Modena
.
phone: +39 0522 451152

address: Via Toschi, 1/b
Get in
By plane
There's no major airport in Reggio Emilia.
There is a local airport in Parma (50 km away) with few connections to Rome, Sardinia (during summertime), Paris and London. The town can be easily reached from the bigger Milano airport
Linate
or
Malpensa
, from Verona's
Valerio Catullo
or from the Bologna Airport,
G. Marconi
.
By train
Being close to Bologna and Milano, the main hubs for train traffic in the north of Italy, it's relatively easy to reach Reggio Emilia by train.
The train station within walking distance from the city center, and relatively safe compared to major cities train stations.
From Milano and Bologna it's possible to book expensive and fast Eurostar trains, or just jump - without reservation - on a Regional train (slower, probably a bit dirty, but definitely cheaper).
Stazione di Reggio Emilia

address: Piazza Guglielmo Marconi

The station opened in 1859. It serves long distance trains in directions Milan–Bologna and also regional trains towards Ciano d'Enza, Guastalla and Sassuolo.

Stazione di Reggio Emilia AV Mediopadana

address: Via Città del Tricolore

It is a newer station opened in 2013. It is on the high speed railway Milan–Bologna. For transfers to the centre of Reggio Emilia change here to the regional line Reggio Emilia-Guastalla or take a bus (lines 5 or 9). The station per se is a masterpiece of modern architecture designed by Santiago Calatrava.
By bus
By car
Reggio Emilia is on the Highway A1, that runs from Milano to Napoli, passing by Bologna, Firenze and Roma.
Leaving from Milano the exit for Reggio Emilia is around 130, 140 km south. Coming from Bologna, the exit for Reggio Emilia is aroung 80 km north. The Milano-Reggio highway is usually busy even in the evening and early morning, but it's not so common to be stuck in a long queue for long periods of time. On the other hand, going from Reggio Emilia to Bologna, or passing Bologna, with the highway, can be a pain sometimes, because of traffic and roadworks.
Get around
By taxi

The best Reggio Emilia can offer is all in the city center, so you probably won't need to get a taxi.
Taxi are not so common in Reggio Emilia, it's almost impossible to see one around in the streets. If you need one, you can catch it at the train station, or just make sure to have phone numbers to call one.

On foot

The city center is usually very safe, and offers a nice environment for a walk, shopping, going out to eat (from very formal restaurant to a quick slice of pizza).
Definitely the city offers the best at a slow pace walk.

See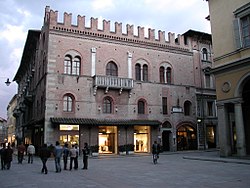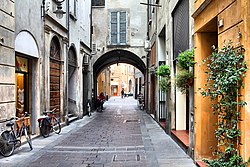 Historical centre
Cattedrale di Santa Maria AssuntaBuilt between 9th and 12th centuries, then reconstructed significantly in the 16th century.

Palazzo del Capitano del PopoloBuilt in 1280, this is one of characteristic buildings in the city. It is now a part of the Hotel Posta.

Basilica della Beata Vergine della Ghiara

Basilica di San Prospero

MunicipioWith Sala del Tricolore.

address: Via Spallanzani, 1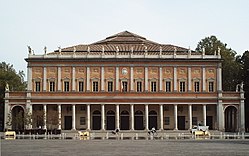 Teatro Municipale Romolo Valli

Giardini Pubblici

Ex sinagoga

phone: +39 0522 456477 (Civic Museum), +39 0522 43732 (Istoreco)

Chiostri di San PietroCloisters of a Benedictine monastery of San Pietro.
Out of centre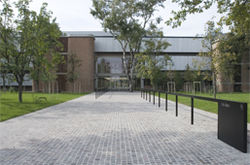 phone: +39 0522 382484

address: Via Fratelli Cervi, 66

Visit the Maramotti collection of modern art, in what used to be the site of production of Max Mara clothing.

Ponti di Calatrava3 bridges built in 2007 near the exit from Autostrada A1 designed by a prominent Spanish architect Santiago Calatrava.

Il Mauriziano15th-century villa at the river Rodano, in San Maurizio, where used to live the poet Ludovico Ariosto.
Do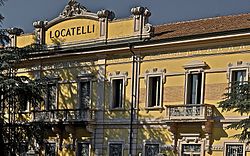 Fondazione Reggio Children Centro Loris MalaguzziReggio Emilia is internationally known for the "Reggio Emilia Approach to Education". Every year, thousands of visitors come to Malaguzzi International Centre for visiting exhibitions, workshops and spaces dedicated to education. The Loris Malaguzzi International Centre offers visitors a number of options: free individual visit of the exhibitions and spaces, guided tours in small groups, educational tours for students.
Eat
Parmigiano Reggiano
Cappelletti
Tortelli
Ravioli
Gnocco fritto
Ciccioli
Drink

Lambrusco Reggiano
Moscato
Negroni

Sleep
phone: +39 0522 451533

address: Via San Giuseppe, 7

address: via Foscolo, 19

phone: +39 0522 432944

address: Piazza del Monte 2
Go next
The hills and the mountains in the south of Reggio Emilia are definitely worth a visit, but you can reach some areas only if you have a car or a motorbike. The main locations will be served also by public transports (bus). If you travel by bus make sure to buy your return ticket before leaving Reggio and to check the time tables, as there's no public transport in the evening and in the night.
Some places you should visit if you're in Reggio Emilia:
Pietra di Bismantova
Canossa and Rossena (castles)
Torrechiara (in the province of Parma, next to the border with Reggio Emilia)