Rehoboth Beach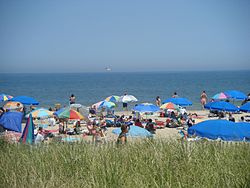 Rehoboth Beach
is a city in
Delaware
. It is a beach town located along the Atlantic Ocean in Sussex County.
Get in
By car
Rehoboth Beach is easily accessible from Delaware Route 1 from most points to the north such as
Philadelphia
and
Wilmington
. Delaware Route 404 provides access from points to the west such as the Chesapeake Bay Bridge,
Baltimore
, and
Washington, D.C.
From northern Delaware, follow Delaware Route 1 south to Rehoboth Beach and use Delaware Route 1A or Delaware Route 1B to enter the town. From the Chesapeake Bay Bridge, follow U.S. Route 50 east and turn left onto Maryland Route 404 east in Wye Mills. Continue along Maryland Route 404 east to the Delaware border, where the road becomes Delaware Route 404. Follow Delaware Route 404 east through Georgetown to Five Points and turn right onto Delaware Route 1 south. Follow Delaware Route 1 south to Rehoboth Beach and use Delaware Route 1A or Delaware Route 1B to enter the town. When coming into Rehoboth Beach either from southwest Delaware or southeast Maryland, follow U.S. Route 13 to the junction with U.S. Route 9 east in Laurel, DE. U.S. Route 9 joins with Delaware Route 404 in Georgetown and intersects Delaware Route 1 in Five Points. Follow Delaware Route 1 south to Rehoboth Beach and use Delaware Route 1A or Delaware Route 1B to enter the town.
During the summer months, the heaviest traffic along Delaware Route 1 occurs southbound on Friday evenings when people are traveling to the beach for the weekend, northbound on Sunday afternoons when people are leaving the beach for the weekend, and in both directions on Saturday afternoons when people are checking in and out of weekly beach rentals. Traffic is heaviest along the 10 miles of Delaware Route 1 approaching Rehoboth Beach. If traveling to Rehoboth Beach on a Saturday, it is advised to leave early in the morning in order to avoid the worst of the traffic. If traveling on a day where Delaware Route 1 approaching Rehoboth Beach is heavily congested, turn right onto Delaware Route 1D south (Plantation Road) at the Five Points intersection, whether following Delaware Route 1 south or U.S. Route 9/Delaware Route 404 east. Follow Plantation Road until it becomes Warrington Road at the intersection with Delaware Route 24. Continue onto Warrington Road until reaching Old Landing Road. Turn left onto Old Landing Road, and then take the third right onto Airport Road. Follow Airport Road until it intersects with Delaware Route 1 south. Follow Delaware Route 1 south to Rehoboth Beach and use Delaware Route 1A or Delaware Route 1B to enter the town.
By plane
The closest airport with commercial air service to Rehoboth Beach is the Salisbury-Ocean City-Wicomico Regional Airport (
SBY
) near Salisbury, Maryland about 45 miles to the southwest. This airport is served by American Eagle flights from American Airlines hubs in Charlotte and Philadelphia. Rental car service is available at this airport. Visitors may also fly into Baltimore-Washington International Airport (BWI) near Baltimore or Philadelphia International Airport (PHL) in Philadelphia, which are served by a wider selection of airlines. From here, you can rent a car and drive to Rehoboth Beach.

By train
The closest train station to Rehoboth Beach is Wilmington Station in Wilmington about 90 miles to the north. Wilmington Station is served by Amtrak trains operating on the Northeast Corridor between Washington, D.C. and Boston along with some long-distance trains, and SEPTA Regional Rail commuter trains running along the Wilmington/Newark Line from Center City Philadelphia. Rental car services are available at the station. From Wilmington Station, rent a car or take DART First State buses to Rehoboth Beach.

By bus
phone: +1 202-332-2691

Operates weekend service to/from Penn Station in New York City and Union Station and Dupont Circle in Washington, D.C. in the summer. The bus stop is located just west of the Rehoboth Beach Bandstand across from the Cloudbreak store at 29 Rehoboth Avenue. Buses offer free Wi-Fi, electrical outlets, and free water.

DART First State Beach ConnectionRoute 305 operates on Friday nights, Saturdays, Sundays, and holidays in the summer to/from Wilmington, the Christiana Mall, Middletown, Dover, and Lewes. In Rehoboth Beach, the bus stops at the Rehoboth Beach Park and Ride and offers connections to the Beach Bus routes. Operates with a motorcoach offering 45 seats and 2 wheelchair positions with storage compartments under the coach for beach gear and luggage. Buses are air-conditioned and have wheelchair lifts. Free Wi-Fi.
Get around
By bus
DART First State Beach BusDART First State operates seasonal bus service from May to September out of the Rehoboth Beach Park and Ride, which is located on Shuttle Road off of Route 1 outside of Rehoboth Beach. Motorists can park here for the day for $10.00 and get four daily bus passes offering unlimited rides. DART First State also serves the Lewes Park and Ride, which is located along Route 1 southbound past the Five Points intersection and offers free parking, with the bus fare paid upon boarding. From the park and ride lots, DART First State operates buses to the Rehoboth Beach Boardwalk; the outlet malls; Lewes; Long Neck; and down the coast to Dewey Beach, Bethany Beach, Fenwick Island, and Ocean City. Buses are air-conditioned and have wheelchair lifts.
By trolley
phone: +1 302 227-1197

The Jolly Trolley operates every half hour between Dewey Beach and Rehoboth Beach, with more frequent service during peak times.
By car
It is not advised to travel around Rehoboth Beach by car as there is a lot of traffic congestion. Park the car when you get here and don't use it again until you leave. If traveling to Rehoboth Beach on a summer weekend, it is advised to get into town early as parking spots fill up quickly. To avoid the congestion and parking hassles in Rehoboth Beach, park at the Lewes Park and Ride along Route 1 southbound past the Five Points intersection or the Rehoboth Beach Park and Ride along Shuttle Road off Route 1 outside Rehoboth Beach and take a DART First State bus into Rehoboth Beach.
In Rehoboth Beach, metered on-street parking is available along Lake Avenue between Rehoboth Avenue and 3rd Street, the south side of Lake Avenue between 1st Street and Surf Avenue, Surfside Place, Grenoble Place, Virginia Avenue, Olive Avenue between 3rd Street and a short distance east of 2nd Street and east of 1st Street, Maryland Avenue between 3rd and 2nd streets and east of 1st Street, Baltimore Avenue, Rehoboth Avenue, Wilmington Avenue, Delaware Avenue, Brooklyn Avenue, Christian Street, Philadelphia Street east of Bayard Avenue, Laurel Street east of King Charles Avenue, Hickman Street east of King Charles Avenue, Lakeview Place, 1st Street south of Virginia Avenue, King Charles Avenue north of Hickman Street, 2nd Street north of Rehoboth Avenue, 3rd Street a short distance north of Lake Avenue, and 4th Street between Rehoboth Avenue and Sussex Street. Parking meters are in effect between 10AM and midnight from the Friday before Memorial Day until the second Sunday after Labor Day. Rates for the parking meters are $2.00 per hour while rates for the 30 minute parking spaces (with the time limit enforced year-round) are $1.00 for 30 minutes. Parking may be paid with quarters, credit cards, or the Parkmobile app, though not all options are available at all meters. Change machines are available at the Rehoboth Beach Bandstand, Rehoboth Avenue and 1st Street, the median of Rehoboth Avenue across from City Hall, and 306 Rehoboth Avenue. Change for the parking meters is also available from the Parking Meter Department at 1 City Hall Drive off of Lake Avenue.
Between the Friday before Memorial Day and Labor Day, parking permits are required between 10AM and 5PM daily for all non-metered parking spaces in Rehoboth Beach. Parking permits may be purchased from the Parking Meter Department at 1 City Hall Drive, several real estate offices, the Visitor Center at 501 Rehoboth Avenue, a kiosk at the entrance to town along Rehoboth Avenue, and a kiosk at the entrance to town along Bayard Avenue. Parking permits are $250 for a seasonal transferable permit ($125 after Aug 1), $225 for a seasonal non-transferable permit ($115 after Aug 1), $60 for a weekly permit (8 consecutive days), $35 for a three-day weekend permit (Friday-Monday), $15 for a weekend daily permit, and $10 for a weekday daily permit.
Parking is also available at the Deauville Beach parking lot located off Henlopen Avenue in the northern part of the city. Parking costs $10 per day or $75 per season. Season parking passes can be purchased from the Parking Meter Department. Between the Friday before Memorial Day and the second Sunday after Labor Day, parking permits are required at the lot.
By bike
There are several bike rental shops, and bike racks are ubiquitous. There are no bike lanes, however.
From May 15 to September 15, riding on the Boardwalk may be done between 5AM and 10AM only.
By ride-hailing services
Ride-hailing services
Uber
and
Lyft
can be used to get around Rehoboth Beach.
See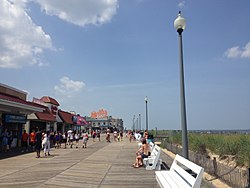 Rehoboth Beach offers plenty of sights for visitors to see. The Rehoboth Beach Boardwalk is 1 mile long and offers great views of the beach and the ocean. The Boardwalk is lined with shops, restaurants, and amusements. Visitors can enjoy a narrated tour of the beautiful resort community. Various options are available to "see" the area...on foot, by boat, by bus, or by trolley. Opportunities are offered by the following businesses: Jolly Trolley and Fisherman's Wharf.
Parks
In addition to its beaches, Rehoboth Beach is home to several parks, offering a location for a picnic, children to play, or to enjoy some shade:
Do
A number of activities are offered in Rehoboth Beach and the surrounding area. The free beach in Rehoboth Beach offers sunbathing and ocean swimming. Lifeguards are on duty M-F 10AM-5PM and Sa-Su and holidays from 10AM-5:30PM from Memorial Day weekend until September. During late July through early October, dolphins can often be spotted just off-shore along the coast. Close encounters can be arranged. The ocean around Rehoboth Beach offers surf and deep sea fishing. Fishing is also excellent in the Indian River Inlet area, Rehoboth Bay and Delaware Bay. Sailing is popular in the surrounding waters, with rentals available. Surfboard riding is available on the Atlantic Ocean near Indian River Inlet on Route 1, south of Dewey Beach. Surfing lessons and rentals are available. There are a number of arcades at Rehoboth Beach; the largest is Funland. Golf in Southern Delaware is abundant with 12 public golf courses and a number of private courses. Par-3 golf is available at Midway Par 3 Golf Course and Driving Range. Horseback riding is offered at Cape Henlopen State Park (off season only; must bring your own horse) near Lewes or Delaware Seashore State Park. The First State Webfooters, year round walking event (YRE) is held from January 15 through December 15. The starting point for the walk is the Atlantic Sands Hotel on the Boardwalk. For information call 302-945-2020 or 302-697-1191. Weddings and Civil Unions are offered by the Clerk of Peace, Sussex County, Delaware: +1 302-855-7834. For permission to have a beach wedding or civil union, contact the City of Rehoboth at 302-227-6181.
phone: +1 302-947-9800

address: 32267 Clubhouse Way, Long Neck

Called the "Augusta of the North", Baywood Greens is an 18-hole championship public golf course surrounded by gardens.

phone: +1 302-227-2270

address: 20 Baltimore Ave

Theater company near the boardwalk that provides live performances six nights a week.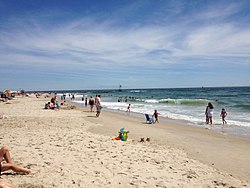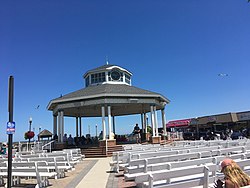 Buy
In Rehoboth Beach, one can enjoy both small town unique specialty shopping, factory outlets and malls. Shopping areas are located in downtown Rehoboth Beach and along Route 1. All purchases in Delaware are tax-free. Be sure to look for the Chamber of Commerce emblem on store windows. There are more than 100 antique stores throughout Sussex County.
address: 127 Rehoboth Ave

Eclectic boutique in downtown Rehoboth Beach.

phone: +1 302 226-3300

address: 216-B Rehoboth Ave

Boutique selling accessories, jewelry, Trollbeads, handbags, shoes, and clothes

address: 133 Rehoboth Ave

Bookstore in downtown Rehoboth Beach where one can pick up a book to read on the beach.

address: 36706 Bayside Dr

Store offering everyday and seasonal gifts, home decor, and jewelry.

address: 146 Rehoboth Ave, #3

Eclectic women's fashion and accessories.

address: 50 Wilmington Ave

Art gallery featuring work from emerging and mid-career regional artists.

address: 42 Rehoboth Ave

Distinguished gifts for body, soul and spirit. Featuring Trapp and Yankee Candle as well as Crabtree & Evelyn. Do not forget the ever so fun and whimsical peace frogs.

address: 239 Rehoboth Ave

Art gallery of renowned Delaware photographer Kevin Fleming.

Penny Lane Mall

address: 42 Rehoboth Ave

Quaint European inspired, open-air mall located right off Rehoboth Avenue.

address: Grove Park

Farmers market on Tuesdays from May to October offering fresh fruit and produce.

phone: +1 302 226-9223

address: 36720 Bayside Outlet Dr, 35000 Midway Outlet Dr, 36470 Seaside Outlet Dr

Tanger Outlets Rehoboth Beach offers over 130 name-brand outlet stores in three different complexes along Rte 1, with tax-free shopping.
Eat
This quaint beach town offers a variety of eateries to accommodate a wide range of tastes and budgets.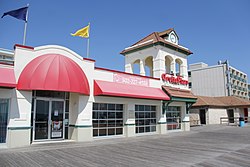 Grotto PizzaA Delaware favorite, Grotto Pizza is a modestly-priced local pizza chain known for pizza with a swirl of sauce on top. Also features a bar area. Grotto Pizza has two locations on the Rehoboth Beach boardwalk and one along Rehoboth Avenue
phone: +1 302-227-3601

address: 17 S Boardwalk

phone: +1 302-227-4588

address: 15 N Boardwalk

phone: +1 302-227-3278

address: 36 Rehoboth Ave
Espuma restaurantLocated just two blocks from the beach. Serves up eclectic cuisine while maintaining a comfortable, beach-inspired atmosphere.
Royal Treat

address: 4 Wilmington Ave

Offers old-fashioned breakfast (think: scrambled eggs) at relatively cheap prices and is cash-only. Royal Treat is closed October to March and also serves up ice cream.
Futty Dutty's

address: 7 S. 1st Street

For a sweeter breakfast this definitely has "the best buns on the beach". The small, informal bakery is known for its friendly service and incredible homemade baked goods, and should definitely be put on your "to-visit" list. Not only do they bake fresh pastries like croissants and muffins daily, they also serve iced coffee drinks and smoothies, along with several flavors of hot coffee.
phone: +1 302 227-0615

address: 2 Olive Ave

Located inside the Boardwalk Plaza Hotel, serves (slightly pricey) breakfast daily and weekend brunch. By putting their own, exciting twist on classic favorites, Victoria's has come up with delicacies like Raspberry Swirl French Toast and a Cinnamon Apple Crepe. Reservations for brunch are recommended.
Cafe SoleFor outdoor dining, Cafe Sole- "where it's always a sunny day"- creates a comfortable atmosphere, inside and out. Lunch is served daily from 11AM-3AM and consists of a variety of small plates (like their Roasted Garlic Hummus with Pita), sandwiches (Tomato and Mozzarella = mmm) , and inventive vacation cuisine (Jumbo Lump Crab Cake). Save room for desserts like key lime pie and bread pudding.
Double Dippers

address: 11 N First St

Old-fashioned ice cream parlor. Over 40 flavors of Hersheys ice cream. Soft serve as well. Shakes, malts, floats, old-fashioned sodas, sundaes and banana splits. Huge scoops and friendly sit down service.
phone: +1 302 226-1044

address: 24 Rehoboth Ave

It's a small, slightly cramped little place, and the prices are a little high, but the fish and chips are absolutely spot on, they have good ales on tap, friendly and efficient service, plus they are right around the corner from the heart of the boardwalk. The fried sausages (made by some British expat in town exclusively for the restaurant) are a real treat, as is the sticky toffee pudding.
Drink
phone: +1 302 227-3467

address: 19269 Coastal Hwy

Brewery within Fins Ale House and Raw Bar that brews IPAs and lagers.

phone: +1 302 226-2739

address: 320 Rehoboth Ave

A craft brewery/distillery with fun, out-of-the-ordinary beers, spirits, and food. From "Ginger Peach Wheat" beer to wood-grilled pizzas, to the stacked indulgence burger, you are guaranteed a pretty decadent meal. Service is pretty unimpressive, but in fairness, it is a big noisy place and they still get the job done efficiently. To get a behind-the-scenes look at how they brew their beer, DFH invites guests to take a free tour every Wednesday at 5PM. Outdoor seating available. Prices are really a steal.

phone: +1 302 212-5674

address: 19841 Central St

Local brewery.
Sleep
The following realtors offer vacation rentals in Rehoboth Beach:
Go next