Resolute
Resolute
(ᖃᐅᓱᐃᑦᑐᖅ
Qausuittuqis
, meaning "Seagull Nesting Place") is a small town in
Nunavut
,
Canada
. At almost 75°N, it is well to the north of most inhabited parts of Canada and of any part of
Alaska
.
Understand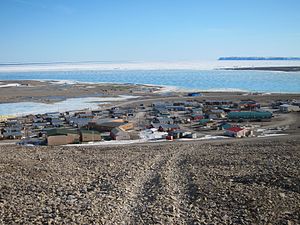 Resolute Bay is located on the south coast of Cornwallis Island in the Queen Elizabeth Islands in Canada's far north. Resolute was named after the H.M.S. Resolute, one of the ships in the ill-fated Franklin search expedition of 1845. Cornwallis Island was one of the last known places circled by Franklin before his expedition sailed southward and disappeared forever. Today you can travel to Beechey Island, the last resting place for some of the members of the Franklin Expedition.
This Inuit hamlet was established in 1953 in order to secure Canadian claims over its Arctic areas during the Cold War. The government made various promises to induce some Inuit to come, and has been accused of breaking most of them. The area is too cold and barren for even Inuit to survive without regular shipments of supplies from further south. In 2008 the Canadian government formally apologized for the relocation policy and the harm it did.
The weather in Resolute can be summed up in two words:
freezing cold
. Average temperature is −13.3°C (8.1°F); only briefly during the summer do temperatures climb above freezing. Like most other places in the Arctic, the climate is very dry. Most snowfall occurs during the summer.
Get in
By plane
The only practical means of travelling here is to use
Resolute Bay AirportMost flights come from the capital of Nunavut, Iqaluit. There are also sporadic connections with the even more remote community of Grise Fiord. Flights are handled by First Air and Kenn Borek Air.
First AirDaily flights (except Saturday), 4-6 hours from Iqaluit, starting at $4700 roundtrip, with stops in Arctic Bay and Pond Inlet.
Get around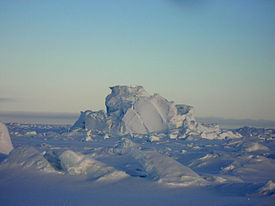 Walking or snowmobiling. There are no taxis. Hotels offer shuttles to the airport.
Do
Two polar races have their starting points in Resolute, the
Polar Race
and the
Polar Challenge
. From here teams race the 350 nautical miles (648 km, 403 mi) to the
North Pole
.
Resolute outfitters offer Arctic adventures like a five-day igloo camping journey over the frozen ice to the community of Grise Fiord, and snowmobiling expeditions onto the frozen sea ice of the Northwest Passage. Dog team trips and polar ice cap tours are also available.
Resolute Bay is an excellent location for marine wildlife watching. Pods of beluga and narwhal can be seen from Resolute's beach as they head to their summer feeding grounds. Ellesmere National Park Reserve and Polar Bear Pass National Wildlife Area are both easily accessed from Resolute Bay.
Buy, eat and drink
There are no restaurants, so you'll be eating at your lodgings, or from the Co-op store.
Sleep
Several lodges are also available for rent.
Go next