Rethymno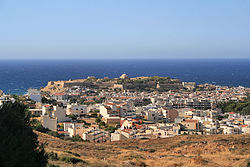 Rethymno
or
Rethimno
(Greek:
Ρέθυμνο
) is a beautiful city on the island of
Crete
in
Greece
. It has picturesque small lanes of shops selling mostly tourist goods and a newer area of town with normal shops.
Get in
There is a daily ferry from Pireaus (Athens), which arrives early in the morning. Most of the boats arrive in either Chania or Heraklion. Ferry tickets may be acquired through minoan lines or anek lines.
By ferry
Ferry
services from Athens (Piraeus port) to Rethimno Crete island
By plane
The distance from Heraklion to Rethymno is 80 km, and from Chania to Rethymno — 56 km. Chania airport is much smaller and far less busy than Heraklion airport.
By bus
You can get to Rethymno by regular bus lines from
Chania
or
Heraklion
(both have an airport). The coaches are operated by two KTEL companies , . To get to Rethymno from Heraklion it takes approximately 90 minutes and costs slightly over 6 €.
By car
Rethymno is connected to the bigger cities of
Chania
and
Heraklion
by the 'New Highway' that runs along the north coast of Crete. Parking for old town is available just north of the lighthouse for 2 €/hour.
Get around
Bus - as with most places in Greece, tickets must be purchased at a shop before boarding public buses.
Taxi - can be hailed on the streets, but expect to share with strangers who might also hail the taxi on the way to where you're going.

See
Historic Buildings. Rethimno has many historic buildings remaining from the Venetian occupation of Crete, including the Fortessa and the lighthouse.
Old Town. Narrow pedestrian streets full of shops and restaurants.
Boardwalk. Walk around the very well-kept boardwalk by the sea. Plenty of bars and restaurants with great views of the sea.
Beaches. The good sandy beach begins in the town and extends several miles to the east, backed by hotel developments. In the west, after a little industrial area, a rocky unspoilt coastline takes you towards another good beach 8 km to the west of Rethimno, towards Georgiopoli.
Parks. There is a small park in the centre with a very small zoo containing some Cretan mountain goats.
Do
Boat trips are available from the harbour.
Buy

During the main summer season, Rethymno is very touristic. Shops and visitors everywhere, the closer to the beach the more. They offer anything considered "souvenir". Ask your hotel receptionists for recommendations of local shops.
Olives, Raki, Ouzo and wines are common commodities of Crete origin. Cheapest at the locals supermarkets, away from the hotels/beaches. Aside Oranges/Orange juice, fruits and juices are rather expensive.

Eat
Very nice restaurants are located inside the city. The restaurants on the beach front are tourist oriented, though food quality is okay (though lower than in most of the small tavernas in the back streets). As the quality changes every season with new cooks/managements, your hotel receptionists will be able to suggest good ideas.
Budget
Stella's Kitchen

address: Souliou 55

A small food-place in the old town not mentioned in guidebooks nor in the free town maps. It's one of those places where local people go to eat and chat, where travelers can get advice and meet people, where food is not only local but also good and affordable. They offer breakfast, lunch and an early dinner.
Drink

Most of the bars close to the Rimondi Fountain are noisy and get very busy. but Ok if you like to watch the crowd pass by. There are more relaxing places in the narrow streets nearby. Try the "Punch Bowl" just like a traditional Irish pub, it is full of curios and the landlady who is also Irish serves a great pint of Guinness. It' situated at number 42 Arabatzoglou.
For a late night drink try "Extreme" a good venue for rock music, it's in the lane between the museum and the harbour. There are more disco style bars close by. The promenade has mostly cocktail bars which are modern and brightly lit, with music going on to the early hours.
There is "Metropolis" music club near the Venetian harbour.

Sleep
phone: +30 28340 20240, +30 28340 20241

address: Panormos, Rethymno, 74057

Guesthouse Idili is in Panormos, a very elegant seaside resort, with careful development of tourism between Rethymnon and Heraklion. The building was recently restored to a B class guesthouse, while keeping intact the architectural features of the building and the effects of the Venetian-Cretan architecture.

phone: +30 28310 71487

address: Adelianos Kambos, Rethymno, 74100

Hotel Jo-An Beach is near Adele village at a distance of 3 km from the beach.

address: 41 Tobazi St

The 6 to 8 bed rooms are clean, but not really cosy. Except the beds there is no furniture. Off season one always gets a place, the reception is open until 23.00 (season: 24.00). The hostel is not an "official" one, no International youth hostel card is needed. It is located close to the Guora Gate, the northern entrance to the Old town.

Adele MareLocated in the Adele Beach suburb, about 10/15 min outside Rethimno, the 4-star-hotel is exceedingly friendly and hospitable. Rooms either in main-building (cheap rooms are towards street) or in Greek style bungalows. Food is breakfast + dinner, much and with good variety (daily changing dinner buffet). During daytime, snacks can be taken at the pool or beach bar. Despite being rather rocky (foot protection recommended), the beach is wonderful. Sun chairs are €2,40/day (pool+beach). After dinner a "last drink" at the pool bar is pleasant. Jet Ski, Banana Boat, etc. are available at Grecotel 100m down the beach.

phone: +30 2831054472

address: Maxis Kritis 167 Platanias

This hotel is family-run and has a friendly atmosphere, according to the owners. This is a modern 3-star hotel within 100 m of a sandy beach and 6 km from Rethymno. It was fully renovated 2009. It's suitable for couples and for families. It has 44 rooms: 16 apartments which can hold up to 4 persons and 28 studios which can hold up to 3 persons. All rooms have: balcony, air-conditioning, satellite TV, extra long beds, direct telephone line, radio, cooker, kettle, refrigerator, toaster, coffee maker, hair dryer, change towels & linen 2 times per week, baby cot (on request). Reception is open 24 hours a day.

phone: +30 28310 50432

address: Sikelianou & Venizelou 52A

phone: +30 28310 71002

Accommodation types from main building rooms, bungalows suites and villas to royal pavilions with private pools.
Sentido Pearl Beach Hotel 4-star hotel 2km outside Rethymno. The hotel is on the Rethymnon beach. It has 2 swimming pools with free lounge chairs, and a fitness centre with indoor pool and hot tub. The private beach is in front of the hotel. All rooms are air-conditioned and comfortably furnished. Each has satellite TV, furnished balcony/patio and double glazed windows. Breakfast and dinner are served as buffets at the main restaurant. Menu options are available at Loukoulos brasserie, overlooking the pool and the sea.

phone: +30 28340 94253

address: GR 74057 Bali Rethymnon

phone: +30 2831 028694

address: 84 Ionias str. terma

Despite the name it is not just for people pitching tents. Options to stay in a tent (9€), bungalow (27€), or caravan (31€) (tent/caravan provided by them, or bring your own for reduced price of 5€/7€). The oldest campsite on Crete, it's situated on the only stretch of beach untouched by touristy, impersonal hotels. Hot shower, drinking water, laundry, and wifi all free, along with a beach-view taverna. Short walk to the city centre. Friendly, multi-lingual staff. Also the home of the local sea-turtle protection group .

phone: +30 28310 71012

address: Adelianos Kampos

International and local cuisine. Cleanly, well-designed rooms with safe, TV, A/C and balcony. Family-owned. Large pool and bar area, entertainment program varies daily.
Go next
From the bus station there are regular services to coastal towns on the Cretan south-coast, like Plakias, Preveli and Agia Galini.