Rheine
Rheine
is in
Münsterland
.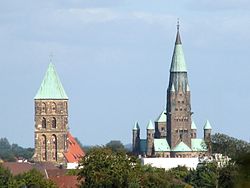 Understand
Rheine is a town of some 75,000 inhabitants in the northwestern corner of the Münsterland region, right on the border with
Lower Saxony
and just 30 km east of the border with the
Netherlands
.
Get in
Intercity trains from Berlin, Amsterdam, Düsseldorf and Cologne call every two hours. Moreover there are hourly regional trains from Münster, Osnabrück, Emden and the Ruhr.
Rheine has an intersection on Autobahn A 30 that links Amsterdam with Hannover. Arriving from Cologne or the Ruhr area, you may take the Autobahn A 1 until the exit at Greven or A 31.

See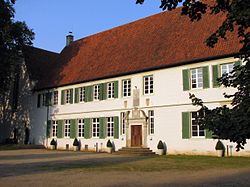 address: Bentlager Weg 130

Former monastery established in 1437, later transformed into a castle. Now houses an art exhibition as well as overnight accommodation.

address: Tiefe Straße 22

Former Carolingian royal manor, dating back to the 9th century, established during Charlemagne's war against the Saxons, and therefore considered the oldest part of Rheine. It was continually transformed and redisigned and now has a mostly baroque style. It houses an art and history museum.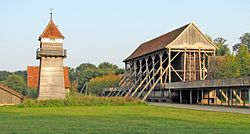 Saline Gottesgabe

address: Salinenstraße 101

Saltworks have been documented in Rheine for about a thousand years.

Naturzoo RheineLong-standing zoo whose main attraction is a "monkey forest", inhabited by barbary macaques, which may be entered by visitors who are not separated from the animals by panes or fences. The zoo's focus is on teaching environmental backgrounds and coherences rather than just exhibiting animals.

St Dionysius churchLate-gothic hall church from the 15th century.

St Antonius basilicaImposing 19th-century Romanesque revival basilica, its 102.5-metre-high steeple is the highest in the Münsterland region.

Megalithic tombPrehistorical gravesite from the 4th millenium BC, covered by a mound.
Sleep
phone: +49 5971 80800

address: Humboldtplatz 8 48429 Rheine

phone: +49 59 71 16 18 0

address: Heiliggeistplatz 1a, 48431 Rheine

phone: +49 5971 13205

address: Salinenstraße 101 48432 Rheine
Go next