Rhenish Hesse
Rhenish Hesse
(Rheinhessen)
is in
Rhineland-Palatinate
(Rheinland Pfalz)
in
Germany
. The land of the thousand hills, a large part of which is covered in vineyards, is defined to the north and east by the river Rhine and
Hesse
, to the west by the
Nahe valley
and to the south by the Donnersberg in the
Palatinate
.
Cities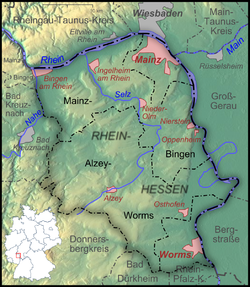 Other destinations
Talk
The locals of the region have a very strong dialect know as Rhoihessisch, but a reasonable standard of conversational German should get you through a visit.

Get in
By plane
Rheinhessen is well place for international flight connections with
Frankfurt Airport
and
Hahn Airport
both being less than an hours drive away from most towns in the area.
By train
The ICE station at Mainz Hauptbahnhof can be reached from most major Germany cities.
RegionalExpress RE, Reginalbahn RB, Mittelrheinbahn, S-Bahn trains available from around the region.
By car
Easily reached from the west (north and south) via the A61/A63. A3 and A5 connects you to the east via the A60 but be aware there are only crossing of the Rhine at Mainz and Worms the roads being jammed at peak commuter times. There are car ferry crossing of the Rhine at
Ingelheim
,
Bingen
and Nierstein near
Oppenheim
.
By bus
Long distance bus
companies ADAC Postbus and Flexibus serve Mainz from other German cities, Meinfernbus also include connections to other European cities. Deinbus have a service to through Worms.
Get around
The area has good coverage by regional buses and most major towns have rail links.
Verkehrsverbund RNN
Verkehrsverbund RMV, only Mainz and South Hesse
Verkehrsverbund VRN, Alzey and Worms
Between RNN and RMV you buy one ticket, and between RNN and VRN you buy one ticket also.
Some good offers to explore the surroundings include the Rheinland-Pfalz-Ticket, offering unlimited travel in local trains for up to 5 persons inside the states of Rhineland-Palatinate, Saarland and Wiesbaden. The ticket costs 24 (one person) - 44 € (5 persons - 5 € more per person up to 5 total) per day (as of March 2018) if bought via automat or internet, or 26 - 46 € (2 € more) if bought at a ticket stand and is available at all train stations. For Hessen (including Mainz, but not the rest of Rhineland-Palatinate) exists the otherwise similar Hessenticket, costing 35 € per day (for up to 5 persons, as of March 2018).
See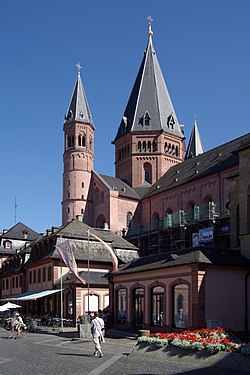 The cathedrals of Mainz and Worms.
Gutenberg Museum, Mainz
Kaiserpfalz, Ingelheim
Oppenheimer Kellerlabyrinth
Do
In many of the villages you will see information signs detailing signposted walks around the area.
There are many cycle paths through the region. Some over the rolling hills such as the Hiwwel-Route, others along the river valleys such as the Selztal-Radweg.
Itineraries
The
Rheinburgenweg
start in Bingen.
Events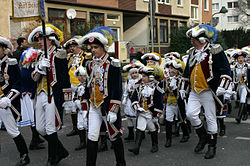 Buy
Mainz is the main shopping city for the area with a good mix of large German stores and local speciality shops.
Wine is an excellent purchase to make in the region. In the villages you can get personal service direct from the wineries. Many of them will just be a small room with racks of wine bottles and boxes; do not be put off by a small door with just a sign above it, you will get a warm welcome and often a chance to sample the wines before purchasing.
The region is also a major area for growing of Asparagus, white Spargel can be bought fresh in season.
You will often see on the side of the road in villages a small wooden cart or set of shelves displaying apples and, when in season, other fruit and vegetable. There will next to these be a price per bag note and an honesty box where you place your money. This is a great feature of the region, recommend using it for fresh local produce but do not abuse it by under paying.

Eat
There are many good restaurants in the villages and towns of the region. You will also find
Straußwirtschaft
in the region, these are often just small rooms attached to a local winegrower selling their own wine and some local style small meals.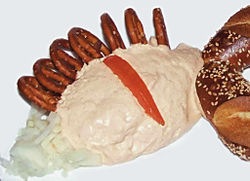 Local dishes include:
Spundekäs – consists of fresh cheese, paprika, onions and other spices, usually served with pretzels.
Weck, Worscht un Woi, bread roll, cold sausage and wine
Schlachtplatte (Blutwurst/Leberwurst und Sauerkraut) (black pudding, liver sausage and sauerkraut)
Drink
Rheinhessen is Germany's largest wine growing region. The main grape varieties being Müller-Thurgau, Riesling, Dornfelder, Silvaner, Blauer Portugieser, Spätburgunder, Kerner and Grauer Burgunder. Although dominated by white wines there are also some good reds, particularly around
Ingelheim
.
Beer is not so dominate as in other part of Germany but there are a couple of good micro-breweries in Mainz and Ingelheim.
In the autumn try out the Federweißer (white) and Roter Rauscher (red), a cloudy still fermenting drink from freshly pressed grape. Tastes like a grape soda but be aware it can have a deceivingly high alcohol content.
For non alcoholic drinks you can find some good locally produced apple and grape juices.
Go next