Ribeirão Preto
Ribeirão Preto
is a city in
North São Paulo
,
São Paulo state
. Nicknamed "The Capital of Agrobusiness", it is the largest city of the entire northwestern half of the state, and a powerful economic center. Ribeirão Preto has a valuable cultural heritage, and it is a major regional center for shopping and nightlife.
Understand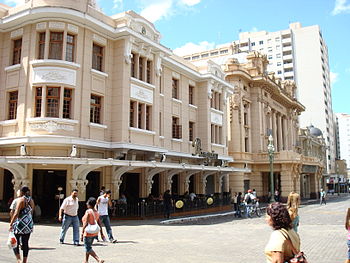 The city was founded June 19, 1856, by farmers coming from the southeast of
São Paulo State
in search of good climate and soil for coffee growing. The city was laid by a stream called Black Creek, and was named after it. Eventually the farmers' choice revealed itself as very adequate and the fertile soil of the Ribeirão Preto region allowed the highest crop productivity in Brazil.
The rapid development of the coffee cultivation brought wealth and progress to the city, which by the 1880s had become the largest coffee producer in the world. Coffee, the "green gold" as it was called, was responsible for a kind of "gold rush" in the region, which attracted workers and adventurous people from several parts of the world. This movement was helped by the new Mogiana Railway, which linked Ribeirão Preto to
São Paulo
and to the port city of
Santos
, and by the abolition of slavery in Brazil, in 1888. The end of slavery created a strong demand for labor and the "coffee barons", as the coffee farmers were called, stimulated European immigration - mostly from
Italy
but also from
Portugal
,
Spain
and
Germany
- to Ribeirão Preto. Later, after the stock market crash of 1929, several of these immigrants bought the farms from their indebted former employers. Ribeirão Preto underwent rapid growth during the 1980s and 90s due to a sugarcane boom, and now with a population of over 600,000 and a total metropolitan area of 1.4 million, it has become a lively and fun-loving city.
Get in
See
Metropolitan Cathedral

phone: +55 16 3625-0007

address: Praça das Bandeiras - Centro

phone: +55 16 3977-8111

address: Rua Álvares Cabral, 370

Built in the boom years of the 1920s, this opera house is the third largest in Brazil and is home to the Ribeirão Preto Symphony Orchestra, one of the oldest in the country.

Seven Chapels
Museums
History of Coffee Museum

phone: +55 16 3633-1986

address: Av. Prof. Zefferino Vaz

History Museum

Museum of Images and Sound
Parks
Botanical Garden Park

Curupira Park

Fábio Barreto Municipal ForestContains a Japanese Garden.

Luís Carlos Raya Park

Maurílio Biagi Park

Tom Jobim Park
Buy
phone: +55 16 3902-1168

address: Av. Coronel Fernando Ferreira Leite, 1540

phone: +55 16 2102-7400

address: Praça Barão do Rio Branco - Centro
Eat
phone: +55 16 3911-4700

address: Rua Thomaz Nogueira Gaia, 1116 - Jardim Irajá
Drink
An important moment for the city occurred in 1911 with the opening of its first factory, the Antarctica Brewery Company. It was Antarctica which built the Pedro II Theatre, and its new factory led to the opening of several beer houses in the city. One of them, named Pinguim (penguin in Portuguese, after the Antarctica logo), became particularly famous and made Ribeirão Preto nationally renowned for the quality of its draft beer (
chope
or
chopp
). Many people say that Pinguim has the best draft beer in Brazil, and it has become so important that it is now a symbol of the city; people say that coming to Ribeirão Preto and not visiting Pinguim is like going to
Rome
and not seeing the Pope. Many small "alambiques" exist in the region, each producing its own unique
pinga
, better known as cachaça. These
pingas
are often aged and are available in many flavors, while still maintaining their flair. Pinguim is not the only good beer house in town either — Ribeirão Preto has a hot climate, which leads people to go out in the evening to chat and enjoy cold draft beers in bars, so the city is teeming with bars, from the simple
botequins
or
botecos
that one can find on almost every corner, to the most sophisticated pub style bars, which rival their counterparts in
São Paulo
and
Rio
.
phone: +55 16 3911-4949

address: Av. Independência, 3242

This bar is run by Cervejaria Colorado, one of the first microbreweries in Brazil. In addition to the four varieties produced by Colorado, they offer around 150 other brews from around the world, in addition to some decent bar food.

Pinguim 1 and 2

phone: +55 16 3625-0519 and +55 16 3610-8386

address: Rua Gal Osório, 408 and 389

These two beer houses are the classic places to enjoy the local chope. Another two locations are also open at Santa Úrsula shopping center and Ribeirão Shopping.
Microbreweries
phone: +55 16 3441-5090

address: Rua Minas, 394

One of the best regarded microbreweries in Brazil. Visits must be scheduled on their website (Portuguese only).
Sleep