Riberalta
Riberalta
is a city in
Bolivia
's
Beni Department
.
Understand
From its soil (and dust), Riberalta is a pink-colored city, and the color strikes you more than in other towns in Bolivia.

Get in
By bus
The main bus terminal is 7-10 blocks south of the center.
From
Trinidad
, take a shared taxi via
San Joaquin
and
Guayaramerín
. This is the most straightforward route, but accessible only in dry season. The longer, more accessible route, via Rurrenabaque, you can take a bus. Shared taxi from Trinidad to San Joaquin is Bs. 100 and 4 hr. Along the road you can see typical tropical lowland terrain, flora, and people life.
From San Joaquin to Guayaramerin is Bs. 180, 7 hr, bumpy road, includes crossing river Mamore by ferry, and may be overnight.
From Guayaramerin take a shared taxi from the terminal, Bs. 35, 1 hr.
There are daily buses from
Rurrenabaque
. In dry season the bus takes about 16 hr and in wet season up to 1 week. It costs Bs. 130-140. To La Paz Bs. 180 and around 36 hr (rough ride). Inquire about departure times at the bus terminal; they vary wildly.
By taxi
Shared taxi in dry season do the road in 1 hr (Bs. 35).
By car
From
Guayaramerín
it is about 3-4 hr.
By plane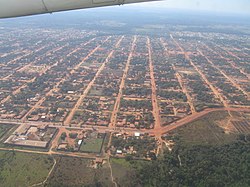 You can fly into and from Riberalta. Amaszonas and EcoJet are private companies, their planes leave on schedule. TAM is a military flight company, their planes leave when full. Amaszonas office is 10 min walk from main plaza. On the same street is the airport, so the office to the airport is a quick ride/walk. EcoJet office is at the main plaza.
A flight to
Guayaramerín
is about US$15, to La Paz it costs Bs. 900, to Trinidad with Amaszonas is about Bs. 500.
The view of pink-colored city from the air is breathtaking. The flight to Trinidad rewards you with views of tropical forest, big tropical lakes, and Mamore river, which is winding and shows many marks of a moving riverbed (the property of amazonia rivers). On the same flight you can spot some remains of land constructions of ancient hydro-civilisation in Beni.
Get around
The taxis are all motorbikes which will charge around Bs. 4-5 for a ride anywhere within town. You are better off with a name of the place you're going to than an address. When you want a taxi you just have to flag down any motorbike to see if they'll take you.
You can also rent motorcycles at the plaza principal for about US$6 per day. There are some interesting villages outside of town worth visiting, though beware, most of the roads are deeply potholed and require slow speeds. If visiting the waterfront, you will most likely be stopped by the police wanting to see your papers, i.e. passport and driver's license.

See
There is a lot of pink color around, it comes from the soil and you can see it pretty everywhere. In the city and just outside, there's a lot of pink dust in dry season.
Nice sculptures on the streets, you usually spot them while walking or taking a moto. I.e. a woman holding a book in one hand and a kid in the other. Or a villager with kids and wife, accompanied by a crocodile. Or a motorbike (made from metal parts and pipes), coming through the bushes.
The main plaza is very nice and green.
The cathedral (at the main plaza) is nice both outside (looks like an organic construction, expanded a couple of times) and inside (modern, with a good atmosphere). It is open in the evening, so you can take a look.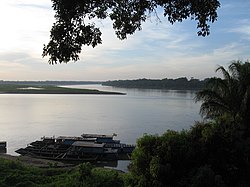 The confluence of two big rivers - Madre de Dios and Beni. Go take a look, there is a viewpoint.
Do
Inca ruins and Las Piedras
Las Piedras, in Gonzalo Moreno, is a small town about 5 km from Riberalta on the other side of Rio Beni. You can get here by motorbike, taxi or bicycle. Moto taxi is Bs. 10 to go to the river where boats are (quite far away). Crossing the river is Bs. 1 on your own, but if you're with someone, who has a moto, crossing will cost you Bs. 5. When you've crossed the river, go uphill a bit and where the road turns left there is a small path leading into the forest and to some Inca ruins. They might be a little hard to spot, it is actually a fort and a wall where the river used to pass. Since the rivers are moving in the amazon, this fort was close to a rivercrossing between Rio Madre and Rio Beni. A strategical point for trading or military purposes. Not much research is done so far but an investigation was made by the university of Helsinki about 4 years ago. Archeological pieces was discovered and most of them are now in a museum in Lima while there is still a few pieces in the town of Las Piedras.
About 2 km from the ruins and the river is the town of Las Piedras. Hike a moto to take you there, because the walk is boring. When you enter the town there is a small store at the right hand side next to the football field where you can have food (you'll have to order in advance), play pool and also stay the night if you'd like.
In the town there is also rests of a long wall built by the Incas.
To see the archeological pieces, know more about the Inca ruins and the history of the Incas in the amazon, you can ask for a man named Mr Carlos Chipunani (lives out of town, the opposite direction to Beni river). If you speak a little Spanish, he can show you around and tell you about the facts known about the Incas around here for a tip.
If you want to go further, there is a lake about 9 km from Las Piedras. In half of the way there is a resort (which is under construction) where you can have a swim, food, snacks and stay in cabins.
Tumichucua community
25 km from Riberalta on the road towards La Paz is the community Tumichucua, which in native language means Isle of Palms. Here there's a beautiful lake with a tropical island in the centre.
Ask locals in Riberalta (i.e. at the hotel) about how to go there. In general, neither shared taxis nor mototaxis seem go there. There are people living in Riberalta and working in Tumichucua, so shared taxis seem to take those people in the morning, by list, from specific places. You can ask a shared taxi to bring you there privately, you negotiate the price then, i.e. Bs. 40. People at Tumichucua say more tourists are coming at weekends, so weekend may make you things easier.
To get back to Riberalta in the evening, you can note a phone number of the morning's driver and call him to come pick you up. Some local people are going on motos to Riberalta, and some are returning from work. You can hike a bit, stop some moto, and ask the guy if he or she can take you to Riberalta. If you're this lucky, it'd be nice of you to pay the guy a bit, say Bs. 20.
There is no road nor clear path around the lake, this limits how much you can walk around. You'll find much of tourist infrastructure (houses, arbors, benches) at the lake - pretty unused now, but weekends may be different.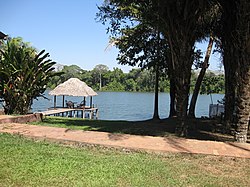 Take a swim in the lake at the place the locals tell. The lake is safe, and the swim is refreshing.
You can rent a boat (a small one is Bs. 20) and paddle in the lake, go to the island. In the island, no paths seem to be there from the community side, so walking is limited.
If you want to eat, locals can prepare some food, ask around. For Bs. 25 you can have fish with rice, and a refreshing drink.
Other
Sometimes people play chess in the library. You can ask there if you want to have a game.
There is an old rubber-boom city, founded 1882, 90 km from Riberalta. During the rubber boom this was the biggest city of Beni. The travel agency offers trips here.
Tours
There is only one travel agency in Riberalta so far which despite the lack of competition offer fairly priced tours.
Riberaltatours
, Avenida Sucre in the centre, Tel 852 34 75. It is not as cheap as Rurrenabaque but the service is also a little more luxurious. They don't speak any English here but the service is friendly. They have 2 ready – made packages:
5 days and 4 nights. It includes breakfasts, pick up from the bus-station, good accommodation, guide, a city tour and visits to an almond producer, a sawmill, tours to Tumichucua, guayara-merin (Bolivia and Brazil) and Cachuela Esperanza. For this they charge US$155 per person.
4 days and 3 nights (US$135) includes pick up from the bus station, accommodation, breakfasts, guide, a city-tour and visits to Gonzales Moreno with Las Piedras and a boat tour with a meal.
The agency is flexible and you can make your own itinerary. For example only do a city tour. They can also help you organize other activities outside the program if you want, fishing, boat trips etc.
Buy
On Sundays there is a market in the center, "La Feria" where you can find fruits, make up, clothes and a lot of other stuff for cheap prices.

Eat
At the main plaza is a place where you can eat a salad.
Sleep
Hotel Colonial

phone: +591 852-3018

address: C/ Placido Mendez # 745

The most upmarket.
Hotel Campus - a big hotel with rooms of different prices (quite close to the main plaza), starting at Bs. 30. They also have a pool.
Casco Viejo - close to the main plaza, private bathroom, Bs. 80 a bed.
Smaller cheaper options are spread around town, one is Anexo Laza, close to the center.
Go next
Trinidad – A charming town and a gateway to other places in the Beni region, as well as to Santa Cruz.
Guayaramerín - a town at Mamore river and on the border with Brasil. Shared taxi takes 1 hour and costs 35 Bs.