Richmond
Richmond
is the capital of
Virginia
, a state in the
American
South
. Richmond has a population of 200,000 and the adjacent counties of Henrico and Chesterfield combine to create a local population of more than 1,250,000 people.
Districts
Richmond has been called a city of neighborhoods, each one with a distinct look, flavor, and identity. All are recognized by Richmonders as unique neighborhoods, almost as though the city were a collection of several small towns.
Understand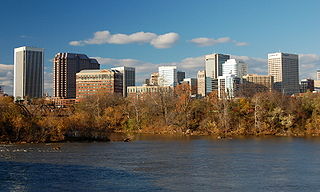 Previously inhabited by the Powhatan Indians, the site was settled in 1607 by Capt. Christopher Newport and Capt. John Smith, both English, and named after the
London
suburb of Richmond-upon-Thames, by William Byrd II. The settlement - little more than a trading post for furs, hides, and tobacco - did not become a city until 1742, and became the state capital of Virginia in 1782.
One of the oldest American cities, Richmond is much more progressive and diverse in culture than most areas of the South. Historically, Blacks in Richmond enjoyed certain limited liberties that would have been unthinkable elsewhere in the South. Most notably, nearly one in five African-Americans in the city was free. Black barbers and seamstresses owned their own businesses and, along with black ironworkers and other skilled free laborers, owned houses as well. Even as Richmond exported slaves throughout the Lower South, those slaves who remained in Richmond labored and lived under far different circumstances than slaves elsewhere. While the great majority of female slaves used to serve as domestics in their owners' houses, male slaves would often work in Richmond's tobacco-pressing factories, flour mills, the massive Tredegar Ironworks and other businesses, alongside free blacks and whites. It is because of these historic freedoms that Richmond is the birthplace of the First African Baptist Church. This church was formerly a church where Whites, Free Blacks, and Slaves would worship alongside each other. However, the church separated from the First Baptist Church once African Americans were given permission to establish their own Church in 1841.
The First African Baptist Church was regularly rented by whites for concerts, minstrel shows and political rallies, including a debate by working-class whites over union versus secession, held in a church where a slave-owning white minister led free blacks and slaves in regular worship: surprising as the scene might seem, to Richmonders during this time it was wholly unremarkable. Despite the city's position in the confederacy, Richmond is not a typical Southern town. Richmond was and still is an industrialized urban center with strong economic ties to the North and West as well as the South. It was home to slaveowners and slaves, white immigrants and free blacks. Similar to nearby Baltimore, Richmond is known for its significant amount of Eastern European and Jewish cultural influence. Unlike most immigrants in cities further north, the majority of Richmonds immigrants have been in the area since the mid-1800s at the latest. It is because of this that they are very well established and often considered to be apart of Richmonds old money elite. Companies such as Ukrops Homestyle Foods, Thalhimer, Weinstein Properties, Markel Corporation, Schwarzschild Jewelers and the Sauer Company are all named for Wealthy Richmond immigrants. Neighborhoods such as Carver and Sauers Gardens were also founded by and named for Eastern European and Jewish immigrants. Despite this, the Shockoe Bottom entertainment area is where slave rebellion leader Gabriel had his head hung from a pike.
Despite the city being very Pro-Union, during the
American Civil War
, it served as the capital of the Confederacy. When the Northern Army invaded Richmond, the fleeing Confederate government set fires to the city's munitions stores and government records they were unable to take with them. The fire grew out of control when winds picked up, and most of the city burned. The soldiers from the Union helped to put out the fires upon their arrival. The day after the city fell, Abraham Lincoln made a visit to the city. Though much of its colonial past has disappeared, it is rich in Civil War history and lore. There are, among other things, a Civil War prison site on Belle Isle, the house Robert E. Lee lived in, the state Capitol (which Thomas Jefferson designed and said was inspired by the Maison Carrée at
Nimes
,
France
) which served as the Confederate Capitol during the war, a museum of the Confederacy, the original Confederate White House, and Hollywood Cemetery in the heart of the city where more than 18,000 Confederate soldiers are laid to rest. Richmond has the most forged iron outside of New Orleans, and one of the first African American neighborhoods (Jackson Ward).
Visitor information
phone: +1 804 783-7450

address: 405 N 3rd St

Airport Visitor Center

address: 1 Richard E. Byrd Terminal Dr., Ste. A; Lower Level - Baggage Claim Area; Sandston, VA 23250

Bass Pro Shops

address: 11550 Lakeridge Parkway, Ashland, VA 23005
Get in
By car
Richmond is on I-95 less than 2 hours south of Washington DC. I-64 runs east-west through the city which provides easy access to Norfolk, Virginia Beach, Williamsburg, and Charlottesville. In addition, several other major roadways such as the Powhite Parkway (Route 76), the Chippenham Parkway (Route 150), and Route 288 connect Richmond to other areas such as Chesterfield and Midlothian.
By train
Two Amtrak train stations serve Richmond.
Staples Mill stationRichmond's primary station, located in an older section of suburban Henrico County, and is served by Northeast Corridor trains as well as several lines continuing south toward the Carolinas and Florida. Travelers heading downtown should plan on a $20-$25 taxi fare. Amtrak also offers an Thruway Bus connection to downtown.

Richmond Main Street StationThe historic downtown station is served by the few Northeast Corridor trains terminating at Newport News, and the segment between Staples Mill and Main Street can be affected by delays as the train traverses CSX's ACCA rail yard, a major freight hub.
By plane
Richmond International Airportis served by most major domestic carriers plus discounters JetBlue and Southwest.
Chesterfield County Airport
(
FCI
) to the south of the city and Hanover County Airport (OFP) to the north handle general aviation.

By bus
Greyhound Bus Lines has a large terminal located on Boulevard...about 4 miles west of Downtown Richmond and 1 mile north of the Museum District.
The city is also served by Eastern Travel, a chinatown bus line that picks up and drops off passengers at its station near the intersection of Boulevard and Broad Street. It is half the price of Greyhound, and while it only runs one departure and one arrival a day (at 7AM and 10PM) is relatively reliable. This bus serves two destinations from Richmond: Washington, DC and New York City. Many more options of this type are easily reached in both of these cities.
Megabus offers service from Philadelphia, Newark, DE, Baltimore, Washington, D.C., Hampton, Durham, Charlotte, Fayetteville, Columbia, Athens, and Atlanta. Buses arrive and depart at the Richmond Travel Plaza on E Main St across from Main St Station. Fares from $1 and up.
BoltBus offers service from New York City and Washington, D.C. Buses arrive and depart at 351 W Cary St, near the corner of S Jefferson St.

Get around
By car
The easiest way to get around Richmond is by car. Roadside parking spaces are relatively easy to find but be in the look-out for no parking areas - particularly the "Fan District." The city is laid out on a grid system and is easy to navigate, however, many streets in the oldest parts of the city are very narrow and one-way.
By bus
The
Greater Richmond Transit Company
, or GRTC, operates a bus service across the city and partially into neighboring Henrico and Chesterfield Counties. Their phone number is: +1 804 358-4782. The average fare is $1.50 for local routes and $2.00 for the express routes, exact change or Go-Cards are the only available methods of payment, you can find Go-Cards at local groceries and convenience stores. The system is best utilized if you are already downtown, and need to go throughout the city itself. Many find it easiest to Park at an all day garage and use one of the multiple lines along Broad street to avoid paying for more parking.
See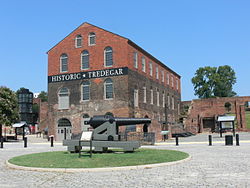 Highlights include the
Richmond Railroad Museum
in
Southside
,
Richmond National Battlefield Park
and the
Tredegar Iron Works
on Tredegar Street
downtown
, and the
Science Museum of Virginia
in the
Museum District
.
Do
The James River
The section of the James River running through Richmond offers many opportunities for a day out. Due to Richmond's location at the fall line, the James River has many rapids right downtown which are great for white water rafting. The rapids are class III but may become class IV in the right weather conditions. The ones closest to downtown can be quite dangerous without an experienced guide. However, there are many smaller rapids just slightly upstream which can safely be run in a raft or innertube. One can travel at a lazy pace, stopping to repeat rapids or swim through quickly.
In order to run the rapids in this way, one must have two cars, parking the first at the bottom exit point and the second at the entry point.
There are parks on both sides of the James River above downtown, but the Pony Pasture section of the James River park is an excellent place to begin a few hours on the rapids. Just make sure to pull out when you see a sign on the right side of the river with an arrow directing you to do so; otherwise you will have great difficulty on the larger rapids. The river is quite clean and mostly surrounded by woods for this section. Make sure to try the rope swing under one of the railroad bridges. Many people simply swim around in between the smooth rocks at Pony Pasture without leaving that section. There are excellent trails through the woods on both sides and this section is used for the XTERRA Triathalon in June.
Due to the river's currents, sudden drop-offs and large (and sometimes hidden) rocks, it has been known to get the best of even those with years of experience. As serene as it may look in places within the city, many locals have stories about someone they know who got in trouble with the river due to not taking the proper precautions, even just a few feet from the river bank. Do not risk it: when rafting or tubing, always wear a life jacket. Do not wade or swim outside of areas known to be safe by locals, such as between the rocks at Pony Pasture. In addition, be aware of weather conditions, as the river is prone to severe flash flooding during rainstorms, which changes conditions very rapidly and without much warning.

Live music

Despite churning out a good number of internationally known rock, indie, metal, punk and R&B acts, many outsiders don't think of the former capital of the Confederacy as being a hotbed of diverse musical arts. However, largely thanks to the thriving arts scene associated with and around Virginia Commonwealth University, Richmond has quite the music scene. Clubs offer a diverse selection of genres from rock, indie, metal, punk, hardcore, alternative, blues, jazz, jam, country and bluegrass. In addition to international and national acts that come through town, there is a vibrant (and often fiercely independent) local music scene which has spawned a good number of internationally renowned acts.

Craft Alcohol Tourism

Head over to the Scott's Addition neighborhood, at the corner of Broad and Boulevard for 12 alcohol producers within walking distance of each other - breweries, cideries, meaderies, and distilleries await you. Dubbed the Scott's Addition Beverage District, the group consists of the breweries: Ardent Craft Ales, Bingo Beer Co., Isley Brewing Company, Strangeways Brewing RVA - Scott's Addition, Three Notch'd RVA Collab House, Vasen Brewing Company, The Veil Brewing Company; cideries: Blue Bee Cider, Buskey Cider, Courthouse Creek Cider; meaderies: Black Heath Meadery; and Reservoir Distillery.

Buy
Eat
Many of Richmond's fine restaurants may be found in the historic district downtown called Shockoe Bottom, in the
Downtown
area
Sleep
Cope
Style Weekly - "Greater Richmond's alternative newsweekly."
Brick Weekly - "A comprehensive cornucopia of music, arts & entertainment for Richmond."
Stay safe
Richmond has a fairly high crime rate, but the vast majority of serious crime occurs in and around the city's public housing projects, located mostly in the northeast, eastern and southside sections of the city. Muggings and purse snatchings, however, occur throughout the city, so be careful when walking or standing around at night.
Popular night-spots around downtown, such as The Fan District, the areas around Virginia Commonwealth University and Shockoe Bottom can become dodgy at night, so it is best to avoid walking alone or on side streets. While all of the night spots are generally safe, it is also wise to avoid any confrontations inside or outside of nightclubs, especially in Shockoe Bottom, as incidents have sometimes lead to stabbings or shootings. This goes for fights between other people; just go the other way.
In addition, much of the free and cheap parking in Shockoe Bottom is located under the freeway and train overpasses and have many dark areas; be aware of your surroundings when returning to your car after dark. As always, use common sense and avoid walking or parking in any areas that seem unsafe.
Most areas of the city are also notorious for car break-ins, so it is always best to have nothing visible inside your car, including shoes, clothing or trash if you park on the street, in open lots, or in unsecured parking garages.
Avoid swimming or wading in the James River within the city, as the currents and dropoffs are notorious for getting the best of even those most experienced with the river. If swimming, restrict yourself to public-access beaches or stretches of rocks such as Pony Pasture or Belle Isle's northern side, or avail yourself of local guidance. In addition, if on the riverbanks, be aware of weather conditions, as some areas around the riverfront are prone to flash-flooding.

Go next
Colonial Williamsburg - Located approximately 50 miles east of Richmond on I-64 in the historic district of the town of Williamsburg, this "living history museum" in recreates Virginia's 18th century capital as it appeared preceding and during the American Revolution.