Richmond (British Columbia)
Richmond
is a riverine city to the south of
Vancouver
in the
Lower Mainland
. Comprising several islands, the city is protected by a system of dikes from the Fraser River's occasional flooding. Richmond has the country's largest
Asian-Canadian
population by percentage, many Cantonese speaking; over 60% of the population is non-white.
Richmond is mainly composed of four main islands: Lulu Island (Richmond proper), Sea Island (Vancouver International Airport (YVR)), Mitchell Island (industrial) and Iona Island (parks and city maintenance).
Steveston, historically a fishing village and now a tourist and shopping district, is located at the southwestern tip.
The character of Richmond has changed dramatically over the last 25 years. It was previously primarily a farming community with a large fishing village. It has become a center of new immigrants, mostly from Asia, especially Hong Kong. There are now a number of residential high rise towers and Hong Kong style shopping malls, e.g., Aberdeen.
Get in
By plane
Vancouver International Airport
address: 3211 Grant McConachie Way, Richmond, BC
Vancouver International Airport is located within Richmond city limits, so it's a short ride by taxi or SkyTrain from the airport (just remember to transfer to a train heading south to Richmond Centre at Bridgeport Station). If you're already in
Vancouver
, or elsewhere in the
Lower Mainland
, Richmond is well integrated with the region's road and public transit system.
By public transit
The regional public transit system operated by
Translink
has both bus and SkyTrain connections in Richmond.
Canada Line
, part of the SkyTrain system, connects Richmond with downtown Vancouver. The line is actually a Y shape with one branch going to the Vancouver International Airport (YVR) and the other going to Richmond Centre. Trains alternate between the two destinations and there will be signs on the trains and station platforms saying which destination the train terminates at.
The following
buses
all run direct to Richmond from other localities within Greater Vancouver:
The standard fare (effective ) to get into Richmond is by bus and by train (for a two zone ticket) from most places in the Greater Vancouver area. To get from YVR airport to Richmond costs : for a one-zone transit fare and for an airport AddFare. Note that this AddFare only needs to be paid on trips
from
the airport, not on trips
to
the airport. It is also possible to avoid the AddFare by buying prepaid transit tickets from the 7-Eleven or Pharmasave in the bottom level of the Domestic terminal of the airport.
By car
The main highway in and out of Richmond is
Highway 99
. From Vancouver, it is accessed via the Oak St bridge. If coming from
Surrey
or New Westminster, Highway 91 / 91A can also be used.
Get around

Richmond is mostly a grid with fairly wide streets so driving around isn't a problem. Major north-south roads tend to be numbered (No. 1 Rd, No. 2 Rd, and so forth, with No. 3 Road considered the main street). Major east-west streets include Bridgeport Rd (alternate access to the airport), Westminster Highway (access to Richmond Centre, the closest thing Richmond has to a 'downtown') and Steveston Highway.
Richmond Centre is the transit hub for buses within Richmond with connections to Steveston, the Riverport Complex and the Buddhist temple. Fares for travel within Richmond are .

See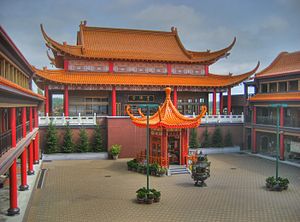 phone: +1 604-274-2822

address: 9160 Steveston Highway

The first and largest authentic Chinese Buddhist temple in North America. It is noted for its attention to detail (see the holden ceramic roof tiles in the four grand halls), the traditional Chinese art pieces, such as paintings, calligraphy and statues, as well as housing the largest Buddha statue in North America and the largest Buddhist mural in the world, which took over two years to complete. The classical Chinese garden is serene and beautiful, with its gazebos, wisdom fountain, lotus ponds, dragon fountains, and stone bridge. Guided tours can be held for groups of 15 or more people. The cafeteria serves Chinese vegetarian lunches, and the gift shop offers a variety of Buddhist items.
No.5 Road Religious Shrines - A road in which a portion of it has religious shrines celebrating all sorts of religions. Given Vancouver's multicultural nature, this is a great way to express it. located here are the International Buddhist Temple, Guru Nanak Sikh Temple, Vedic Hindu Society, Jama Masjid, and a Jewish day school. This is also a great way to learn of other religions and cultures while you visit Richmond.

phone: +1 604-664-9009

address: 12138 Fourth Ave

National Historic Site located in Steveston. Commemorates the history of Canada's West Coast fishing industry from the 1870s to the present.
Steveston is located is the southwest corner of Richmond where the Fraser River meets the Pacific Ocean. It was originally a fishing village although it has become a great deal more touristy in recent years. There are a number of good fish and chip shops in Steveston, and on sunny days you can sit out by the water on the boat docks and eat. A number of movies and television series have been filmed here. A nearby park towards the western end of the village offers great views of the ocean and is a common area for barbecues in the summer. During the summer there is a popular farmers market.
Do
Buy
phone: +1 604-713-7467

address: No. 3 Rd

The largest mall in Richmond, with over 240 stores, its a shoppers delight. They recently added a terrace just for restaurants, with over 20.

address: 3651 Moncton St

A wide variety of small shops line this popular tourist area.

phone: +1 604-270-1344

address: No. 3 Road at Alderbridge Way

Shops include a Best Buy, Futureshop, Target, and other stores, along with a food-court with a mix of franchises and independents.
Asian shopping malls
There is a large number of Asian shopping malls in Richmond. These usually have many small shops with a huge variety of things for sale.
address: 4151 Hazelbridge Way

phone: +1 604-273-0276

address: 4380 No.3 Rd

Union Square

phone: +1 604-304-2759

address: 8328 Capstan Way

phone: +1 604-231-0601

address: 3700 No. 3 Rd
Night markets
Richmond has enjoyed Asian-style night markets on summer weekends since at least 1998, but the exact locations and operators change with the years. Expect a token admission fee, huge crowds, lots of food stalls, vendors overflowing with cheap merchandise, and a few attractions for the kids. A pleasant way to pass a summer evening.
phone: +1 604 244-8448

address: 8351 River Rd

Dozens of food booths with Chinese, Japanese, Bubble tea, and many other cuisines. Dozens more booths with kitsch items, cheap clothing, other merchandise. Haggling is part of the fun. Large yellow ducks are something of a mascot. This market started in 2000 at another location, went on hiatus 2008-2011, and reappeared here in 2012.

International Summer Night Market

phone: +1 604-278-8000

address: 12631 Vulcan Way

Founded in 2008, when the Richmond Night Market had a hiatus. Over 100 merchandise booths and 60 food booths. Play area for children.
Eat
There are a number of fine dining places and a variety of Asian cuisines in Richmond. A
Seattle
newspaper columnist credited Richmond with having the best reasonably-priced Chinese food in the Northwest. In addition to the restaurants listed here, the
night markets
overflow with food stalls, and shopping malls offer an abundance of choice at their food courts.
Budget
phone: +1 604 273-0622

address: 4260 No. 3 Rd

Japanese cuisine serving fresh and tasty sushi and udon. Main restaurant is in downtown Richmond as well as an Express Bar nearby. Enjoy authentic meals at a reasonable price.

phone: +1 604 278-7700

address: 5300 No 3 Rd

Unit 816. Casual Hong Kong style Chinese food (noodles, congee, rice, bbq, etc.). Located in Lansdowne Mall next to Kinko's. 24 hour restaurant 7 days a week, all year round (including holidays).

phone: +1 604-272-1588

address: 12351 3 Ave

Famous for fish & chips, having won several awards. Sit on the wharf and enjoy some take away while seagulls fly overhead.

address: 4311 Hazelbridge Way

The food-court's 19 stores offer tasty, convenient authentic cooking from a range of Asian cuisines.

Richmond Public Market

address: 8260 Westminster Hwy

Near Buswell. Asian food court, located on the upper level, where people will find some of the cheapest and most delicious fast food in Richmond.

phone: +1 604-273-4441

address: 3211 Grant McConachie Way

A chain burger restaurant
Mid-range
phone: +1 604 207-9888

address: 8171 Ackroyd Rd #100

Usually packed with locals, dining on the very popular dim sum and/or great seafood.

Papi's Ristorante Italiano

phone: +1 604-275-8355

address: 12251 No. 1 Rd

As the name suggests, this is an Italian restaurant that serves traditional food at a reasonable price. Its located a block away from the water in Steveston. The owners also run Mercato Nel Vicolo, the deli next door that stocks Italian groceries (hams, pasta, etc.) and pre-made dishes.

phone: +1 604-204-0777

address: 100-3400 Moncton St

Award-winning pizza joint in Steveston that serves some of the most tastiest thin crust pizza in Vancouver.

Sun Sui Wah

phone: +1 604 273-8208

address: 102-4940 No. 3 Rd

Chinese seafood restaurant that offers an amazing dim sum on the weekends. Roast squab is also one of their specialties.

phone: +1 604-275-5188

address: 3711 Bayview

Only a stone's throw from the wharf, the Tapenade offers quality food served in generous portions amongst warm surroundings.

phone: +1 604-278-7373

address: 129-4940 No.3 Rd

The usual Thai food standards, competently delivered by a local chain. Other locations in Downtown Vancouver, and one in Kitsilano.

phone: +1 604-231-8006

address: #2020 Excel Centre, 8766 Mckim Way

Dim sum, congee (porridge) and other Cantonese delicacies. Each diner gets to choose his/her own tea leaves for traditional Chinese tea. Their bo lo pao (sweetened buns) is excellent. Parking available.
Drink
Pioneer's Pub

phone: +1 604 271-6611

address: 200-10111 No. 3 Rd

Richmond. Quality beer sold at hard to match prices in Vancouver. Great pub atmosphere and standard meal fare.

Flying Beaver

phone: +1 604 273-0278

address: 4760 Inglis Dr

Richmond. Watch the seaplanes take off and land on the Fraser River while enjoying a cold beverage and tasty snacks on the patio. You can't get a better place to enjoy a beer and watch the floatplanes.
Sleep
There are a number of hotels and motels that serve the airport, including the Fairmont Vancouver Airport, which is actually in the US departures area of the airport.
Mid-range
Hampton Inn by Vancouver Airport

phone: +1 604 232-5505

address: 8811 Bridgeport Rd

Located near the Skytrain Bridgeport Station and minutes away from Vancouver airport, its an option for the business traveler or for a stop over. While the rooms are simple and bland, the friendly service staff go out of their way to help you with your trip.

Sandman Hotel by Vancouver Airport

phone: +1 604 303-8888

address: 3233 St. Edwards Dr

Contemporary architectural hotel that is clean, comfortable and near the airport. Rooms include kitchenettes and air conditioning.
Splurge
phone: +1 604-207-5200

address: 3111 Grant McConachie Way

Located inside the International Terminal, this luxury hotel provides guests with views of runways & mountains. Canapes and complimentary breakfast are served in lounge and rooms are well appointed.

Hilton Vancouver Airport

address: 5911 Minoru Blvd

Hotel located 5km from Vancouver International Airport (YVR) and about 20 minutes by Skytrain (get off at the Lansdowne Station of the Canada Line) or car from Downtown Vancouver. For a nice view, ask for a room facing the northwest. Complimentary shuttle service to and from Airport.

Vancouver Airport Marriott Hotel

phone: +1 604-276-2112

address: 7571 Westminster Highway

Located in the heart of Richmond, B.C. and a couple of minutes from the Vancouver International Airport. It is close to the Richmond Centre Mall.
Go next
White Rock and its beach are 20-30 minutes south-east on Highway 99 or take bus #351 from Bridgeport SkyTrain station.
The Tsawassen ferry terminal is 20-30 minutes south-west on Highways 99 and 17 (or take bus #620 from Bridgeport Canada Line station). It has connections to Victoria, the provincial capital, Duke Point (mid Island) and several of the Southern Gulf Islands.