Richmond Hill (Ontario)
Richmond Hill
is a city in Southern Ontario in the central portion of
York Region
. It's part of the Greater Toronto Area, about 20 km north of the downtown core of Toronto.
Understand
Richmond Hill is the third most populous municipality in York Region and the 28th most populous municipality in Canada. Richmond Hill has had a large population growth in relatively recent years, and was considered one of the fastest growing communities in the 1990s. The federal government tallied the population at 195,022 people in 2016.

Get in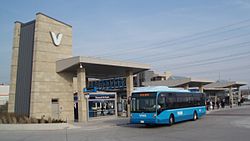 By bus
York Region Transit (YRT)
operates
bus service in York Region
(including Viva express buses). From Toronto, take either the Viva Blue bus or
YRT Route 98/99
from Finch Subway Station on
TTC
subway Line 1 Yonge-University. These bus routes will take you along Yonge Street through the centre of Richmond Hill with a major stop at . Viva Blue will make fewer stops than YRT 98/99 so it will generally be faster. The ride will take about half an hour. Alternatively, you can always board TTC subway Line 1 towards Vaughan Metro Centre and connect to Viva Orange service at Vaughan Metro Centre or YRT at Pioneer Village station.
GO Transit operates several routes that connects nearby towns and cities to Richmond Hill. GO Bus Routes 40, 51, 52 and 54 all stop at Richmond Hill Centre. GO Bus Route 40 connects Hamilton and Mississauga (Square One and Toronto Pearson International Airport) with Richmond Hill on hourly basis (every 30 mins during rush hour on weekdays) seven days a week. This GO bus routes also stop at Highway 407 station on TTC subway Line 1 on its way to and from Richmond Hill Centre. GO Bus Route 51 operates on Monday to Friday between Highway 407 station and Pickering via Richmond Hill Centre and Scarborough Town Centre at 30-min intervals. GO Bus Route 52 operates seven days a week between Highway 407 station and
Oshawa
via Richmond Hill Centre. GO Bus Route 54 operates on Monday to Friday between Highway 407 station and Markham via Richmond Hill Centre. Visitors coming from west or south of Richmond Hill can change bus at Square One Terminal in Mississauga or Highway 407 station in Vaughan to reach Richmond Hill.
By train
GO Transit
provides
train and bus service between Toronto and Richmond Hill
with stops at the , and on weekdays. However, this service is more useful for commuters rather than visitors with trains running either inbound to Toronto in the morning rush hours or outbound in the afternoon rush. GO bus route 61 stops at the three GO Train stations mentioned above but lacks late afternoon and evening service from Richmond Hill to Union Station. There is no GO train or bus service between Toronto and Richmond Hill on weekends and holidays.
By plane
GO Transit
operates
Route 40 – Airport Express GO Bus
hourly, seven days a week between
Toronto Pearson International Airport
in
Mississauga
and Richmond Hill Centre Terminal via Highway 407. The one-way fare is $7.35 (as of 2018) and the trip takes 20 minutes.
Toronto/Buttonville Municipal Airport (
YKZ
) is just east of Richmond Hill's city boundary at highway 404 on 16th Avenue, in the city of Markham.

By car
Richmond Hill is easily accessed by major highways. Highway 404 connects from Toronto northwards to Newmarket. This highway serves as the political boundary between Richmond Hill on the west and Markham on the east from Highway 7 north to 19th Avenue and Whitchurch-Stouffville on the east from 19th Avenue north to Bloomington Road. Richmond Hill is also just north of Highway 407 toll road.

Get around
With attractions spread out and free parking available at practically everywhere, car is the most common and easiest way to get around.
By bus
York Region Transit
operates the municipal buses in Richmond Hill. Bus service is adequate, although you should check the timetables to make sure you don't waste your time waiting for half an hour. Service along Yonge street and Highway 7, where most of the interesting destinations are, are excellent, and even if you miss your bus, the next one generally comes soon. Stops offering VIVA bus service have electronic timeboards that will give you the arrival times of the next three buses. Since these times are estimated through a GPS connection to each bus, the times are generally accurate. Most bus routes do stop at Richmond Hill Centre for easy connection to other routes.
A ride within Richmond Hill counts as one zone and will cost $4.00. The tickets are time-stamped and valid for two hours. You can pay by cash, Presto card or use its mobile app for payment. You can also purchase multiple tickets at a discount. Remember to
validate your ticket before a ride
in the machines by the bus stops. There will be a slot for you to insert the ticket to be timestamped.
See
address: 321 Mill St

This picturesque park has a pond with a fountain, ducks and greenery along the shores. The pond used to power a sawmill, long since gone.

phone: +1 905-780-3802

address: 9 Church St N

The heritage centre is in a restored 1840s Regency style cottage originally home of Amos Wright, the first Reeve of Markham Township. The cottage is in Amos Wright Park with gardens having herbs, heritage plants and roses.

Wilcox LakeA kettle lake in the Oak Ridges moraine and a provincially significant wetland.
Do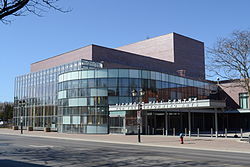 Buy
phone: +1 905-883-1400

address: 9350 Yonge St

Large indoor shopping centre with department stores and food court.

Times Square

address: 550 Highway 7 East

A small-size mall with Chinese restaurants and stores
Eat
phone: +1 905-237-6565

address: 10067 Yonge St

In addition to lots of sweets, this cafe serves some nice sandwiches and espresso-based coffees.

address: 10268 Yonge St

A coffee shop located in a heritage building, which was formerly the Richmond Hill High School built in 1897 and used as a school until 1924. The interior is as quaint as the building's exterior.

Jubilee Square

address: 280 West Beaver Creek Rd

This mall has a cluster of Asian-cuisine restaurants (Chinese, Japanese, etc.).
address: Jubilee Square

Sushi and Tepanyaki.
Rifca's Mediterranean Kitchen

address: 8950 Yonge St

Delicious homemade food for a decent price. Shawarma, Falafel, and other hearty selections. The owners are really friendly there too.
John's Chinese BBQ Restaurant

phone: +1 (905) 881-3333

address: 328 Hwy 7

Authentic Chinese restaurant. Renowned for its BBQ pork (cha siu).
Drink
phone: +1 905-883-4253

address: 10300 Yonge St

English-style tavern with outdoor seating area & pub food.
Sleep
Budget
phone: +1 905 889-5411

address: 8700 Yonge St, L4C 6Z5

phone: +1 905-884-1007

address: 10711 Yonge Street
Mid-range
Best Western Parkway Hotel Toronto North

phone: +1 905 881-2600

address: 600 Hwy 7, L4B 1B2

Sheraton Parkway Toronto North Hotel & Suites

phone: +1 905 881-2121

address: 9005 Leslie St

Holiday Inn Express & Suites Toronto - Markham

phone: +1 905 695-5990

address: 10 East Pearce St, L4B 0A8

Despite the name, the hotel is located in Richmond Hill and not in Markham
Connect
Richmond Hill Centre bus terminal provides free WiFi.

Stay safe
Richmond Hill has a hospital: Mackenzie Richmond Hill Hospital. It is located on Major Mackenzie Drive just west of Yonge Street.

Go next