Rickwood Caverns State Park
Rickwood Caverns State Park
preserves a large cave filled with limestone formations, underground pools, and rare blind fish.
History
The caverns were brought to public attention by Eddie Rickles and Sonny Arwood who combined their own names to create the name "Rickwood." Rickles had come across the caves in the early 1950s as the leader of a Boy Scout troop exploring the area. Rickwood Caverns operated as a commercial entity from 1954 to 1974, when the property was acquired by the state and reopened as a state park.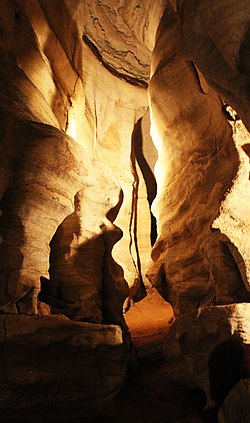 Flora and fauna
Fees and permits
The cave tour admission fee is $18 for those 13 and up, $9 for ages 5-12, and free for kids under 5. The tour leaves at 10, 12, 2, and 4 daily from January to November.

Do
In addition to the cave tour, the park also has an Olympic-sized swimming pool, fed by waters from the cave, open during summer months. The admission fee for the pool is $5.

Sleep
The park has developed campsites available from $28 per night. The campgrounds have restrooms and a dump station, and can accommodate RVs.