Rietvlei Nature Reserve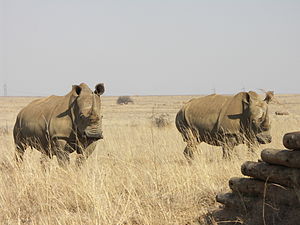 Rietvlei Nature Reserve
is a small reserve in the
Gauteng
Province of
South Africa
.
Understand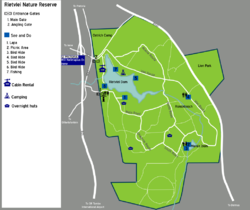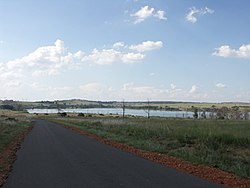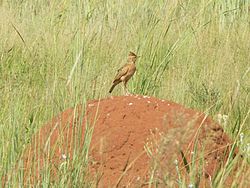 Rietvlei (
Reed marsh
) covers 38 km² and has 40 km of roads that are open to the public (30 km tarred and 10 km dirt road) for self-drive game viewing. The Rietvlei and Marais dams are inside the reserve.
The reserve consist of three main areas:
The wildlife reserve area

phone: +27 12 358-1811

address: rgewrgeger

A picnic area with toilet and braai facilities can be found at Marais dam, four birdwatching hides are situated throughout the reserve and open to anyone in the reserve. Two lapas can be rented for exclusive use.

Angling area

phone: +27 12 358-1819

Offers camping and chalet accommodation.

phone: +27 12 454-0637, +27 82 488-9900

Operated by the Pretoria Sailing Club.
The only boats allowed on the dams are those operated from the Yacht Club. Powerboats are forbidden as the noise disturbs the wildlife.
The reserve is generally not very busy. You will often have a bird hide all to yourself and there is seldom anyone else around to make noise and scare away the wildlife.
Summer is excellent for bird watching as many of the migrating species will also be found in the reserve, but the long lush grass may obscure some of the other wildlife. Rhino may be especially difficult to spot. Some antelope species will still be easily visible due to their size and the fact that they graze along the hill sides.
The Rietvlei dam supplied about 5% of
Tshwane
's water supply.
Volunteers
To be involved with a team of volunteers at Gauteng's Rietvlei Nature Reserve, visit the web site of the Friends of Rietvlei: www.friendsofrietvlei.org
History
The government bought Rietvlei on 2 Sept 1929 as Rietvallei (Extent 1), from DM Munro, in order to build the Rietvlei dam. As part of the Rietvlei water scheme, the Rietvlei dam was build in 1934 on the Six Mile Spruit. The dam wall is an earth structure and was built completely by hand. Donkey carts were used to cart soil onto site and remove any soil and other material that was no longer required. Many horse shoes lost by these working donkeys can still be found in the hill behind the Yacht Club.
In 1948 the city of
Pretoria
, which owns the land, proclaimed the area a nature reserve.
Landscape
Mostly open grassland covering low hills with indigenous tree in small groups. Rare for South Africa, it also contains a peat wetland area. An ancient lava stream runs north/south through the park.
The dams are fed by the Six Mile Spruit, four fountains on the reserve, and one fountain from an adjacent property.
Flora and fauna
The reserve has 272 bird and 530 plant species. 1 600 head of game, including someblesbuck, black wildebeest, red hartebeest, eland, Burchell's zebra, waterbuck, reedbuck, springbuck, mountain reedbuck, steenbuck and grey duiker can be viewed here. From your own vehicle it is easy to spot these animals on the open plains. Lions can be seen with a game drive from the Coffee Shop in as separately fenced off area.
Climate
The reserve has a typical Hightveld climate with hot days regularly followed by short and intense afternoon thunderstorms in summer. The thunderstorms are often accompanied by lightning and occasionally result in hail. Summer temperatures range between 16°C at night to 30°C during the day. Winters are mild and dry with temperatures averaging between a minimum of 5°C and a maximum of 20°C.
Get in
The reserve is just off the
R21
between
Pretoria
and
OR Tambo International Airport
.
Take exit 12 (
M31 Nellmapios Dr., Irene
) from the
R21
, turn towards the east (
there is a brown information sign boards indicating the reserve
), at the first 4-way stop, turn right and about 2.5 km down the road you will find another brown information sign board indicating a left turn towards the reserve entrance.
Gates are open for day visitors from 6AM to 5PM in summer (
September to March
) and 6AM to 4PM in winter. Day visitors are required to leave the reserve by 7PM in summer and 5PM in winter.
Fees and permits
Entrance to the reserve costs R55 per adult, R30 for children (6-16 years) R10 children (2-5 years) and free for children under 2. The disabled or elderly (over 60 proof required) pay R32 entrance fee. Six month season tickets Adults R795 and children/pensioners R370
Access to the Angling area is also R40 and the reserve can be accessed from the angling area.

Get around
The easiest option for day visitors is to self-drive. 30 km of tarred and 10 km of dirt road is provided for this. Speed limit within the reserve is 30 km/h.

See
See more wildlife
Larger game tend to stay away from the main tar roads in the park. To improve your chances of seeing rhino, zebra and other larger animals it is a good idea to get off the tar and use the couple of dirt roads that are open to visitors, specifically those between the Gwarry Route and Main Road.
Wildlife
A stone rampart build by the British forces during the Boer wars.
An old homestead dating back to the 1900s
Do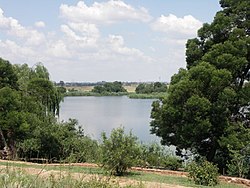 Angling

phone: +27 12 358-1811

catfish, yellow fish, carp and tilapia are common.

Bird watchingThere are four bird hides in the reserve. The one at the picnic area is a bit old and creaky and some of the seating need repairs, kids from the picnic area can also be a nuisance to the serious bird watcher. The one on the Vlei Route is supported by Friends of Rietvlei and is in excellent condition and offers a good view of the vlei. The hide on Main Road has views over almost the whole Rietvlei dam, but is normally the first hide visitors see and you can expect some traffic in and out as people come to see what the hides look like.

PicnicThe picnic area at Marais dam has clean toilets, braai areas, and running water. Bring a blanket, something to eat and drink and relax.

phone: +27 12 345-3576, +27 76 901-2690

The Pretoria Sailing Club operated on Rietvlei dam. In order to sail you will have to become a temporary club member. Gypsies, Lasers and O9s are available for rent.

Day Hiking Trails

phone: +27 12 345-2274

4-hour guided hike. Groups of 10 to 15 people.

Overnight Hiking Trails

phone: +27 12 345-2274

Groups of 6 to 8 people. Guided hike, 21 km through the reserve. Two basic rondavels (huts) with beds, mattrasses, hot and cold water, some limited cooking utensils and firewood is provided. The rondavels do not have electricity.

Day Horse Rides

phone: +27 12 345-2274

Groups of 6 to 10 people. Horse, saddle and guide is included.

Overnight Horse Rides

phone: +27 12 345-2274

Groups of 6 to 8 people. Horse and equipment is included. Riders should have some horse riding experience. Router covers 36 km. Two basic rondavels (huts) with beds, mattrasses, hot and cold water, some limited cooking utensils and firewood is provided. The rondavels do not have electricity.

Night game drives2-hour game drive using spotlights to locate the wildlife. A fire (and blankets in winter) will be waiting at Fish Eagle Lapa for a bring and braai (bring your own meat, salads, drinks, and have a barbecue) after the game drive.

Have a function at Fish Eagle LapaUp to 30 people, firewood supplied. No loud music allowed and everyone must be out by midnight.

Have a large functionMaximum 200 people. Firewood, power points, ice machine, stove, walk-in refrigerator and cushions are supplied. No loud music allowed and everyone must be out by midnight.
Buy
There is a shop in the reserve, the Rietvlei Coffee Shop. There is a Woolworths convenience shop just outside the reserve, at the Engen service station on the intersection of the
M37
and
M31
. The
Irene Village Mall
is located at the offramp from the R21, about 4km from the reserve.
Eat
There is the Rietvlei Coffee Shop in the reserve, and there is no restriction on what food you may take in for your own consumption.
Do not feed the animals.

Drink
Buy drinks in the reserve at the Coffee Shop. Municipal water on tap at most places where you may exit your vehicle is safe to drink.
Alcohol is allowed in the reserve, but anyone found intoxicated will be asked to leave.

Sleep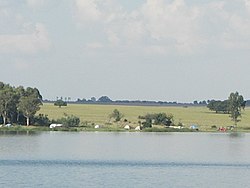 Camping

phone: +27 12 358-1819

address: Located in the Angling area

Basic, but clean ablution blocks. A maximum of 60 peopke per night are allowed on the camp site.

Chalets

phone: +27 12 358-1819
Stay safe
There are dangerous animals in the park. Only exit your vehicle at designated areas, such at the picnic spot, bird hides, lapas and camping sites.
No swimming is allowed in any of the dams as they are home to hippos and crocodiles.

Go next
There are a number of other small areas within
Gauteng
that has not yet been overrun by human expansion and development
phone: +27 11 957-0106

Located in Krugersdorp, this park offers game drive, horse trails, an observatory, abseiling, swimming pool and braai and picnic areas. Wide range of animals.

phone: +27 11 956-6342

A tour guide will lead you through this extensive cave system where many early hominids and advanced ape fossils were discovered. It is a 2-km walk. You can also visit the museum to learn more about the evolution of man. There is also a restaurant and shop.

phone: +27 12 790-2302

address: Old Soutpan Rd

A perfectly preserved meteor crater just north of Pretoria.
Some areas around Hartebeespoort is still undeveloped and offers country accommodation.