Rio Dulce
Rio Dulce Town
(Also called Fronteras) is a city in eastern
Guatemala
.
Understand
Rio Dulce town is a popular moorage spot for people sailing around the Caribbean, as it is qets very little damage from hurricanes. The main part of town is along the CA13 highway, where most shops, transport, and other services are. The rest is along the river, including marinas and accommodation options.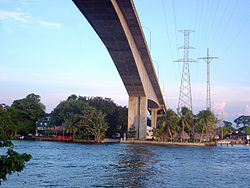 Get in
There are 1st class buses and chicken buses connectiong Rio Dulce with Flores (Guatemala), Guatemala City and Antigua Guatemala via Guatemala city. Shuttles from Coban are possible as well. Buses are also available to/from Copan Ruinas in Honduras with a change of bus at a junction - but you can buy tickets directly to your destination.
Boats come up the river from Livingston every couple of hours.
Get around
Getting around Rio Dulce really depends on your mood. You can walk, take a
chicken bus
, sail, hire a Lancha, take one of the many shuttles or minibuses or even a Tuk-Tuk. If you're heading to one of the further sites, you can even mix & match! It's always a "ride"!!
See
Castillo De San Felipe - A small fort built by the Spanish in 1652 to protect from British pirate raids. It's a 5km walk or tuk tuk ride from Rio Dulce Town, or it can accessed by boat. Entry is Q20, opening hours 9am-5pm.
Quiriguá - Mayan ruins southwest of town. Either arrange transportation in town or Chicken Bus out to the site.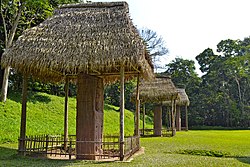 Finca Paraiso (Hot Springs Waterfall) -A blend of hot springs, a hot waterfall, a cool emerald pool to swim and play in (cliff diving is great fun when the water is high), lush tropical jungle and if you're lucky, mingle with the local villagers.
A simply beautiful place to swim and relax. Gets full on weekends and holidays. Get there by taking a bus from the market in Rio Dulce, heading towards El Estor\Lago Izabal.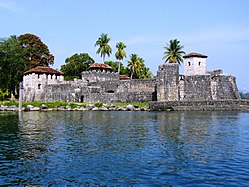 Do
Take a boat tour of the Rio Dulce, which can include a waterside view the Castillo, a stop by hot springs, and other natural features of the river. The journey is particularly beautiful and is well worth trying out, the trip then ends at Livingston.
A three day trek is run by Felipe. He can generally be contacted at Oasis Chiyu, or elsewhere around town. Just ask for Felipe from Philadelphia. Varying degrees of difficulty can be arranged.
Caribbean Experience runs 4 day 3 nights sailing trips along the river and into Livingston as well as 7 day 6 nights sailing/snorkeling/diving trips to the Belize Barrier Reef
Buy
A market exists everyday in the center of town. Typical market fare is available here.
Eat
There are numerous restaurants along the riverside, some more upscale serving international food, others serving simpler things, but still mainly aimed at visitors in sailboats and other tourists. Street food and minimarkets are on the main street.
Sundog Cafe - Great place to get a sandwich and a beer.

Bruno'sGreat restaurant and hotel. Has dock space for boats as well as a small pool, Wi-Fi and laundry service. Next to (and below) the bridge on the Fronteras/Rio Dulce side.

phone: +(502) 5306-6432

address: Tortugal, Casilla Unica Fronteras, Rio Dulce

Great restaurant mixing Guatemalan Cuisine with international favorites.
Sleep
There are many places outside the immediate town on the banks of the river that are nice. They can only be reached by boat. Most have private shuttle boats and will come to pick you up if you call them.
Tijax Express, close to the bridge, is Rio Dulce's unofficial tourist information. They can call all the places and arrange pickup.
phone: +502 7930 5168, +502 7930 5169

address: El Relleno

Offering accommodations from a hostel dorm bed to a private king bed suite, a full-service restaurant & bar, hot showers, laundry service and free Wi-Fi. Within walking distance from the bus station, under the Rio Dulce Bridge.

phone: +(502) 5306-6432

address: Tortugal, Casilla Unica Fronteras, Rio Dulce

Waterfront hotel offering private bungalows and dorm style accommodation. Popular marina for boats and has a decent restaurant. There are atmospheric boardwalks over mangroves.