Rio de Janeiro/Zona Norte
The
North Zone
of
Rio
has fewer tourist attractions than other parts of town, but it's worth at least one trip to Maracanã Stadium.
Get in
Most tourists see Zona Norte for only a moment as they past through the Galeao International Airport or the Rodoviaria Novo Rio interstate bus terminal.
phone: +55 21 3398-5050

address: Avenida 20 de Janiero

To get in and away by plane, hundreds of international and domestic flight offered daily.

phone: +55 21 3213-1800

address: Av. Francisco Bicalho, 01- Santo Cristo

Buses going all over the country leave from this busy hub. Make sure to check the prices and find out if your bus has air conditioning, especially for long trips.
Get around
Because the Zona Norte is known for being a bit rougher, taking taxis is highly recommended.
By metrô
The Zona Norte is served by both lines of the subway system. They meet at
Estácio
, on the border with the
Centro
district. Useful stops include:
Line 1
Metro Station Estácio (L1, 2)Corresponding station

Metro Station Alfonso Pena (L1)

Metro Station São Francisco Xavier (L1)

Metro Station Saens Peña (L1)For Tijuca forest trail (way up!)
Line 2
Estácio - to Line 1

Metro Station São Cristóvão (L2)For the Rio Zoo and Feira de São Cristóvão, typical market and fair with food, drinks and craft from Brazilian Northeastern culture

Metro Station Maracanã (L2)For Maracanã football stadium

Metro Station Triagem (L2)for Mangueira, the most famous favela and samba school

Metro Station Maria da Graça (L2)

Metro Station Del Castilho (L2)- for the outlet clothes mall, Nova América
By bus rapid transit
Bus rapid transit (BRT): This is a high-capacity urban public-transit system with its own right of way and use multiple-car vehicles. Two lines operating TransOeste and TransCarioca, Planned: TransOlimpica
By cable car
Teleférico A is a cable car service. The line operates between Bonsucesso Station and Complexo do Alemão. Six stations. The length is 3.5 km (2.2 mi).
SuperVia Urban Trains
The main terminal is the
Central Train StationFive of eight Rio's suburban train lines depart from here. SuperVia Deodoro branch toward Deodoro (23 km, 40 min, weekdays: 6-12 min. Weekends: 15-30 min, via Praça da Bandeira, São Cristóvão, Maracanã, Mangueira, São Francisco Xavier, Santa Cruz, Riachuelo, Sampaio, Engenho Novo, Méier, Olímpica de Engenho de Dentro, Piedade/Gama Filho, Quintino, Cascadura, Madureira, Oswaldo Cruz, Prefeito Bento Ribeiro, Marechal Hermes); SuperVia Santa Cruz branch (Platform 6) toward Santa Cruz (55 km, 75 min, weekdays: 10-12 min.
Weekends: 15-30 min, via 24 stops, six stops of them till Deodoro; at Campo Grande/West Shopping, Paciência, and Santa Cruz are corresponding stations to BRT TransOeste ); SuperVia Japeri branch (Platform 8) toward Japeri (62 km, 83 min, via 20 stops, Madureira is a corresponding station to BRT TransCarioca, Deodoro is a corresponding station to BRT TransOlímpica, this line passing Nilópolis, Mesquita, Nova Iguaçu, Queimados and Japeri cities); SuperVia Belford Roxo branch (Platform #10) toward Belford Roxo (31 km, less than one hour, via 18 stations, passing São João de Meriti and Belford Roxo cities); SuperVia Saracuruna branch (Platform #12) toward Saracuruna (62 km, 1 hour, via 18 stops, at Bonsucesso/TIM transfer to Teleférico A cable car, the last 6 stops are in Duque de Caxias city) - Long distance trains: Campo Grande (Platform #2) line - Gramacho line (Platform #13).
Opening times
Opening Monday to Friday at 04:25. Last train Japeri: 22:52. Last train to Santa Cruz: 22:35. Last train Saracuruna: 21:53. Last train to Belford: 21:28.
Landing (closing the station): 23:35.
Saturdays: 06:00 to 21: 00, Sundays: 06:00 to 21: 50, Holidays: 06:15 to 19:20
Deodoro line
Toward north
Central do Brasil Train StationDeodoro line

Praça da Bandeira Train StationDeodoro line

São Cristóvão Train Station

Maracanã Train Station

Mangueira Train Station

São Francisco Xavier Train StationDeodoro line

Riachuelo Train StationDeodoro line

Sampaio Train StationDeodoro line

Engenho Novo Train StationDeodoro line

Méier Train StationDeodoro line

Estação Olímpica de Engenho de Dentro Train Station

address: Av. Amaro Cavalcanti,

For João Havelange Olympic Stadium. - Deodoro line

Piedade/Gama FilhoTrain StationDeodoro line
and further Quintino, Cascadura, Madureira, Oswaldo Cruz, Prefeito Bento Ribeiro, Marechal Hermes and Deodoro stations
See
address: Av. Presidente Castelo Branco at Av. Maracanã

Once the world's highest capacity football venue, it was able to hold nearly 200,000 people. In modern times, the capacity has been reduced because of safety considerations, and the introduction of seating for all fans. It is undergoing renovation, to expand it to hold 80,000. The matches of Rio's football clubs like Flamengo or Fluminense are usually far from full, so go along and watch a game. There is also a Soccer Museum inside.

address: Estrada da Cascatinha, 850 - Alto da Boa Vista

A few km north of the beach, this mountainous subtropical forest is Brazil's smallest national park. It is largely hand-planted as much of the original forest was destroyed to make way for coffee plantations. Despite this it contains hundres of species, many of which are threatened with extinction. Corcovado is to the east of the park but if you really want to appreciate what the park has to offer you have to drive along some windy, hilly roads. It can be reached via Rua Boa Vista, and from São Conrado in Zona Oeste.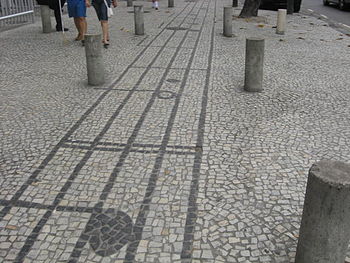 Engenhão Stadium

address: Rua Arquias Cordeiro - Engenho de Dentro

Estádio Olímpico João Havelange, known by its nickname of Engenhão, is a new soccer stadium built for the Pan-American Games of 2007. A modern construction, not as big as Maracanã but still worth a visit for soccer fans. The Botafogo team plays its matches there.

Grajaú State Park

phone: +55 21 2576-4296

address: Rua Comendador Martinelli 742 - Grajaú

This 55-hectare park preserves some of the original forest and serves as a refuge for a wide range of species including marmosets, bush dogs, guinea pigs, parakeets, vultures, and hawks. The park includes the Pedra do Andaraí, symbol of the area.

Museum of Astronomy and Related Sciences

phone: +55 21 2580-7010

address: Rua General Bruce 586 - São Cristovão

Also has an observatory.

Museum of the First Reign

phone: +55 21 2589-9627

address: Avenida Pedro II 293 - São Cristóvão

A museum about the reign of Emperor Pedro I (1822-1831), but with a modest collection.

Musical sidewalks of Vila Isabel

address: Vila Isabel

The mosaic sidewalks along Boulevard 28 de Setembro between Praça Maracanã and Praça Barão de Drummond are musical staves. Written in the stones are 20 complete musical works, including tunes by Ary Barroso, Martinho da Vila, Almirante, Noel Rosa, and other famous Brazilian composers who frequented Vila Isabel back in its Bohemian heyday. If you know who these guys are, you might also be interested in checking out the famous sculpture of Noel Rosa on this street at the entrance to the bairro.

phone: +55 21 3878-4200

address: Parque Quinta da Boa Vista - São Cristóvão

If you won't be making it to the Amazon or the Pantanal, this is a good place to see some of Brazil's more exotic creatures.

phone: +55 21 2269-5545

address: Rua Arquias Cordeiro 1046 - Engenho de Dentro

A modest collection of 19th-century engines, train cars used by emperors and presidents, and streetcars.

Museu do Açude

address: Estrada do Açude, 764 - Alto da Boa Vista

The former residence of one of the founders of the Modern Art Museum, this museum hosts a collection of items from the history of Portuguese rule, including furniture, kitchenware, and an array of azulejos, or Portuguese blue tiles. There are also separate collections of Oriental art and Brazilian pop art.

Quinta da Boa VistaPark
Churches
Church Our Lady of Lurdes

address: Boulevard 28 de Setembro, Vila Isabel

Church of the Holy Family

address: Ribeira, Ilha do governador

Chapel of St. Roque

address: Rua Padre Juvenal, s/n - Praça de São Roque - Ilha de Paquetá

Church of the Good Lord Jesus of the Hill

phone: +55 21 3397-0270

address: Praia dos Tamoios, 45 - Ilha de Paquetá

Convent of Our Lady of Help

address: Praça Barão de Drumond, Vila Isabel
Do
Rock climbingMany climbers take on the 444-meter Pedra do Andaraí, in Grajaú State Park. See the See section for details.

Ramos

address: Ave.Brasil, Maré, Zona Norte

A popular, in-bay, beach where the government built an artificial pool on the sand (piscinão). This area is not recommended for foreigners to visit. Inappropriate for bathing.
Samba schools
Buy
phone: +55 21 2178-4444, +55 21 33154300, +55 21 33154301

address: Avenida Dom Helder Câmara 5474 - Cachambi

The largest shopping mall in the Zona Norte, with two food courts, cinemas, and a range of stores and restaurants. Fitness center BodyTech (the largest fitness club in Brazil); Striker Bowling, Kinoplex UCI cinema (with 10 rooms, 3D), Magic Games playhouse, Mega bookstore. Cafes:Kopenhagen, Mc Cafe, Viena Café; Chocolate shops: Brasil Cacau, Cacau Show, Chocomundi. Pubs.

phone: +55 21 2570-53335

address: Associacao Do Feirante da Feira de São Cristóvão

A great place to shop with plenty of stalls selling all sorts of food, textiles and local goods. Also a good place to get a taste of Brazilian culture from the northeast. Food, dance and music tantalize all the senses.

Madureira MarketA popular market where there are cheap bars and restaurants, plus little shops selling everything you can imagine, including everything you need for Afro-Brazilian rituals (statues, candles, food and animals). Not usually visited by gringos, but still an interesting place if you want to see how normal people live and have fun outside the Zona Sul.

Nova América Outlet Shopping

phone: +55 21 2583-1033

address: Avenida Pastor Martin Luther King Júnior 126 - Inhaúma

One of the cheaper malls in the city.

phone: +55 21 2577-8777

address: Rua Barão de São Francisco 236 - Vila Isabel

Large shopping mall with 210 stores.
Eat
Adega Carne-de-Sol do Peixto

phone: +55 21 2288-6002

address: Rua Barão de Mesquita 616 - Tijuca

As the name suggests they are best at carne-de-sol. They have a full menu of typical Brazilian food in good-sized helpings.

Adegão Português

phone: +55 21 2580-7288

address: Campo Do São Cristovão 212

This hole-in-the-wall joint has fantastic food that has attracted fans for over four decades. Lamb with vegetables and potatoes is a must-try.

Fiorino Bar e Restaurante

phone: +55 21 2567-3386

address: Avenida Heitor Beltrão 126 - Tijuca

Good-quality Italian restaurant with reasonable prices. Note that they do not accept credit cards.

phone: +55 21 2576-5652

address: Av. 28 de Setembro 238 - Vila Isabel

This restaurant has for decades been the haunt of famous bohemian composers and poets such as Noel Rosa and Martinho da Vila. It remains the hotspot of Vila Isabel, with daily buffets, and feijoada on Saturdays. It also holds the distinction of having the highest annual draft beer sales of any restaurant in Brazil. Accepts Visa.

Restaurante Quinta da Boa Vista

phone: +55 21 2589-4279

address: Av. Pedro II - São Cristóvão

Fine dining in what used to be the chapel for the Imperial Palace. The food is a fantastic display of traditional Brazilian cuisine with formal service.

Restaurante Salete

phone: +55 21 2264-5163, +55 21 2214-0408

address: Rua Afonso Pena 189 - Tijuca

Famous for its shrimp risotto and empadinhas. Delivery available. Accepts credit cards.
Drink
phone: +55 21 2450-1253

address: Travessa Almerinda Freitas 42 - Madureira

Gay and lesbian nightclub.
Sleep
address: Rua da Assembleia #19, Nova Brasilia, Complexo do Alemão Rio de Janeiro, Brazil 21001020

An arts and research centre and hostel at the same time in the middle of the favela Complexo do Alemão. Run by the friendly and helpful Dutch Ellen and her Brazilian partner, who will include you in the local life and culture festivals. Very authentic and enjoyable place to stay, different from the usual tourist life in Rio.

Luxor Hotel Aeroporto

phone: +55 21 3222-9700 or +1-800-282-2070

address: inside Galeão International Airport, 3rd floor, Sector B

A good place to stay if you arrive late to Rio or are leaving early in the morning. Clean rooms with all the convenience of being within the airport. Rooms have no windows.

Pousada Galeão

phone: +55 21 3398-3848

address: inside Galeão International Airport, 1st floor, Arrivals Sector

Only has 15 rooms for those who are stuck in the airport. Rooms have TV, telephone and air conditioning but no windows.