Rioni Region
Rioni Region
is a lush, green, mountainous region in western
Georgia
along the Rioni River.
Cities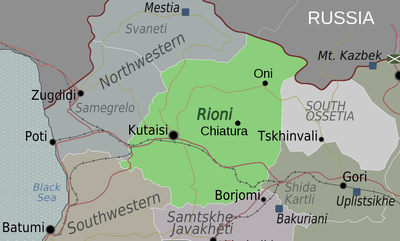 – Historically the capital of western Georgia, Kutaisi is a must visit for its two UNESCO World Heritage sites.
– The capital of Racha is small but attractive, very leafy, and up a very steep road leading to the Greater Caucasus.
– A 1950s mining town with famous cable cars (16 in total), which are all out of order (as of Oct 2019), and the nearby Katskhi Pillar. There is a direct train from Kutaisi I station, or you interchange in Shorapani by train or bus. Regular marshrutkas from Zestafoni leave for 4-5 lari.
– A town in Lower Svaneti, which boasts several 10th-century churches, a castle, and Svan towers in a nearby village.
– A very pretty, rustic town on the Rioni River up in the mountains that for centuries was a center of Georgian Jewish culture. Today it's a major tourist destination for domestic travelers, and attracts adventurous foreign travelers with its natural beauty, remote setting, and a local culture that has not seen the effects of tourism yet.
– Maybe interesting for its dam and pass into the mountains, otherwise the train ride there can be a soothing and interesting 3-hr ride.
– A mineral water spa town that is being revived. It has active spa options, but also interesting Soviet ruins or former spa centers. Also, several caves and sights nearby, the Prometheus Cave and Okatse Canyon, and more.
– Vani became famous due to its stone grave, filled with gold. The graves were part of a large ancient urban settlement, and it is believed to have been the ancient capital of Colchis.
Other destinations
— a high alpine Soviet-style resort near the source of the Rioni River in Upper Racha; simply unbelievable hiking opportunities
Understand
Rioni coincides with the
Imereti
and
Racha
administrative regions of Georgia.
Talk
Georgian
is unquestionably the main language in the region, but much of the older generation speak
Russian
. The younger generation is increasingly speaking English due to hostility towards Russia, and because English has replaced Russian as a second language in schools nation-wide since independence. When in need for help, look for younger people, as they are more likely to know some English.
Get in
All traffic towards Kutaisi will bring you into Rioni.

Get around
By thumb, marshrutka and taxi, as always. Rioni's cities and towns are well connected.
Checkout
Kutaisi
, which is the main transport hub of the region and has many connections to remote regions and villages like Chiatura and Oni.
See
Katskhi PillarA must-see church on top of a 40-m-high rock. Just a single monk is living there, Maxim, who comes down its ladder from time to time.
Do
Hot SpringsThe pictures look very promising. Bring a bottle of tab water to clean yourself afterwards, if you do not want to try the semi-clean river. The sulphur smell of the hot spring is very strong.
Go next
Georgia's principal east-west highway passes through Kutaisi, and you can get to pretty much anywhere from there. To the east, past the highway junction at
Khashuri
are the
Kartli
cities of
Gori
and
Tbilisi
to the east and
Borjomi
to the south.
There is a road leading north from Lentekhi that is the principal route into the high mountain villages/fortresses of
Svaneti
. And lastly, there is a road leading east from Oni towards
Tskhinvali
,
South Ossetia
, but this route is susceptible to highway banditry, carjacking, and kidnapping and is
not
recommended.