Riverina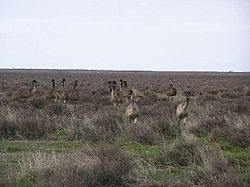 The
Riverina
is an inland region in the south of
New South Wales
,
Australia
, producing a good deal of the nation's agriculture.
Towns
city on the Victoria border
A border town separated from Victoria by the Murray River
Popular small town for writers
The "food bowl of Australia"
Small town known for its Merino wool
- entry to the Snowy Mountains
The largest inland city in New South Wales
Another Victorian border town
Other destinations
Understand
The inland and rural Riverina region is known as a source of a significant amount of the fruit and vegetable production of the country.
Aboriginal people are thought to have inhabited the Riverina for at least 40,000 years. The Wiradjuri people were the original inhabitants of much of south western New South Wales including most of the Riverina region along the Murrumbidgee and Lachlan rivers. British exploration of the Riverina began in 1817. Cattle raising was the major industry in the 1840s with sheep becoming predominant in the 1860s.
The Riverina's economic and cultural ties with
Victoria
provided a major impetus to the Australian federation movements in the late 1800s as crossing the New South Wales-Victorian border was not an easy thing to do and having to pay tariffs when getting goods from
Melbourne
was very frustrating. The cultural connections have continued, with the Riverina being the one region of New South Wales where the sport of
Australian Rules Football
is popular (much like Victoria).
Get in
By car
The main routes throughout the Riverina are:
the Hume Highway, the main route between Sydney to Melbourne, which passes through the eastern Riverina;
the Olympic Highway (route 41) which runs north-south and passes through some of the major Riverina centres, including the city of Wagga Wagga; and
the Sturt Highway (route 20) which runs from the Hume Highway west through Wagga Wagga, Narrandera and other centres.
Access to the area is between 5-7 hours south of Sydney depending on what area of the Riverina you intend to travel to.
By train
NSW Trainlink
runs twice daily XPT services between Sydney and Melbourne. In and around the Riverina area, services stop at Harden, Cootamundra, Junee, Wagga Wagga, The Rock, Henty, Culcairn and Albury on the NSW/Victorian border. Connecting coaches link with trains at Cootamundra and Wagga Wagga to other parts of the Riverina.
In addition, NSW Trainlink provide a weekly Xplorer service on Saturdays and Sundays between Sydney and
Griffith
. The service from Sydney runs with the morning Xplorer train to Canberra on a Saturday and splits from that service at Goulburn; the return service on a Sunday (coaches run on other days). The train stops in and around the Riverina area at Harden, Cootamundra,
Junee
, Coolamon,
Narranderra
, Leeton and Griffith.
By plane
Narrandera-Leeton Airport (NRA

)
See

Many people may see this area only as a drive between Sydney and Melbourne. Several of the towns along the way have great alternatives to the McDonalds and other fast food available road-side.

Do
Hire a houseboat and power it down the Murray River.
Catch a restored paddle-steamer along the Murray River.
Climb The Rock (also known as Hanging Rock Hill) - the carpark is on Rock-Lockhart Road, 6km west of the town known by the same name (The Rock), which is on Olympic Highway. The monolith dominates the surrounding area, and the 6 km trail will take about 3 hours for a return walk. On a clear day you can see south to the Victorian Alps, and there are brilliant views over the Riverina. Free