Riverside
Riverside
is a city in
Riverside County
in
California
. With a population of over 300,000, the city plays host to a diverse cross-section of people and has a rich history. Riverside is approximately 55 miles east of downtown
Los Angeles
. It is a center for higher education, with one community college, a large state university, and two private universities. A hub of regional commerce and transportation, it is a city with an intriguing past and a promising future, and is worth a visit.
Understand
While Riverside might be perceived as a "suburb" of Los Angeles, its population of over 300,000 would make it a substantial city in its own right pretty much everywhere else and the twelfth largest in California. It is one of the centers of the
Inland Empire
and host to
UC Riverside
.
Get in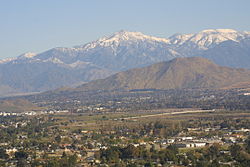 By plane
Riverside is part of the
Inland Empire
of
Southern California
. It is about a 17-mile drive from
Ontario International Airport
. This medium-sized airport has direct flights to many American cities (and
Mexico
), an uncrowded terminal, and generally easy freeway access. Travelers interested in flying into
Ontario
should probably look into Southwest Airlines which generally has reasonable prices. Flying into the other Los Angeles-area airports to reach Riverside is certainly possible, but not recommended.
LAX
,
Burbank
Airport,
Long Beach
Airport, and
Orange County
's John Wayne Airport are all about an hour's drive away; and that's without congestion, which isn't likely. If you have your own aircraft, Riverside Municipal Airport is centrally located and offers easy access to the city. No commercial passenger flights serve this airport.
After arriving at Ontario Airport, you can use Southern California's infamous freeway system to get to Riverside. Follow the signs for Interstate 10 East, then get on the I-15 South, and get on the CA-60 East. You will spend only about 2 miles on the I-15, so stay in the two right-hand lanes. After that interchange, you're only about 15 miles outside of the city.
It is possible to take public transport from Ontario International to Riverside. However, it is most certainly difficult. For non-drivers or frugal travelers, here's the information: Take the airport shuttle around to the
Omnitrans
bus stop on Airport Dr, and wait for the Omnitrans 61 bound for Ontario/Fontana. This will cost you $1.15, exact change only. If it is during commute hours on weekdays, get off at the Ontario Mills transit center, near the mall. Board a red
Riverside Transit Agency
route 204 bus headed towards "Riverside". It will cost you $2.25 and take about half an hour. If it is not during commute hours on the weekdays, buy an Omnitrans day pass ($3.50) on the #61 and ride it to Fontana Metrolink. From there, board either the #10 or #14 to
San Bernardino
, and get off downtown. Cross the street and board the #215 to Riverside. Either will eventually drop you off at the Downtown Riverside Bus Terminal.
By bus
Riverside has a
Greyhound
bus terminal on Fairmount Boulevard between Mission Inn and University Avenues in Downtown. This is a full-service terminal with routes to most domestic destinations, ticketing, and a restroom that they will let transit customers use, as the Greyhound terminal is across the street from the main city bus terminal.
Riverside's Greyhound terminal will remain open until it is moved to the future multi-modal transit center.
Megabus
offers service from
Las Vegas
. The bus stop is at the Downtown Riverside Metrolink/Amtrak station (4066 Vine Street).
By train
Riverside is a hub of the
Metrolink
commuter rail system, served by the Riverside, 91 and Inland Empire-Orange County lines on weekdays, and by the San Bernardino and Inland Empire-Orange County lines on weekends. The Metrolink station is about a mile outside of the city center, with ample parking. The only facilities available are public telephones and ticket machines- no restrooms. The station is served by RTA 1, 16, and CommuterLink 208, 210 and 212.
There is a second Metrolink station, Riverside-La Sierra, in the south of the city. It is served by the 91 and Inland Empire-Orange County lines on weekdays, and the Inland Empire-Orange County line only on weekends. It has the same facilities, and is served by RTA 12 and 15. The city utility has installed solar generating arrays over much of the parking lot.
Riverside–Downtown stationAmtrak serves the Downtown station with one trip per day on the long-distance Southwest Chief. Arrival from Los Angeles/Departure to Chicago is at 8:03PM each evening, and arrival from Chicago/Departure to Los Angeles is at 5:48AM each morning. Traveling to Riverside from out-of-area by rail is not convenient or cheap, but it can be done. Amtrak personnel are not available at Riverside station- if you are boarding the train in Riverside you must have advance reservations. (For spontaneous trips, this is as simple as a call to .) You may pick up your ticket from the Metrolink kiosks at the station, or from the staffed stations in Fullerton, Anaheim and Los Angeles.
Amtrak California also runs four buses each day to the Riverside Downtown station, which connect to the San Joaquins in Bakersfield for train journeys to/from points north.

Riverside–La Sierra station
Get around
By car
Riverside is in Southern California and Southern Californians are slaves to the automobile. Most of the time, getting around in Riverside will involve some form of car, and traffic congestion can ruin your day, and the poor driving habits of some other drivers may make you want to pull your hair out.
The CA-60/I-215 runs along the north side of the city. (Confusingly, the two freeways merge at the Riverside 60/91/215 interchange and then split again at the Moreno Valley Interchange, which is still actually within the city limits.) The Market Street exit provides access to Downtown, the 3rd/Blaine and University exits allow easy entry into the University neighborhood, and the Martin Luther King exit will allow you run of the mostly-residential Canyon Crest area. If you proceed on the CA-60 just past the interchange, get off at Day Street and you'll arrive at one of two area malls, the Moreno Valley Mall. It isn't in Riverside proper, but many people shop there rather than brave city traffic to go to the Galleria at Tyler.
The CA-91 runs from its origins at the 60/215/91 interchange in the north of the city, and runs the length of Riverside, eventually extending into
Corona
, Orange County and terminating in Long Beach. Notable exits include University Ave., which borders Downtown, Central Ave., which is near the new, upscale Riverside Plaza, Tyler St., immediately next to the Galleria at Tyler mall, and La Sierra Ave., which is near the city's second Metrolink station, and Castle Park.
The major crosstown arteries are Arlington and Magnolia Avenues. Congestion on these streets is interminable, and travelers would be well-advised to use other routes. Jurupa Ave. largely parallels Arlington, and Indiana and Victoria avenues parallel Magnolia. Victoria avenue is lightly-used, and is quite scenic. If you're willing to drive slightly out of your way, it's well worth the extra distance to cruise among the city's old orange groves.
Public transport
While the vast majority in the city do use automobiles, there is public transit available in Riverside. The
Riverside Transit Agency
provides fixed-route bus service on around 15 routes in the city, as well as three express commuter services and a few new community-based trolley-bus routes. Trips up and down Magnolia Ave. on route 1, on University Ave on route 16, and on route 15 along Arlington Ave are relatively frequent, with 20, 30, and 40 minute headways, respectively. Weekends and other routes can cause more delay. The entire Riverside city bus service essentially stops running at 8PM; with a few routes running through 10PM. There is no service at night.
The Riverside bus system has two main hubs – the Downtown Terminal, and the Galleria at Tyler in the south of the city. Chances are you will have to travel to one of these transfer points to get anywhere in the city. Commuter express routes 204 and 216 stop at the Downtown Terminal with destinations of Montclair/Ontario and Orange County, and 216 and
OCTA
794 stop at the Galleria, both headed towards Orange County. Local routes serve all surrounding areas.
Taxis have been known to congregate on Fairmount Ave. between the Greyhound and city bus terminals. This is helpful if you end up caught by the sudden unavailability of public transport at night.
Trip planning is available on the web site, on Google Maps, and by calling +1-800-800-7821 M-F between 7AM and 7PM, and Sa Su 8AM and 5PM.
Taxis
Taxi services are available in the city at the following telephone numbers:
Friendly Cab Co. – +1 951-353-2222
Bell Cab – +1 951-684-1234

AA Inland Empire – +1 951-248-0709

More can be found in any telephone directory.
See
The Riverside Metropolitan Museum

phone: +1 951 826-5273

address: 3580 Mission Inn Ave

The museum rotating exhibits on various topics and standing exhibits on local history, geography and culture. It's a half-hour's walk-through, but well worth the price.

phone: +1 951 684-7111

address: 3425 Mission Inn Ave

The museum has rotating exhibits featuring a variety of local artists, including projects from the University of California-Riverside.

phone: +1 951 788-9556

address: 3696 Main St

Located on the ground floor of the historic Mission Inn, this space showcases the history of the building, including a chair crafted for the legendarily girthy President Taft.

UCR Culver Center for the Arts

phone: +1 951 827-3755

address: 3834 Main St

The renovated UCR Culver Center for the Arts contains two institutions: the Sweeney Gallery, which shows a rotating collection of artistic endeavours from various, often UCR-affiliated, artists; and the UCR-California Museum of Photography, which offers a collection showcasing the artistic and historical uses that photography has been put to over the years. Admission covers both institutions. There is also a performance space in the center which showcases artistic and independent films.

phone: +1 951 784-6962

address: 900 University Ave

These impressive botanical gardens are hidden in the hills above campus. They are usually lightly-visited and offer fantastic views of the city, as well as a large collection of exotic flora. Parking is highly limited, and metered at $0.50/hour.

phone: +1 951 826-2000

address: west end of 9th St

For a panoramic view of the city, try climbing Mt. Rubidoux! Well... to say climb is a bit strong. The route up Mt. Rubidoux is a steady, sometimes-paved but mostly sandy incline lined with tall, prickly pear cactus and humongous rocks. A steady gait makes for about an hour round trip. Don't forget to bring a camera. If it's a clear day, one can see clear into nearby Corona to the West and Moreno Valley to the East. The sunsets from this vantage are beautiful, too! Be sure you are able to make it down before the sky gets too dark though as there are no lights lining the path.
Also, bringing a bottle of water is a good idea as there are no fountains or vending machines anywhere on or around the mountain. The entrance to the park is in a residential area. The park entrance is at the west end of 9th street, under a large iron gate. Parking is extremely limited in the surrounding neighbourhoods.

The California Citrus State Historic Park

phone: +1 951 780-6222

address: 9400 Dufferin Ave

This park provides a look back to the time when orange groves dominated what is now the city of Riverside, and reminds us where Orange County got its name. A small museum resides at the center of this park, surrounded by a working citrus orchard. If you go, be sure to pick up a sack of fresh oranges, which should run you around $4–5. Riverside is the birthplace of the navel orange, and we still do it best.

The Original Navel Orange Tree

address: Traffic Island, corner of Magnolia & Arlington Avenues

Speaking of that "birthplace of the navel orange" stuff, the original navel orange tree, to which all other navel orange trees trace their lineage, is still growing. It's on a traffic island on the corner of Magnolia and Arlington. There's a bench and a marker, and you can pick oranges off it- if any are ripe. Just don't take them all, it's rude.
Do
Riverside has many activities to occupy your time. Local concerts are often held in various venues around the city. The college's independent FM radio station,
KUCR 88.3
, has a reasonably good listing of cultural events in the area.
Castle ParkThe local amusement park is just off the 91 freeway at La Sierra and a short walk from the 1 and 15 buses. It has a small roller coaster, as well as numerous carnival-like rides, a log flume ride, an arcade, and miniature golf. An unlimited ride wristband will run adults $20 and children around $14, depending on height.

Box Springs Mountain PreserveHiking and biking are available in the Box Springs Mountain Preserve, a large open space to the north of the city. Trailheads are accessible at the end of Big Springs St. and Blaine St. (an easy walk from the terminus of the #10 bus) as well as off of Central Ave and Chicago Ave (accessible from the #20 and #22 bus). Parking is free, but trail information is scarce. A popular pastime of local college students is hiking to the large, concrete "C" on the side of Box Springs Mountain. What they do while at said location is their own business.

Van Buren Cinema 3

address: Van Buren Blvd

Double features are common.

Rubidoux Drive-InThe second of Riverside's drive-ins is just outside of the city limits off the 60 at Valley Way. In addition to holding Swap Meets every weekend, the Rubidoux Drive-In shows double features nightly. $7 for adults, and $1 for children 9 and under.

The Fox Performing Arts CenterHosts plays, concerts and musicals.

City of Riverside Parks and RecreationThe Parks & Recreation department maintains a number of park facilities around the city, with the crown jewel being Fairmount Park. Fairmount, just off the 60 freeway at Market St. and served by the 25 and 29 buses, was designed by Frederick Olmsted, the architect of New York's Central Park. Other facilities, including skate parks, pools, and sports areas, dot the city.

Riverside Public LibraryIf all else fails, this library has the third-largest collection in the southwestern United States, after Los Angeles and Las Vegas. Just visiting the Main Library in Downtown Riverside (near the downtown bus terminal) is an architectural treat.

address: 6951 Flight Rd

2017 will be the 25th anniversary of this air show. It is one day only, but critics love it. In 2017, it takes place on April 1 from 9AM-4PM at the Riverside Airport.
Buy
The city has a few major shopping venues.
The Downtown area, centered around the Downtown Pedestrian Mall, consists mainly of upscale and specialty shops. It is an entertaining walk, but in most cases serious shopping is better left to one of the local malls. This area is just a short walk from the Downtown bus terminal (routes 1, 10, 12, 13, 14, 15, 16, 22, 29, 49, Omni 215, CommuterLink 204, 208, 210, 212, 215), and can be accessed via the Market exit off of the 60 freeway, and the University exit off of the 91. It is also served by the Red line trolley, route 50, running around the downtown area for only $0.25.
The
Riverside Plaza
is a small collection of mostly upscale shops and restaurants just off the 91 freeway at Central Ave. It is anchored by Forever 21, Vons, Borders and a 16-screen cinema. It is served by bus routes 1, 10, 12, 13, 14 and 20.
The Galleria at Tyler is the largest shopping center in the area, a two-story mall with nearly every store one can think of, as well as large commercial developments for three blocks in all directions. Parking is free, but crowded. It's just off the 91 freeway at Tyler street, and served by bus routes 1, 10, 12, 13, 14, 15, 21, 27, 216 and OCTA 794. Be aware that on Friday nights and weekends this area will be extremely congested with both vehicular and pedestrian traffic.
While it's not in the city of Riverside, the Moreno Valley Mall and its surrounding development has provided an attractive alternative to the residents of the city's northern areas, especially those attending the University of California. This two-story mall is equipped with all the usual amenities, and is usually significantly less crowded than the Galleria. It is accessible via the 60 freeway off the Day Street and Frederick exits, and is served from Riverside by bus route 16 and CommuterLink 208 and 210. (Bus routes 11, 18, 19, and 36 also serve the mall, but travel from neighboring Moreno Valley.)
Eat
Riverside has the major chain-restaurant fare around major establishments. Applebee's is near the train station, TGI Fridays at the Galleria, and Denny's, IHOP, and CoCo's share a corner at Iowa and University near UCR.
However, there is some local fare to be proud of as well.
No trip to Riverside ought to be complete without a greasy hamburger at The Lucky Greek on Magnolia and Merrill, close to the 91 at Central and short walk from the #1 and #10 buses. The Lucky Greek has been serving up their signature greaseballs and pastrami for over 20 years. Expect to pay around $5.50 for a burger, fries and a coke. The decor hasn't been updated since they opened, but the food will make you forget about it shortly. +1 951-686-2621
Mi Tortilla! on Mission Inn Ave. just east of the 91 freeway and two blocks north of the Downtown train station, serves excellent Mexican food at a decent price. The atmosphere, a Mexican village motif, is a little overdone, but the salsa is excellent and the price will not disappoint. Expect to pay around $7 a plate. +1 951-341-5979
For more Mexican food, the Tortilla Grille is at the corner of Canyon Crest Ave. and Central Ave. The atmosphere is warm, modern and inviting, and a full bar with sports on two flat-screen TVs is also included. Come on Tuesday or Saturday nights for $0.99 tacos, or any other night for reasonably priced, fresh Mexican fare. $7/plate, off of routes 16 and 51. +1 951-680-9870
Templo Del Sol is a run-down looking establishment on University between Iowa and Cranford. The service is friendly but excruciatingly slow, but the food is inexpensive, authentic and excellent. Happy hour specials Monday through Thursday include $2 beer and $1 tacos. $5–7/plate, routes 1, 14, 16, and 51.
Downtown, Canyon Crest, Mission Grove and Riverside Plaza each have restaurants which are worth visiting.
Drink
There are a few night clubs around the city, most notably Club Sevilla off the 91 at University, near the Metrolink station (and routes 1 and 16), El Castillo off of Chicago and University Avenues (1, 16, 22 and 25), and Incahoots, a few blocks south of the Galleria at Tyler on Magnolia (1 and 15).
Getaway Cafe

address: 3615 Canyon Crest Dr # B

The college pub (beer & wine, but delicious pub grub). (bus lines 1, 16, 51, late-night 53)

Sire Restaurant

address: 6440 Magnolia Ave

A total neighborhood dive bar. (bus lines 1, 13 and 15)

Lounge Thirty-Three

address: 3639 Riverside Plaza Dr Ste 530

Riverside's Ultra-Lounge serves up some great cocktails and has a great DJ most nights of the week. (bus routes 1, 10, 12, 13, 14 and 20)

El Torito Restaurant

address: 3740 Park Sierra Dr

The bar is a pretty good size and they have karoake nights and Taco Tuesday at this location (bus route 1).

The Yard House

address: 3775 Tyler St

The Yard House is an excellent choice for a beverage or two. (bus routes 1, 10, 12, 13, 14, 15, 21, 27, 216)

Killarney's

address: 3639 Riverside Plaza Dr

Next to Lounge Thirty-Three, this is a great Irish pub. Bands perform select nights of the week. (bus routes 1, 10, 12, 13, 14 and 20)
Sleep
Learn
Go next
Riverside is about an hour's drive away from the ocean, the mountains, and the desert. The
Los Angeles County
and Orange County beaches are accessible on the 60 and 91 freeways, respectively, with modest day use fees. Taking the 91 north to the I-215, then following signs for CA-30 and mountain resorts, will have you in the San Bernardino mountains in no time.
Big Bear
and its surroundings are a winter playground unparalleled in much of the
Southwest
. For summer fun, continue up the I-215 all the way until it hits CA-138, head west, and then turn left at CA-2 to go up into the Angeles National Forest. Multitudes of picnic areas and campgrounds dot this winding road between the high desert and Los Angeles. If you turn east at CA-138, you'll run into Silverwood Lake, a large reservoir with swimming and boating facilities.