Roatán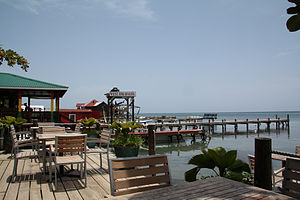 Roatán
is one of the
Bay Islands
of
Honduras
, in the Caribbean Sea.
Villages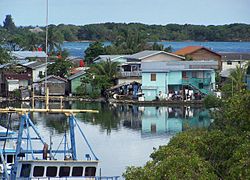 West Bay - is the furthest west area of the island, has some good restaurants and places to stay, and several large resorts have been built on the beach. It's arguably the best stretch of beach in the western portion of the island - powder-white sand that is very well maintained. The reef is a short swim away for excellent snorkeling, especially near the west-most tip, also known as Tabyana Beach. West Bay is also home to some of the best sunsets. It is recommended to spend beach time in the West Bay and bar time in the West End.
West End - has some good restaurants and places to stay, and it is definitely the most fun town on the island. There are bars, restaurants, and live music, right on the Caribbean.
Sandy Bay- a mainly residential area that includes a few resorts such as Anthony's Key Resort, Blue Bahia and Tranquil Seas, as well as a hostel, Roatan Backpackers' Hostel. Several tourist attractions are also located in Sandy Bay: the Carambola Botanical Gardens, the dolphins at AKR, and Mayan Jungle canopy zipline. Restaurants include Blue Parrot, Soul Food and the Beach Grill at Blue Bahia. There is a long beach that runs along Sandy Bay, with excellent snorkeling about a 200-meter swim from shore. For those seeking to do volunteer work, there are several non-profit organizations located in Sandy Bay, such as Clinica Esperanza, Care 4 Communities, and Partners in Education Roatan.
French Harbor - has some good restaurants and resorts, and most tourists do not venture further east than French Harbor, which is at roughly the midpoint of the island. Past this point are a few newer beach resorts, resort communities, and some private towns with beaches and resorts. Many of the resorts, restaurants, and bars on this part of the island were, in the past a secret of the locals and expats - but with the west end becoming more crowded, the secret is out, and more tourist are finding their way to the east end of the island. One point of interest would be Jonesville and the infamous Hole in the Wall restaurant reached by taking a small water taxi from Jonesville to reach it. Another is Camp Bay Beach Adventure Lodge and the Tasty Tarpon Restaurant, located on Camp Bay Beach, the largest of all the beaches of the Bay Islands, and can be accessed by car or boat.
Coxen Hole - With a population of just over 5,000, Coxen Hole is the largest town on the island of Roatan. It's where the airport is located, and most of life's necessities can be found here, including stores, restaurants, and banks. The cruise ship pier is located just west of the center of town.
Oak Ridge-Punta Gorda - shortly after the fork in the road to Oak Ridge, the paved road ends and you can continue to Port Royal, which was founded by English pirates. Past this, there lies a few small villages and a handful of homes, mostly occupied by expatriates.
Camp Bay - is a further on from Oak Ridge, about 4.5 miles, and is home to the largest natural beach on all the Bay Islands - Camp Bay Beach, which you can gain free access to at a couple different locations, and has a small beachfront resort and restaurant: Camp Bay Beach Adventure Lodge. Camp Bay is about the furthest you can go in a car. Past Camp Bay are the mangroves which are quite beautiful when navigated by boat and kayak. There are many tours through the mangroves which can be chartered from various points on the island.
Understand

The island is near the largest barrier reef in the Caribbean Sea, and is the second largest reef worldwide, after Australia's Great Barrier Reef. It has become an important cruise ship and scuba diving destination in Honduras.
For many years the island was a hidden gem, with some of the most beautiful white beaches and the best snorkel and diving spots in the Caribbean, but it was 'discovered' around 2005 by cruise ships and hotel developers.
Tourists used to be mainly divers, but the islands beaches have attracted additional package tourists and cruise ships. Several cruise ship ports provide an influx of traditional cruise ship tourists to the island. You'll know when the cruise ships are in port because suddenly there are several thousand additional tourists on the beaches and in towns. It is best to avoid buying anything when cruise ships are docked, the prices of food, goods, and services generally double to quadruple to capitalize on the higher expendable incomes of the typical cruise ship passenger.
There are three types of traveling experiences in Roatán. First would be the typical Caribbean resort-oriented beach vacation experience which can be found at any number of islands in the region. This type of vacationing is still developing on Roatán, however, in the past few years it has become a bit more common, and the island offers many resorts and activities that would appeal to those who prefer this type of setting. Roatán can still be experienced through the back door, and more rustic accommodations are abundant. If you are looking to sleep under a mosquito net with little to no view of any other human, you can certainly experience this on Roatán. The final type of traveling experience on Roatán is the cruise ship, these visitors are generally in town for short bursts of time and come in huge numbers, it's not unusual for you to wake up and have West Bay suddenly be covered with several thousand cruise ship passengers, rubbing shoulders to find a small patch of available beach to soak up the sun in. Several cruise ships have ports in Roatán, but some dock only in the exclusive private towns and beaches owned by the resort, and you will hardly notice them except for the large ships on the horizon.
Luckily there are still parts of the island that harken to past times when Roatán was more of a remote destination. Although development is spreading to all parts of the island, one can still find more rustic settings and establishments east of French Harbor. Traveling to the far eastern end of the island can take time due to road conditions. Those staying around the West End of the island should expect at least an hour of travel time to reach Camp Bay in a car.

Get in
By plane
United Airlines, offers direct flights from Houston (Daily during high season, less often other times), and from Newark (weekend).
Delta Air Lines, flies non-stop from Atlanta (Saturdays only).
American, Delta and Continental offer flights to San Pedro Sula's's Ramón Villeda Morales International Airport (Aeropuerto Internacional Ramón Villeda Morales) (SAP

, also known as La Mesa International Airport on the mainland, from which you can then get connecting services to Roatán.

Avianca, a group of five regional airlines, offers service from Miami, Orlando, Chicago, Dallas, Toronto, Houston, New York, Los Angeles, San Francisco and Washington DC with connecting service to Roatán, including mid-week flights.
There are also local airlines such as SOSA, CM Airlines, Air Viva and Isleña (part of Avianca's regional service) connecting the island with La Ceiba, San Pedro Sula, and Tegucigalpa. Prices are all over the map due to fuel costs and inflation, but usually average in at about US$200 for a flight from Tegucigalpa-Toncontin to Roatán.
By boat
By cruise
The island is visited by some cruise lines, such as Princess, Royal Caribbean, Carnival, and Norwegian Cruise Lines.
Mahogany Bay is a cruise ship stop outside of French Harbor. The beach is nice and the setting amazingly surreal, with 2 rusting shipwrecks within view. The cruise ship companies' employees will actively discourage you from leaving the private beach compound of Mahogany Bay and suggest only going to other parts of the island via expensive taxis or even more expensive tours. However, if you walk off the compound (shoes preferable over sandals) to the main road, taxis get a third to half cheaper.
Cruises also port in Coxen Hole.
By ferry
The
Galaxy Wave
is a ferry that travels to/from
La Ceiba
on the Honduras Mainland. The ferry is clean, comfortable, and very reliable. It departs from La Ceiba twice daily, once in the morning at 9:30AM and once in the afternoon at 4:30PM. Departure times from Roatán are 7AM and 2PM. It costs about US$28 US (524 lempira) for a 1-way trip.
A catamaran operates a direct daily ferry service between West End, Roatán and Utila leaving Utila at 6:30AM, arriving West End around 11AM. Departing Roatán at 1PM it arrives in Utila around 5PM. Contact Captain Vern, (), .
Other options are to
island hop
traveling on the Galaxy Wave between Roatán and La Ceiba and then The Utila Princess between La Ceiba and Utila.
Direct boats to/from Utila are available, but run infrequently and are not regularly scheduled. Ask around the West End to see if any are running or plan to run. The cost is US$50-55, or about the same price as the ferry but more convenient.
Afternoon boats can encounter rougher seas due to stronger winds. Make sure to take some travel sickness pills if you are unsure how you will react.
Charter boat
Another option is to charter a boat from one of the locals. Normally the best way to go about this is to approach one of the dive schools as they normally aren't using their boats in the afternoons. Find other travelers who want to do the same and go in a group of 4 or 6.
Get around
Roatán has a system of paved roads connecting the most important communities of the Island. From the Western End of the Island, at the community of West Bay, the road leads through West End, Sandy Bay, Coxen Hole, Brick Bay, Mount Pleasant, French Harbour and Oakridge - Punta Gorda after which it becomes a dirt road and continues east for a distance, to the area of Paya Bay, Camp Bay, Port Royal, and other eastern communities.

Bus

Buses run every 15 minutes between Coxen Hole and West End during the day. They depart from opposite the market in Coxen Hole. Buses run every hour to Oak Ridge, stopping at the new ferry terminal and passing through French Harbor, Polly Tilly Bight, and Punta Gorda on the way. These buses leave from opposite the HB Warren supermarket in Coxen Hole.

Taxi

There are hundreds of taxis, and you must bargain to get the best rates. Ask the price in advance and if it seems high, ask another. Prices from the airport are fixed during the day and negotiable at night. A cab from the airport to West Bay is US$10. Tipping is not expected by drivers.

Water taxi

There are water taxis during daylight that link West Bay and West End for US$3 per person 1 way. The water taxis will generally wait until they have at least 4 people before departing. Total trip time is about 10–15 minutes.

Scooters

Renting scooters is a very economical and fun way to see the island. The asphalt road is reasonably well maintained and there is lots to see on Roatán besides the West End, so hire a scooter and start exploring. The rental agencies will happily provide you with detailed maps and explanations on how to best see the island. Scooter rentals are abundant in West End.

Talk

English, Spanish, Garifuna.
English is widely spoken, especially in the West End and West Bay communities, and is the native language of Roatánians of British and African descent (except for the Garifuna). Spanish is spoken natively by all residents who have come from mainland Honduras, and is the second language of many of the native English speakers. Spanish is the official language of Honduras, and as such is the primary language of the school system. Garifuna is spoken by the Garifuna people, who are descendants of the Kalipuna peoples of St. Vincent. There is also 'Island Talk' spoken by the native Caribbean people.
Most individuals living on Roatán are bilingual (English/Spanish).

See
Stone Castle Cameo Factory

phone: +504 995-7421

address: Coxen Hole

Offers tours

Roatán Butterfly GardenThey normally have 15-20 butterfly species in a 3000 sq ft enclosure.

phone: +504 3328 0890

Only local Roatan brewery
Carambola Gardens
Caves of Helen, explore the caves.
Dolphin show, at Anthony's Key Resort.
East end, if you are up for an adventure, visit the east end of the island past Oak Ridge to Camp Bay Beach the largest of all the Bay Island beaches. The road changes from pavement to a dirt/gravel mix and continues on to Punta Blanca and Camp Bay. A 4x4 vehicle is not required for the journey, and you'll see many driving compact cars and scooters. This end of the island is home to many locals and some expats, as well as a few resorts - one that needs to be mentioned is Camp Bay Beach Beach Adventure Lodge which is the only resort on Camp Bay Beach. It is also the home of the Tasty Tarpon restaurant, and a place to gain free access to the beach with free parking, and a depot for your east end adventure from snorkeling or diving, to flyfishing and Mangrove Forest boat or kayak tours. There are a few other interesting stops along the way, such as Marble Hill Farms, where wonderful local jams & jellies are made. Asylum bar & grill is on a palapa literally over the calm waters in Camp Bay, which can sometimes feel like the restaurant at the end of the universe after the long journey of getting there. Luckily these places always have beer on ice and grilled food which makes the trip worth it. If you're looking to get off the beaten path and out of the tourist ridden West End, this is it.
Garifuna Village Tour, in Punta Gorda
Iguana Farm, near French Harbor.
Mangrove Forest Kayak tour, at Camp Bay Beach Adventure Lodge
Marine Science Museum, at Anthony's Key Resort.
Oak Ridge, is a small village on the eastern end of the island. On arrival, you'll be offered water-taxi tours to the Hole-in-the-Wall restaurant, neighbouring communities, and around the harbour, but it's also pleasant to walk through the village, which has many brightly colored wooden houses on stilts along the shore.
Pigeon Cayes, visit the deserted islands.
Punta Gorda, renting a scooter and driving to Punta Gorda takes about 1 hour each way, and goes through some beautiful countryside. It can be nice to get away from the touristy areas and get back into places that look and feel like Honduras. The town of Punta Gorda is friendly and you may run into a beach party if you are lucky.
Whites Beach, is supposed to be beautiful.

Spanish Lessons

phone: +504 97269133

address: West End

Spanish and English lessons with certified teachers, wonderful time and extra activities in the Islands, spanishroatan@yahoo.com.
Do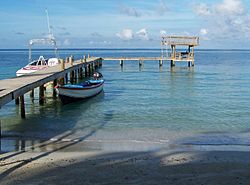 Snorkeling, diving and fishing
The fishing is good just off the reef in Roatán. Marlins, barracudas, tunas, wahoos, mahi mahis and many other fish can be caught. There is a yearly tournament held every September. It is a catch and release event, drawing over 65 boats from all over.
There is great snorkeling and diving to be found here, and many dive shops to choose from. Anthony's Key Resort offers a dolphin dive that is very popular among tourists. Waihuka in Coxen Hole offers the shark dive. Booking the shark dive must be done through one of the local shops.
If you are a good swimmer, and keep an eye out for motorboats, you can swim straight out from west end towards the white buoys for about 200 m, you will arrive at a 10–30 ft deep reef that is great for snorkeling and freediving. Slightly further out the reef gets much deeper and you hit the wall.
phone: +504 9994-5308

address: West End

42' Hatteras Sportfish for charter. Deep sea fishing, diving, snorkeling, or take a trip to a nearby island like Utila or Cayos Cochinos. This boat has good penn reels and fighting chairs and the interior is fitted with couches, flat screen TV, DVD player, kitchen, bathroom. Also available for overnight charters.

phone: +504-9967-3642

Learn how to scuba dive with multi-day classes; or take a professional dive and discover the underwater ruins of Roatan.

Caribbean Divers Roatán

phone: +504-9975-6009

address: Sundancer

Stay at the Sundancer cabanas in Sandy Bay and walk down to the beach to access some of the best diving on the island.

phone: +504 2445-4081

address: West End Roatán Honduras

The only PADI Career Development Center in Roatán. The shop offers 4 daily dives: the morning boat leaves at 9AM for 2 dives and returns at around 12:30PM. The afternoon dives go out at 1PM and 2:30PM respectively. Night dives are available every Tues & Thurs. The shop's 2nd boat, Wish-U- Were-Here, is dedicated for cruise ship visitors on various cruise ship schedules. 1-day experience program, PADI Discover Scuba Diving, for those who want to try scuba diving for the first time; inc. basic theory in the classroom, a short session in shallow confined water, followed by a 45-60 min dive in the afternoon. Friendly, experienced staff. Nitrox and Trimix are available. Snorkelers welcome.

Blue Cool Running ToursLocal fisherman providing fishing charter, snorkeling or an island tour by boat

phone: +504 9 567 8948

Pescado RoatanWith Pescado Roatán, bonefish and permit on the fly.

phone: +504 2445 4182, +1 813 345-4630 (USA)

address: 555 Midtown West End

Scuba diving Roatan private charters. Guest choose dive times and dive locations. Honduran owned and operated.

phone: +504 3359-2887

Tours from 1,000 feet to 2,000 feet for 1.5-4 hr.

phone: +504 3298 2448

While Steel Pan Alley has its origins as a free school teaching the local children to play Trinidad steel pans, the school also offers the Steel Pan Alley Experience, where visitors can come and learn to play the pans. In a single morning or afternoon session, visitors can go from zero music experience to playing three songs in just one hour. All proceeds go directly to supporting the school.

phone: +504 9698 0416

address: West End

Scuba divers with a small family atmosphere. Caters to small groups of 8 or less. Offers 3 dives a day starting at 9AM, 11AM, and 2PM, six days a week, Sundays and night dives upon request. Prices include all dive rental equipment. Small dive classes are offered from Open Water to Dive Master. 1-on-1 dive instruction available, Crowd-free diving, multilingual staff, well-maintained dive equipment and an on hand technician. All of the dive Instructors are PADI Certified as well as emergency first aid responders.
Walking
You can walk along the beach to West Bay from West End in about 45 minutes, and can take a water taxi back if you like ($3 USD). They seem to stop running around sunset, so make sure to catch them before it is too late.
Horseback riding
phone: +504 9555-4880

Horseback riding on the beach at West End.
Other
Kayak trips around the Island and through the mangroves on the east end of the island.
Mini-Golf in Sandy Bay, cold drinks & burgers.
Zipline, Roatán has 4 zipline jungle canopy tour adventures
Buy
The US dollar (US$) is generally accepted all over the island, however, your change is mostly given in Honduran lempiras. This method of money exchange is not recommended generally but if you're only stopping for the day from a cruise ship, it's an easier option to changing money that you may not use up.
Prices of everything skyrocket when cruise ships are in town, if you are looking to purchase anything, including food, it is best to wait until they have left port.
Local handicrafts abound and can be had for very little money. Look for Central American arts and crafts, brightly-painted pottery, wood carvings, costume jewelry, tee-shirts, cigars and clothing. Remember that the initial price should be considered the start for some haggling. It's expected and if you have the stomach for it, you'll likely end up with a final price somewhere around 40-50% lower.
Grocery stores
Woody's Grocery StoreBuy up and have a cookout.

Supermercado Eldon'sNear the airport overlooking Coxen Hole

Emily's Pulparia

address: Near Sandy Bay
Gift shops
So Tropic

phone: +504 2445-5042

address: West Bay Mall

Beachware, gifts, and other vacation essentials - bikinis, sarongs, swim trunks, sunglasses, snorkel gear, sunscreen, hats, phone/device chargers and local souvenirs.
Eat
The restaurants you will find along the West End beach are slightly more expensive than similar restaurants on the mainland, but the food is of a very high standard. Seafood abounds, and you can find a top quality lobster dinner for around US$10. Argentinian steaks are also popular.
There is a small food caravan located on the main road hosted by an ex-pat Aussie. The food is cheap, and he is open late, which is perfect for when you return home from one of the West Ends night spots.
phone: +504 3320-6004

address: Camp Bay Beach

A Beach Bar on the end of a 40-ft dock stretching into the waters. Offers fishing trips on the Cayuca boat. Reef snorkel a few hundred meters from the dock, bring your own snorkeling gear, or rent a package for $5 a day. Camp on the beaches of Asylum for free with your own equipment, or rent a camping package for $5 a night. Local residents of Roatán can utilize the camping packages for free. Asylum's Mermaid Grill will cook any fish you catch and prepare a meal for you.

phone: +504 445 5140

address: West Bay

Lounge style feel with changing rooms, showers, and beach beds. Free Wi-Fi.
Gio's, French Harbor. One of the nicer dining experiences on the island. It's a longtime mainstay for expats and islanders who can afford to dine out. Seafood is the specialty of course.

Hole in the Wall

address: via Jonestown

All-you-can-eat lobster and steak on Sun and Wed. This restaurant is a hidden gem on the island. It is very popular with the people who own vacation homes on the island. It is low-key, and has some of the best food offered on the island.

phone: +504 9936-5223

address: Mangrove Bight

The only Indian restaurant in Honduras. Progressive Indian cuisine. Air-com dining and year round sunset views. Reservations required.

phone: +504 9978-6955

address: Main Road, West Bay

Sushi. Quiet, romantic and away from the 'boom, boom, boom' of the beach. Reservations required.

Smugglers Beach Bar & Grill

phone: +504 9861-0826

address: West Bay

Serves Monster Nachos with choice of chicken, steak or lobster. Also lobster burger & fresh quesadillas.

The Thirsty Turtle Beach Bar & Grill

phone: +504 2445-5005

On the beach with plenty of room at the covered bar as well as at outdoor tables, large flat-screen TV, cold and blended drinks, and island-style fresh fast food. Activities almost every night include karaoke, crab races, fire dancers, live music, trivia.

Hot Dog Hut

phone: +504 9712-4305

address: West End

Serves hotdogs, chili dogs, chicken salad sandwiches and daily specials. Offers a variety of toppings such as tequilla caramalised onions, Habanero aioli and sauerkraut.

Pizza Mira Bella Napoli

address: Sandy Bay

Brick oven fired Napoli style pizza available with a variety of toppings including gorgonzola & broccoli.
Drink
Roatán boasts a wide array of experiences for night life, depending on your taste. Since the arrival of cruise ships, prices have risen somewhat, and restaurants and bars cater to cruise passengers as well as North American and European tourists. These types of establishments are relatively easy to find, as they are mostly located in and around the West End. Prices here are generally higher than in most other places on the island.
The best part about drinking in the west end is the pub crawl that occurs almost every night. Its virtually mandatory to start at Sundowners and enjoy drinks whilst watching the sun go down over the beautiful bay in front. When Sundowners shuts at 10PM the whole bar shifts about 50 m down the street to kick on at the Purple Turtle where you can enjoy live music out the back. The Purple Turtle closes at midnight and from here most people continue on to the Nova Bar, (or the Twisted Toucan's) which will be the joint to party at and where you will meet most of the locals in the region, this being a favorite haunt. Most people go home from here, but if you really are feeling like an adventure grab a group of friends and head down the beach to FuBar.
phone: +504 2445-5048

address: West Bay Beach Mall

Serves coffee and cold beer. Pastries, sandwiches, pizza and tapas in a relaxed atmosphere with soothing tunes. Fully licensed, with a large selection of wine and spirits. Free WiFi. A 2-minute walk from West Bay Beach.

La Sirena

address: Camp Bay Beach

Sunday barbecue with cold beer. A palapa bar/restaurant built over the water, good if you are on the less populated east end of the island.

FuBar

Foster'sDJ. Good on Fridays.

Nova BarHaunt of locals who stay out late.

Purple TurtleLook out the back for live music.

SundownersGood place to start the night.

Booty BarCaribbean Pirate themed bar. Mix of locals, expats and tourists. Great sunsets. Happy Hour 5PM-9PM every day. Good for dancing after 9PM.

Turtle Shack Cafe

phone: +504 8950-7588

address: Calabash Bight

A water access only restaurant on the largest bay on Roatán. Seafood gumbo to cheeseburgers, cold Honduran beer and fruity island drinks. Boat transportation provided from Oak Ridge. Also a great stop for those on the mangrove tour.

phone: +504 99584719

address: Sandy Bay

Rustic Honduran surroundings, spacious tables and the best ocean views, sunset drinks, food menu also available.
Sleep
There are excellent accommodations ranging from US$4-400 per night. Condos are available as are beach cabanas. Note the quoted prices usually do not include 16% tax, so plan accordingly.
Budget
Coconut Tree Hotel (West End, Half Moon Bay)

phone: +504 2445 4081

Great accommodations for travelers on a budget. All cabins have air-con and a refrigerator. Cabins in West End & West Bay. Associated with Coconut Tree Divers.

Coconut Tree Cabins (West Bay)

phone: +504 2445 4081

phone: +504 9929-4720

phone: +504 3335-5409

address: East End

Rustic eco-lodge, small casitas with kitchenettes, bunk lodging and package pricing including diving and lodging. New fishing and diving boats, numerous activities; diving and kite boarding, strolling through the gardens, and tasting homemade jams and jellies. Includes the Crow's Nest restaurant. Backpacker dorms with bunk beds and common bathrooms. Casitas – cabin style rooms with double beds and private bathrooms. Condo style rooms with double beds and private bathrooms.

West Bay B & BClean, quiet, and affordable rooms located just one block from the west bay beach. Air-con, TV, DVDs to borrow, beach gear to rent, internet cafe. The owner, Glen, is fantastic and very accommodating, and he also cooks breakfast every morning.

Buena Onda Hostel

address: Down a short dirt road, near the Petrol Station, West End

The only hostel in the West End. Located a 5 minute walk from the beach strip. Offers dorm rooms and private rooms, a nice large common area, kitchen and free WiFi.
Mid-range
address: Carretera Pavimentada Principal, Sandy Bay, Honduras

Private cabanas on the palm studded hillside and lagoon. Serene and peaceful with views of the ocean. Diving available on site.

phone: +504 2445-5005

Clean bungalows on a beautiful beach, free use of kayaks, restaurant, breakfast is included.

phone: +504 8916-8704

address: Port Royal

Eco lodge offering diving, fly-fishing and eco adventures. The lodge has access to some of Roatán's healthiest reef. Great base for exploring the caves of Helene, hiking the island of Morat and visiting the pristine Pigeon Cayes. Accommodation is in over-the-water cabanas each with a private dock, swim ladder and hammock.

phone: +504 2445-5069

address: West Bay

Renovated air-conditioned bungalows surrounded by lush tropical plants, mango and avocado trees. Pool, massages available at Serenity day spa. Candlelight dinner available (6 course meal with a bottle of wine for total of $60 for pair). The price of breakfast at Tasty Tarpon Restaurant is included in the room price. Daily specials are as follows: Monday: French toast vanilla butter & powdered sugar; Tuesday: egg baleada Honduran specialty; Wednesday: banana pancakes, caramelized bananas, bacon; Thursday: egg baleada Honduran specialty; Friday: omelet with cheese, toast & pineapple jam; Saturday: tipico (typical Honduran breakfast); Sunday: waffles with caramelized pineapple & bacon, $2 mimosas. Available TU-Sa 8AM-9PM; Su-M 8AM – 3:30PM.

phone: +504 445 3385

address: Sandy Bat

A beach side resort with 8 cabanas, pool, on-site restaurant & dive shop. Run by a very friendly US expat.

phone: +504 99584719

address: Sandy Bay

Hillside cabanas nestled in tropical flora and fauna, private swimming pool, ocean view bar & restaurant, diving & various other activities available.

Seadancer Villas

address: Sandy Bay

A beach front oasis with 6 Villas each with 2 bedrooms, full kitchen, living room and balcony overlooking ocean. 400 foot private dock for great reef access. Week, month or long term rental.
Splurge
Go next