Robben Island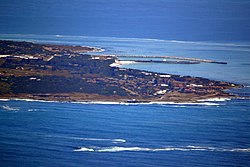 Robben Island
is in the
Western Cape
of
South Africa
, approximately 7 km off the coast and 12 km from
Cape Town
harbour. This island is a
UNESCO World Heritage Site
.
Understand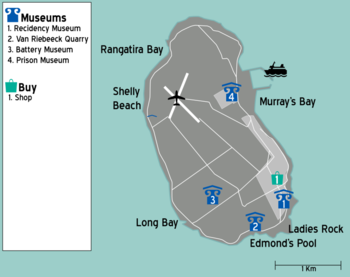 History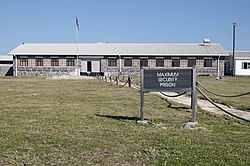 The island was discovered by Europeans in 1488 when Bartolomeu Dias reached Table Bay.
Soon afterward it was put to use as a prison by the
Portuguese
,
British
and
Dutch
. From 1652 the island also served as a refreshment station for ships that did not wish to visit the mainland.
In 1658 the island saw its first political prisoner, Autshumato, who was repossessing livestock that was stolen by the new European settlers. He was tried and imprisoned on the island.
Later the same century a number of people resisting Dutch rule over the East Indies were also shipped to
Cape Town
and incarcerated on the island.
When the British took control of the Cape in 1795 they continued to use the island as a prison and from the middle of the 18th century also used it as an asylum. In 1890 a leprosy colony was established on the island.
The South African Defence Force took control of the island in 1936 and improved the infrastructure by building new roads, a power station and housing.
From 1961 it was again used as a prison, primarily to house those opposed to the apartheid government of the time, notably Nelson Mandela.
Today the island is a museum and tourist attraction.
Landscape
The highest point on the island is Minto Hill at 30 m. A lighthouse is built here.
Flora and fauna
There is a very well established penguin colony on the island, around 13,000 strong.
Get in
Due to limited facilities and conservation efforts, visits to the island is restricted to 1800 people per day. The waiting time to visit the island can be up to two weeks, so if you plan to visit make sure that you book as soon as you arrive in Cape Town to avoid disappointment.
Expect to spend 4-5 hours for the ferry trips and the tour.
By ferry
phone: +27 21 413-4220

Ferries leave the V&A Waterfront in Cape Town three times a day. Trip time to the island is about 30 minutes. Be sure to book the trip to Robben Island in advance as the tours are usually booked up for several days ahead. Tickets can also be booked online via the Robben Island Museum website.
By helicopter
Fees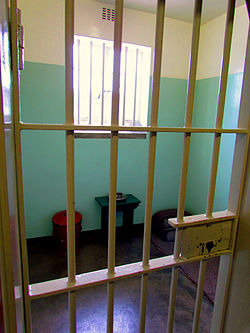 Ferry trip and admission is R360 (R180 for children under 18 years) (July 2018).
Get around
On foot
The island is small, about 4.5 km long by 2.5 km wide.

By bus
A tour bus is operated on the island.

See
History
The prison where Nelson Mandela spent 18 years of his life.
Shipwrecks
Chanson de la Mer, (1986) at Shelly Beach
Han Cheng 2, (1998) in Rangatira Bay
Sea Challenger, (1998) in Rangatira Bay
Fung Thu, (1977) on the South of the island