Rocky Mountaineer
The
Rocky Mountaineer
tourist train is a privately-owned rail service through the heart of the
Canadian Rockies
. Its original main routes were
Vancouver
-
Banff
-
Calgary
and
Vancouver
-
Jasper
. A third route between Whistler and Jasper was added in 2006. On these routes, each trip is two days long with an overnight stay at a hotel en route because the Rocky Mountaineer does not travel at night.
Additional routes have been added over the years, including circle tours and connections to
Seattle
.
As a tourist train, Rocky Mountaineer tends to be more expensive than federally-owned VIA Rail on routes (such as Vancouver-Jasper) where both services are available. This is unfortunate, as cutbacks to VIA service have left this private, seasonal tourist train (and the limited, $8000/person
Royal Canadian Pacific
tourist train) as the only intercity passenger rail providers to
Calgary
, one of the five largest cities in
Canada
.
Routes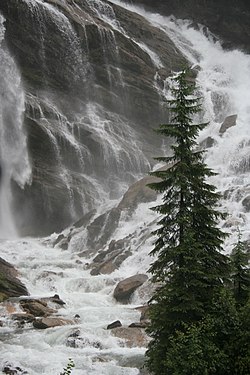 There are four routes depending on the itinerary, with all destinations leading to the Canadian Rockies:
The Coastal Passage starts from Seattle to Vancouver and then the Rockies.
Rainforest to Gold Rush starts from Vancouver then heads north towards Whistler and Quesnel, before terminating at Jasper
Journey Through The Clouds runs between Vancouver and Jasper, via Kamloops
First Passage to the West runs between Vancouver and Banff, via Kamloops
Rocky Mountaineer also sells
a tour
that lasts for a couple days. If you wish to see all of the Rockies, for example, you will get off at either Banff or Jasper and they will arrange a tour along the Icefield Parkways using their own coach between both cities, and take a train back to Vancouver after a couple of nights. Some itineraries can also include a cruise to the Alaskan panhandle or to
Victoria
at Vancouver Island. If you wish not to do a round trip, you can choose to start and end at either Vancouver or Calgary.
Prices for tours in Silver Leaf range from $3200 for a self-drive option that ends in Calgary to $6000 for a round trip from Vancouver and cruise option; add 30 to 40% to the price for trips in Golden Leaf class. If you wish to do the rail segment only, it will cost from about $1400 for a two-day rail (Vancouver-Rockies) with overnight stay and meals included.
The first day from Vancouver through the Fraser Valley and Fraser Canyon leads into fairly pastoral country with a lot of lakes, which changes to a much drier desert-type region approaching Kamloops. During this second day's travel, the scenery rapidly becomes mountainous and the train travels along the Bow River Gorge and into the Rockies. The trip runs in both directions, departing Vancouver, Banff, Jasper and Calgary each Tuesday, Thursday and Sunday from the beginning of April until the middle of October.
Trains depart Whistler and Jasper on Tuesday, Thursday and Saturday but not as frequently.
Classes of service
The Rocky Mountaineer offers two classes:
Silver Leaf
and
Golden Leaf
. The Red Leaf, which is supposedly a class below Silver Leaf, was eliminated in 2015. All classes include large windows for a splendid view and photograph opportunity, and feature gourmet meals and free flow of both alcohol and non-alcoholic drinks
Silver Leaf passengers get to sit in a single-deck carriage at the front of the train. All you need to do is sit down and let the views pass by the oversize window before your eyes while having your food and drink in front of you.
Golden Leaf passengers travel in a double-deck car at the back of the train. A dedicated sitting area with oversize dome windows is upstairs while dining is done on the lower deck (such as scrambled eggs with smoked salmon, and lobster eggs Benedict for breakfast.) Access to the Golden Leaf dome seating is by way of a spiral staircase or an elevator for people with disabilities. It also includes an observation platform at the end of each car so that anyone can stand outside, breathe in the fresh mountain air while taking pictures without the glaring effect of windows.
As the train stops overnight, all passengers are to stay overnight in hotels which are divided by their class of service.
On the Vancouver-Jasper run, the Rocky Mountaineer travels only during daylight hours while the competing Via Rail service is an overnight train running three times weekly (depart Vancouver 5:30PM, arrive Jasper 11AM; depart Jasper 3:30PM, arrive Vancouver at 7:50AM). This usually means tourist train passengers see a whole lot more, but at the expense of an extra night's hotel stay. During the summer, days are 16 hours long and one can actually see a lot of scenery on the Via train. If you have your heart set on sleeping on the train, Via Rail is the way to go.