Rocky Mountains (Canada)
The
Rockies
are a region of
Canada
that more or less form the border between the provinces of
British Columbia
and
Alberta
. The roads and railway routes here are amongst the most beautiful in the world. Much of the Rocky Mountains of Canada lie within various national and provincial parks. The Canadian Rockies continue southward, as the
American Rockies
.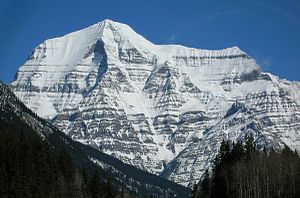 Regions
Cities and towns
Alberta
, not in the Rockies, but the closest major city and airport to them.
, oldest and most famous resort town in the Canadian West.
, newer cousin to Banff.
, a series of small, former mining towns which amalgomated, less touristy than Banff or Jaser.
, gateway to Jasper park.
, hub of Jasper Park, less crowed alternative to Banff.
British Columbia
, main town in southeastern BC, complete with a small airport.
, right in the Rockies, famous for skiing and snowboarding.
, increasingly popular resort town.
, sporting town with ski resort, outdoor skating trail, and outdoor curling tournament.
, former mining town, now known mostly for German-themed kitsch and mountain biking trails
Other destinations
, the granddaddy of all Canadian national parks. A world-famous destination since 1885.
, wilderness area centred around the hamlet of Nordegg along the David Thompson Highway (Highway 11)
, northern cousin to Banff, with all the scenery and half (or less) the traffic.
, not a national park, and therefore not as famous, but also full of mountain scenery.
, home to the tallest peak in the Canadian Rockies.
, southern Alberta park with resort town and a lake that stretches into Montana.
Understand
The history of the Canadian Rockies - like that of so much else of Canada - is based in the fur trade and the railway. The first Europeans to view the Rockies were a ramshackle collection of pioneers who ventured there on behalf of their respective fur trading companies. Most significantly, David Thompson ventured through Howse Pass on behalf of the North West Company in 1804, establishing Kootenay House, near what is now
Invermere
.
In 1871, Canadian Prime Minister Sir John A MacDonald convinced British Columbia to join Canada with the promise of a national railway that would connect it to the rest of Canada. The Canadian Pacific Railway was completed on November 7, 1885, and the last spike was driven in Craigellachie, BC.
In the following 50 years,
Banff
,
Jasper
, Waterton, Yoho and Kootenay National Parks were established, and the area became a tourist destination. The gorgeous scenery and unblemished wilderness are but some of the reasons that most of the area is a designated
UNESCO World Heritage
Site and draws millions of visitors every year.
There is wide variability of atmosphere throughout the area.
Banff
and
Lake Louise
are likely the most developed towns, while the villages of
Field
and
Elkford
attract more through their natural splendour than via any attractions within the communities themselves.
The region is probably one of the most scenic in the world between the spectacular mountains, widespread forests and glacier fed lakes. The weather in the summer tends to be hot (30°C) and sunny. In winter it is colder at around -15°C and fantastic for skiing at the area's many resorts.
Talk
The people living in this area are Anglophone Canadians and therefore speak English. Canadian National Parks are operated under Federal jurisdiction, and therefore have signs, brochures and (theoretically) all services in French, as well as understandable pictograms. Banff is a major international destination, and the tourist industry recognizes the role of international visitors; tourist services are usually available in Japanese and German, and increasingly in languages such as
Mandarin
and Spanish.
In the Canadian Rockies, Banff townsite is the most foreign-language-friendly, followed closely by Lake Louise. Jasper is the next best bet, with travellers advised to check before travelling to smaller or more remote sites such as Radium, Field, Waterton and Kananaskis.
Get in
By plane
The closest international airports are located in
Calgary
and
Edmonton
. Some travellers arrive into
Vancouver
either fly to the regional airport in
Cranbrook
or drive to the Rockies.
There are tour operators that transport passengers between
Edmonton
and Jasper via Train and Bus.
By car
Banff is about a 2-hour drive from
Calgary
.
Jasper
is about 3 hours from
Edmonton
. Either one is about a 10- to 12-hour drive from Vancouver. The highways from
Vancouver
run through alpine passes, and can be closed or slowed due to avalanches, accidents or other such problems. Closures are most common in winter, which is roughly from October to May. Drivers with little or no winter driving experience are cautioned against long alpine drives in snowy, icy or cold conditions.
By rail
Via Rail offers
service into the Canadian Rockies
via
Edmonton
or
Vancouver
.
The
Rocky Mountaineer
tourist rail service is a beautiful way to get to the Rocky Mountains and to see many spectacular sights from the dome car.
Get around
There are a number of extremely scenic highways through the Rocky Mountains.
Do