Rodeo (event)
Rodeo
is a combination of competitive sport, and performance art, traditionally held in cattle-herding districts in
North America
,
South America
and
Australia
.
Events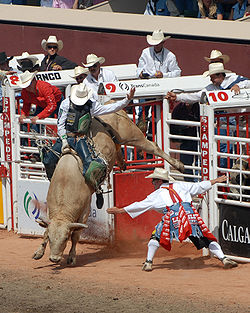 Asia
The only "real" rodeo event in Asia is reportedly Rodeo Masbateño, taking place every April in Masbate, Philippines.
North America
Rodeo celebrates the lifestyle of the Old West, and is the state sport of Texas, South Dakota and Wyoming.
The Calgary Stampede, a popular ten-day event held every July in Alberta, is a rodeo, exhibition and festival.
The Grand National Rodeo, Horse, and Stock Show in Daly City is also a county agricultural fair and popular with an urban audience.
The National Finals Rodeo, taking place in Las Vegas each December.
The Pendleton Round-Up, held since 1910, draws 50,000 visitors to the town each September.
Professional Bull Riders (PBR) runs events solely in the rodeo discipline of bull riding. PBR has three levels of tours in the U.S., with the top level now known as the Unleash the Beast Series. The company also runs national tours in Canada, Mexico, Brazil, and Australia. The season ends with the PBR World Finals, also held in Las Vegas in late October or early November.
Oceania
Mount Isa Rotary Rodeo is the largest one in the Southern Hemisphere.
South America
See also