Roermond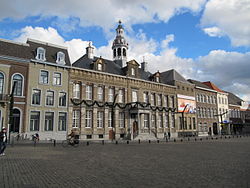 Roermond
is a city in the
Dutch
province of
Limburg
. Located at the point where the rivers Meuse and Rur meet, Roermond was a historically prominent town and a trade centre. It gained its city charter around 1231 and became the seat of the Roman Catholic Diocese of Roermond in 1559. In the protected city centre you'll find today, many monuments and several churches remain, making Roermond an interesting town to visit. Its location along the so-called
Maasplassen
, a 3000-hectare area of lakes, streams and canals makes it a popular destination for water sports and also yachts, and it has a number of good marinas.
Understand
Roermond receives a large number of visitors every year, and is a rather well known destination for Dutch, German and to a lesser degree Belgian tourists. Apart from the water sports facilities and historic centre, this is also due to successful efforts to turn Roermond into a prime shopping centre for the larger region. The large Designer Outlet Centre, opened by McArthurGlen in 2001, alone draws in some 3.75 million visitors per year. The city centre has also been praised for its ample shopping facilities, and as shops are open on Sunday, Roermond draws in plenty of daytrip visitors from all directions, including many Germans.
Tourist Information Office (VVV)

address: Markt 17

The VVV office provides information, can assist in booking of hotels or activities and sells or distributes a collections of maps and informative publications. This is also the place to book boat trips or guided tours.
Get in
By car
Roermond is well connected by road, and several major access roads have been upgraded or newly made in the past years. The
A73
highway passes the town via tunnels, providing fast connections to the south (directions of
Maastricht
, joining the A2 after some 10 km) and north (direction of
Nijmegen
). There's a connection to
German
(direction of
Düsseldorf
) in the west via the
A52
. For the direction of
Weert
,
Eindhoven
and other north or north-west destinations, the provincial N280 road connects the centre of Roermond the
A2
. The N271, also a provincial road, is the best connection to
Venlo
.
By train
Roermond railway stationThe train station is close to the city centre and is served by quarterly fast intercity trains operated by NS and by commuter trains to smaller destinations in the region, operated by Arriva. The fast intercity to the south (Sittard, Maastricht and Heerlen) leaves 4 times per hour, usually from platform 1 (but always check.) In the other direction the same connection runs to Weert, Eindhoven, Utrecht, and Amsterdam. Usually it leaves from platform 2. The typical travel time to Amsterdam takes 2 hours, Maastricht and Eindhoven are served in 30 minutes.
A slow train to
Venlo
(22 minutes) also runs twice per hour, stopping in
Swalmen
,
Reuver
and
Tegelen
. Also southbound there are 2 local trains per hour.
By bus
The bus station is at the train station, and serves as a starting and ending point for many lines circling the city and connecting it to nearby villages. Special bus connections are available to transfer shopping visitors from the town centre to the Outlet Centre, Retail Park and House and Garden Boulevard. Bus lines are operated by Veolia.
If you're flying in,
Schiphol airport
,
Eindhoven
airport and
Maastricht
-Aachen airport are all nearby. Alternatively, consider airports across the German border. Especially
Düsseldorf
(
DUS
) is nearby and has many international flights.

Get around

Much of the old town is car-free. Here, it's easy to navigate on foot. There are a few parking garages, but alternatively, plenty of parking is available at the Designer Outlet Cente. From here, special buses run to and from the city centre, as well to other shopping centres in and around Roermond.

See
The city's rich history and religious prominence is well visible through the many monumental buildings in the city centre. There's a wide selection of churches, chapels and abbeys, but also the historic city hall and a large number of monumental houses. Just strolling through the old town will allow you to see some of the best examples, but if you're really interested, a guided tour (to be booked ahead via the tourist office) is a good way to see the best of Roermond history. Some of the major sights include:
St Christoffelkathedraal

address: On the central market square.

Dedicated to St. Cristopher, this Gothic cathedral was built in the early 15th century and became a cathedral in 1661. It is a major feature in the city skyscape and a national monument. Significant changes were made when the structure was rebuilt after substantial damages in World War II.

Musterkerk

address: Munsterplein

This Late Romanesque Our Lady church originates in the beginning of the 13th century and is one of the most prominent examples of this kind of church architecture in the country. It was built as part of an abbey for Cistercian nuns, but is now the only remainder of that structure. In the mid-19th century, extensive restorations were carried out by famous local architect Pierre Cuypers. He demolished the baroque clock tower and replaced the 8-sided towers by square ones. His changes were controversial, but although the neo-gothic interior he placed was removed later, the outside changes remained. When the church sustained great damage after a 1992 earthquake, it was restored according to the Cuypers (exterior) design. The decorated kiosk outside the church was built in 1888, belongs to the church and is listed as a monument too. So is the 1752 stone water pump you'll notice on the square, but this used to stand in the Steegstraat and is unrelated to the Munster church.

Stadhuis

address: Markt 31

The city hall is one of the most prominent buildings on the market square. It got its current facade around 1700 and was restored and changed by famous architect Carl Weber in 1876. The little tower has a carillon and every day at noon a group of images turns around it.
Do
Water sportsThe Maasplassen were formed through the extraction of gravel, and it is now the largest recreational water sports area in the country. All kinds of activities take place here, including sailing, windsurfing diving, water skiing and swimming. There are several beaches, popular in summer, with restaurants and other facilities. Dagstrand De Weerd is the closest one to Roermond, at the outskirts of the city. At a few designated places it's allowed to fish without a fishing permit.
Buy
address: Stadsweide 2

Roermond has turned shopping into a tourist activity. Follow the crowds and shop till you drop at the extensive Outlet Centre. With some 120 shops selling brand products at discount prices, this shopping centre is highly popular among Dutch and German visitors. In fact, in terms of visitors, it stands as the second most popular attraction in the Netherlands. It's about a 15-minute walk from Roermond train station. There are shuttle buses to the city centre, but also to major German cities of Cologne and Düsseldorf.
Eat
Plenty of restaurants are scattered throughout town, at the outlet centre and around the Maasplassen. In the city centre, the squares around the two main churches, the Munsterplein and Grote Markt, are both lined with restaurants and (in summer) outdoor terraces. The Munsterplein is especially attractive for an outdoor lunch. Or head to the Schuitenberg, Bakkerstraat, Zwartbroekstraat and Sint Christoffelstraat, which are also heavy on dining options and a good place to start looking.
De Gelegenheid

address: Brugstraat 6

Small place with good food. Personal service is friendly.

Aruna Cuisine

address: Kraanpoort 1

Good quality food, friendly service. There's a pleasant outdoor terrace too.

De Roerganger

address: Roersingel 4

Tasty, good looking dishes. The cuisine is French and international and the staff is friendly and attentive. If you're not picky, try the surprise menu.

Het Gerecht

address: Heilige Geeststraat 27

Simple but tasty dishes. For a set price of €19.95 you can pick 3 courses from the menu. There's parking available.

phone: +31 475520655

address: Stationsplein 16

Friendly and popular pub type restaurant featuring generous servings of only homemade meal choices for a fair price. Lunch 12:00-17:00 and dinner 17:00-21:00.

phone: +31 475 504 219

address: Asseltsestraat 63, 6073 BS Asselt
Sleep
There are ample options to stay in the city but also in the surrounding area, varying from camping spots to luxurious castle rooms. Especially in high season, book in advance, as the most popular places do get full.
Connect
The international telephone country code for the Netherlands is 31, the area code for Roermonf is 0475. If dialing from abroad, use +31 but then leave out the 0 in the area code.
Free WiFi hotspot can be found in the railway station which is close to the city centre.

Go next