Romantic Road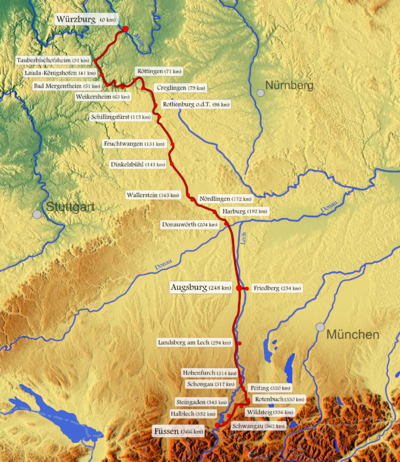 The
Romantic Road
(
Romantische Straße
in German) is a popular tourist route through historical towns in southern
Germany
, from
Würzburg
to
Füssen
.
Cities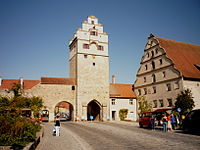 : Most important sights are the Fortress Marienberg and the Würzburg Residence.
, which is well known for its well-preserved medieval old town.
: St. George's Minster and St. Paul's
: Town hall with the "Der goldene Saal"
: Castles Schwangau, Neuschwanstein and Hohenschwangau
The towns of Dinkelsbühl, Nördlingen and Rothenburg ob der Tauber are the only towns in Germany which still have a completely established city wall.
Understand
The term "Romantic Road" was first used in around the 1950s by travel agents in the
America
n-occupied section of
Germany
. The name was known predominantly among American soldiers, who took their families on vacation there. The route is now popular with all nationalities, especially Americans and Japanese. Signs can nowadays even be seen in Chinese.
The places on the path show "quintessentially German" scenery and culture - however it also is quite touristy and may feel somewhat overrated to visitors looking for authenticity. As some say - "it's like a minified
Prague
, but the number of people is the same".
While the whole route only passes through one federal state from north to south (Bayern or Bavaria) people in the northern part (Würzburg, Rothenburg ob der Tauber) might consider themselves as Franconian rather than Bavarian and people in Augsburg might say they are from Schwaben (swabia) rather than Bavaria. Although getting this wrong shouldn't cause major offense, keep in mind that many Germans are prouder of their region than their country and don't want to be "misidentified".
More info can be obtained from the
Touristik Arbeitsgemeinschaft Romantische Strasse
, Waaggässlein 1, D-91550 Dinkelsbühl, phone
+49 9851
551387, (info@romantischestrasse.de).
Some of the destinations on the road were part of the
Grand Tour
in early modern times.
Talk
German
is spoken along the Romantic Road, though it may be strong on the Swabian dialect in the region around
Donauwörth
.
Get in
By plane
The most logic major international airports to enter or exit the road are
Frankfurt airport
(direct ICE to Würzburg) and
Munich airport
(less frequent connections to Füssen).
Nuremberg
also has an airport with some international connections, although none of them come from the Americas.
By train
While Würzburg has excellent
high-speed rail
connections served by ICE, Füssen does not. Most intermediate towns along this road are surprisingly unconnected to major train routes, considering their touristic significance. A good deal for small groups or round trips is the "Bayern-Ticket" (23€ +4€ for any additional person up to five per group) valid from 9 am to 3 am of the following day valid on all regional trains (i.e. everything excluding ICE, IC or EC or to simplify: all red trains but none of the white trains) and many of the local transport systems (bus, streetcar, S-Bahn or U-Bahn)
By bus
Many places along the Romantic road have long distance bus service at least daily. In addition to buses that mostly do the route itself, there are buses to places as far away as
Berlin
from e.g.
Rothenburg ob der Tauber
By organized tour
One of the preferred methods for many Japanese and American tourists, definitely cuts down on the stress while also limiting your possibility to "explore" on your own.
Get around
The
Europabus
operates along the Romantische Strasse between April and October. €58.50 is the adult fare one way from Würzburg to Füssen.
Those with more time on their hands can travel at a more leisurely pace by
bicycle
along the 420-km stretch of road in about ten days. Guided tours are also available to take some of the stress out of the journey—they will take care of your luggage and accommodation, and you can travel in their bus when it rains.
Most of the destinations along the Romantic Road can also be reached by
train
.
See
Do
Walk around the old town walls, visit the medieval torture museum and buy Christmas decorations in Rothenburg ob der Tauber.
Visit the cathedral and sample wines in Würzburg.
Visit the Crater Museum near Nördlingen. NASA trained here for the Apollo space program and as a gesture of gratitude actual rocks from the moon are on display here
See the fairy-tale castle of near Füssen.
Eat
Drink
German beer. Try the Radler (beer mixed with lemonade/soda) if you are cycling (if you are curious the limit for alcohol in your blood when you are driving a car is 0.05%, the DUI limit for cyclists is 0.16% and not enforced nearly as often).
Sample wine from the distinctive Bocksbeutel (a bottle whose name supposedly comes from being shaped like a goat's... bag) in Würzburg.
Stay safe
Observe the road rules.

Go next