Rome/Esquilino-San Giovanni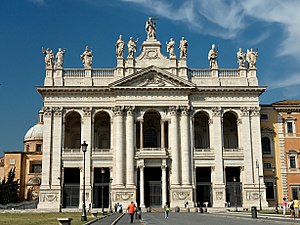 Esquilino
and
San Giovanni
are adjacent neighborhoods in
Rome
.
Esquilino
is named for the Esquiline hill on which it stands. It lies south of the Termini station and centers more or less on the Piazza Vittorio Emmanuele II. It is now partly a Chinese immigrant neighborhood, and specialty groceries and shoe stores abound. (There is also still some disgruntled graffiti to be found lamenting this fact, such as "Esquilino - White and Catholic. Defend it with us.").
San Giovanni
is named after the Basilica, which is the parish church of Rome. The area is south-east of the Esquiline.
Get in

Metro Line A connects Termini station with the basilica of San Giovanni. There are also several buses from the downtown area, best caught at Piazza Venezia or by the Colosseum, where you can connect with Metro Line B.

See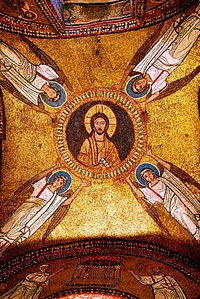 phone: +39 06483195

address: Via Liberiana 27

Built in the 9th century, this ancient basilica crowns the top of the Esquiline Hill. Tons of gold decorate the interior together with impressive mosaics (particularly when the floodlights are turned on), and there is a museum on the premises. If you are in Rome on Corpus Christi (Corpus Domini), which is the Thursday after the 8th Sunday after Easter, an early-evening service is held in San Giovanni by the Pope followed by a procession along Via Merulana to Santa Maria. Good opportunity for a close up view of the Pope.

address: Via di S. Prassede

Fantastic Byzantine mosaics and some other interesting artwork. Not to be missed.

Santa Pudenziana

address: Via Urbana 160

A very ancient church named after a saint who was in 1969 removed from the Roman Catholic calendar of saints for the lack of details of her life. But the church retains the name and is well worth visiting for an excellent 4th-century mosaic and attractive decorations on the facade.

address: Piazza di San Giovanni Laterano

This is the cathedral church of Rome and first of the major basilicas. It's also the Pope's (as Bishop of Rome) Church. As such it ranks above all other churches in the Roman Catholic Church, even above St. Peter's. Be sure to check out the 4th-century baptistery (still in use - in Piazza di San Giovanni, slightly apart from the main basilica) and the medieval cloister (brilliant Cosmati columns)

Scala SanctaThe Scala Sancta (Holy Stairs) is, according to Roman Catholic tradition, the staircase used by Jesus Christ to approach Pontius Pilate to be sentenced to death. Attracts numerous pilgrims who climb the stairs on their knees.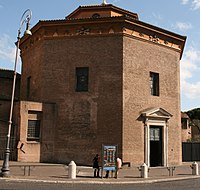 address: Piazza Santa Croce in Gerusalemme, 12

It was constructed to hold relics of the Passion of Jesus. They include two thorns of his crown, part of a nail and three small wooden pieces of the Cross. The authenticity of these relics is much disputed, however.

National Museum of Musical Instruments

address: Piazza Santa Croce in Gerusalemme, 9/A

Next door to Santa Croce. A collection of around 3000 pieces, although only a third of these are displayed.

address: Via Tasso 145

This small museum records the liberation of Rome from German occupation during the Second World War. During the occupation the building was used as a prison. Stair lifts and chair lifts available for wheelchair users (call ahead).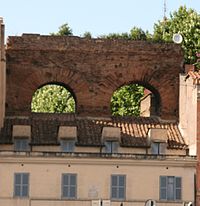 Do
Movies are shown and some performances are held for free in Piazza Vittorio during the summer.

Buy
Mercato EsquilinoAn indoor market of ancient provenance that has moved from its longtime outdoor home all the way round the outside of Piazza Vittorio; it is still only a couple of blocks east of the piazza. The mercato is divided into a food section, with good and cheap produce, meat, and fish, and a clothing section, with clothes of all kinds, shoes, luggage, etc., at low prices and generally not fabulous quality. Get there in the morning for food; it's generally closed by afternoon.
Eat
There are a lot of Chinese and Indian restaurants, but you will also find many typical
trattorias
.
phone: +39 06 4464740

address: Via Principe Eugenio 65

Ice cream: not as marvelous as Giolitti or San Crispino but still worth trying. Prices are reasonable, quality good. Old ice cream making equipment on display.

address: via Machiavelli 5

Good value Sardinian fish restaurant. Seafood antipasto, three pasta dishes, grilled fish and dessert for around Euros 40. Don't try to order, just let them bring it to your table. Excellent Sardinian wines extra.

address: Via Merulana 54

Very upmarket (with matching prices) baker. Great window displays but you may find the taste doesn't match the appearance.
Drink
The area around Santa Maria Maggiore is the main area in Rome for
Irish Pubs
:
address: Via dell' Olmata

The oldest Irish pub.

Druid's Den

address: Via San Martino ai Monti 28

address: Piazza Esquilino 1

The sister pub of the Druid's Den.
Sleep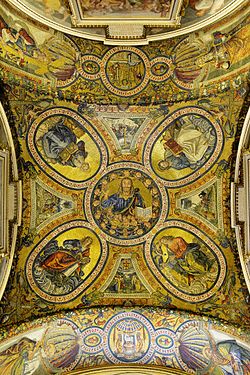 Budget
Mid-range
Splurge
phone: +39 06 444 841

address: Via Filippo Turati, 171 IT-00185

This hotel on Esquiline Hill has 232 rooms.
Go next