Rome/Modern Center
The
Modern Center
of
Rome
, home to the Via Veneto, Quirinale, Castro Pretorio, Repubblica, and Trevi neighborhoods, is the city's hub of activity, especially shopping and nightlife. It's also home to a
huge
assortment of hotels, and it's likely that you'll be staying here, despite the fact that most of Rome's historic attractions are elsewhere.
Get in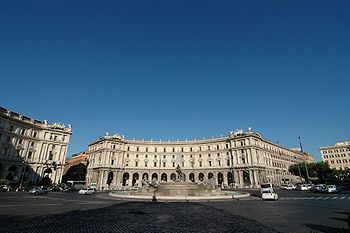 The Modern Center of Rome is not hard to find as the Termini Station brings you into the west edge of it. As you leave the station, the Castro Pretorio neighborhood is to your right, with many smaller hotels. To the left the main roads of Via Cavour and Via Nazionale lead down the hill. Larger hotels here, catering more for groups than independent travellers.
Termini Station is a major bus hub with buses to all parts of town. Beware taxi drivers who operate at the station as it seems to attract the most crooked ones. Get a cab from the rank and ignore the drivers who solicit you outside the station. Always insist that you see the meter is turned on after you get into the cab. No matter what time of day or night the starting price should never be more than €6 (during the day less) and a figure 1 on the meter should indicate that the correct rate is being applied. A legitimate extra fee of €2 is levied for all rides beginning at the station.
See
Trevi FountainCompleted in 1762 to a design by Nicola Salvi, this spectacular Baroque fountain features a mythological sculptural composition of Neptune, god of the sea, flanked by two Tritons: one Triton labours to control a violent sea-horse, the other controls a pacified creature, both symbolising the dual nature of the world's oceans. The location of the Trevi fountain marks the terminus of the ancient Aqua Virgo aqueduct, completed in 19 BCE in order to supply the Baths of Agrippa, and is so named on account of its position at the junction of three roads (tre vie). The legend says that one who throws a coin in the fountain shall one day return to Rome. The coins in the fountain are regularly collected to finance charities. The fountain has been made even more famous by the 1954 film, Three Coins in the Fountain, and by a famous scene in Federico Fellini's film La Dolce Vita. According to popular superstition and custom, throwing coins with one's right hand over one's left shoulder into the Trevi Fountain is a practice endowed with good luck. Throwing one coin ensures that the thrower will return to Rome; throwing two coins will ensure that the thrower will fall in love with a beautiful Roman girl (or handsome boy); throwing three coins, finally, ensures that the thrower will marry that girl or boy in Rome itself.

Via VenetoIt was immortalized in 1960 by the Federico Fellini film La Dolce Vita. It is also the location of the US Embassy, in the massive Palazzo Margherita. Via Veneto went into a period of decline in the 1980s but has returned to popularity and the roadside cafes are the place to be seen if you are into that sort of thing.

Servian wallsRemains of the first city walls, built in the early 4th century BC and attributed to king Servius Tullius.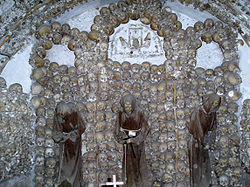 address: Via Veneto

Built after 1631, the crypt of the church contains a macabre display - a series of chapels decorated with the bones of 3700 dead friars. The bones are glued to the walls and ceilings in bizarre and striking decorations.

Le Quattro Fontane

address: Intersection of Via delle Quattro Fontane and Via del Quirinale

Four fountains from the time of Pope Sixtus V when much of Rome was redeveloped. A reclining deity is the theme of each sculpture. This is a busy intersection and if you don't look twice you may miss these exquisite examples of Roman mythology.

Palazzo Massimo

phone: +39 06 39967700

A magnificent collection of ancient Roman sculptures, mosaics and wall paintings, including the famous paintings from the Imperial-era villa discovered under the Villa Farnesina, as well as the dining room from the Empress Livia's villa at Prima Porta. Located across the piazza from Termini, opposite the Baths of Diocletian.

Rome's National Museum at the Baths of Diocletian

address: Via Enrico de Nicola 79

On the site of the Roman baths this museum houses an enormous collection of statues, etc.

phone: +39 06 482 4184

address: Via Quattro Fontane 13

This remarkable building, designed partly by Bernini, houses the National Gallery of Ancient Art, and includes some famous paintings by Filippo Lippi and Caravaggio, as well as Raphael's "La Fornarina".

Piazza BarberiniWith Bernini's famous Triton Fountain. Via Veneto starts here too.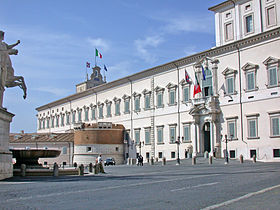 Do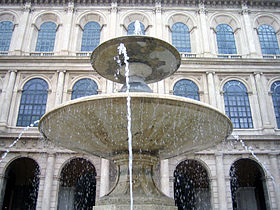 address: Via Nazionale 194

Rotating exhibitions, usually three at one time. Exhibition descriptions normally provided in both Italian and English. Avoid Sunday morning, when the Romans go, as queues to get in can be long.

address: Via XXIV Maggio 16,

Former stables of the Quirinal Palace, now an exhibition centre that usually hosts some excellent art shows.
Buy
For a little bit of shopping, the Via Nazionale is perfect: souvenirs, clothes, Italian shoes, etc. But the main attraction is without a doubt, the Via Veneto.

Eat
al Piccolo Arancino

address: Vicolo Scanderberg 112

Small restaurant with a lot of Italian guests (but they are tourists, not romans...) and moderate prices.

Aquila Nera, Ristorante Pizzeria

address: Via Principe Amedeo 49-5

A street side restaurant with excellent food, attentive service and warm atmosphere. Eat outside or inside, depending on the weather. Try the fish fillet baked in potato which should please anyone who likes fish - it is excellent. Their marketing says they are a pub, perhaps to pull in tourists hankering after home but this is an Italian restaurant. The waiters hustle passers by into becoming satisfied diners. The white table cloths, linen and cutlery are presentable. The menu is varied and does not stress Pizza, though they do have it. There are a variety of meat and fish dishes and pasta. The house wine is modest but good value. There seems to be no wine list.

phone: +39 06 48 81 107

address: Via Genova, 32

The chefs here make a relatively small but amazingly good pizza. The calzone, one of their specialities, is excellent too. The staff speak English, and this is one of the few places where there are both plenty of tourists and very good food. Reservation is advisable. To cause confusion, there is another EST,EST,EST pizzeria in the same neighborhood.
address: Via della Panetteria 42

Considered one of the best ice creams in Rome. Check out the meringue ice creams and the fruit sorbets according to the season.

Castroni

phone: +39 06-20369680

address: Via Nazionale 71

Coffee bar upstairs, delicatessen downstairs. Stocks all sorts of imported food products to satisfy the homesick traveller.

Gelateria Blue Ice

phone: +39 06 67 96 762

address: Via delle Muratte 18a/19

An excellen ice-cream, one minute walk from Fontana di Trevi
Drink
Dagnino Tea Room, Galleria

phone: +39 064818660

address: Esedra Via V. Emanuele Orlando 75

If you haven't tried a "Cannolo" or a "Cassatina" then get one here, they are simply great. Don't sit at the tables (it's pretty expensive) just take them away. Good pastries too.

Harrys BarYou can't visit Via Veneto and not go to Harrys Bar, immortalized in Fellinis' La Dolce Vita Harrys' is now a swanky upmarket bar/eatery where celebs can still be spotted. A piano bar. Sometimes guest artists availed themselves of the piano and entertain the patrons. For example, Australian Pianist Fiona Cohn played there.
Sleep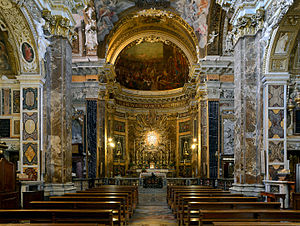 Budget
Mid-range
Splurge