Rome/Nomentano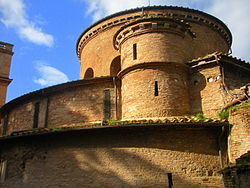 Nomentano
is a district of
Rome
.
The
San Lorenzo
neighborhood is a student area south-east of
Rome
's main train station (Termini). It has a small street market (food, clothing), unpretentious cafés and is a major centre of Rome's night life.
Get in
The Nomentano area is easily reachable by bus from Termini Station (90) from Piazza Venezia or via Nazionale (60) or by Metro Line (stops: Castro Pretorio, Policlinico, Piazza Bologna, Tiburtina).

See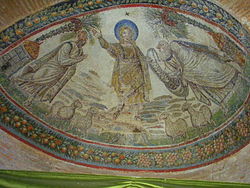 address: Via Nomentana 349

This church was built by the Emperor Constantine (272-337) as a mausoleum for his daughters Constantina and Helena. It was part of a much larger cemetery complex, parts of which can still be seen. The mausoleum was consecrated as a church and dedicated to Constantina when she became a saint in 1254. The building is circular with an inner arcade resting on pairs of granite columns. It retains some marvellous mosaics from the 4th Century.
Sant' Agnese fuori le Mura (Saint Agnes outside the walls, not to be confused with Sant' Agnese in Agone, to be found in Piazza Navona)

address: Via Nomentana 349

This church was built next to the mausoleum of Santa Costanza in the 7th Century and is on top of catacombs. It is very unusual in that the floor level is at the level of the catacomb floor, and the street entrance is at the level of the second floor gallery. The body of St. Agnes lies in a silver sarcophagus. There are several stories about her death at the age of 13 in 304 AD. One is that the prefect Sempronius wanted her to marry his son, and condemned her to death when she refused. Roman law did not permit the execution of virgins, so he ordered her to be raped but her virginity was miraculously preserved. She was then condemned to be burnt at the stake but the wood would not burn. Another is that she was stripped naked by the Emperor Diocletian because of her refusal to marry but that her hair then grew rapidly to preserve her modesty.
Villa TorloniaA magnificent patrician house with beautiful gardens. Construction of this villa began in 1806. Mussolini rented it from the Torlonia family for one lira a year to use as his state residence from 1925 onwards. It was abandoned after 1945 and allowed to decay but has recently been restored and is open as a museum, the Casino Nobile. The landscaped gardens also contain the Casina delle Civette, 3rd and 4th century Jewish catacombs and thirteen garden pavilions representing exotic parts of the world, as well as an air-raid shelter built into the catacombs for Mussolini.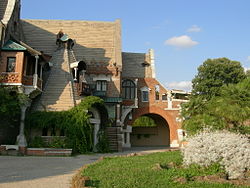 address: Via Nomentana 70

In the first half of the 18th Century the Torlonia family were leading collectors of works of art. This museum brings together some of their collection. You can also see the furniture used by Mussolini when he was in residence, as well as photos and films of him in the grounds of the Villa.
address: Via Nomentana 70

This strange-looking, but delightful, building has undergone several transformations since its original construction as a rustic hideaway from the main villa in the park. It underwent a significant redesign in the early 1900s and again in 1917. The emphasis of the museum is on stained glass. The twenty rooms include 54 pieces of stained glass replaced, after restoration, in their original positions, 18 pieces of stained glass acquired and displayed on separate frames, and 105 sketches and preparatory cartoons for stained glass in churches in Rome.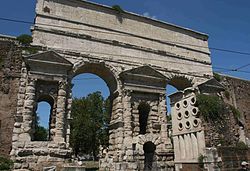 Basilica di San Lorenzo fuori le Mura

address: Piazzale di San Lorenzo

Houses the tomb of St Lawrence. This basilica dates back to the 3rd Century, when the area was already well populated. Surrounding it is Rome's cemetery, the Cimitero del Verano. San Lorenzo was damaged by Allied bombs in 1943 and the facade has been rebuilt.

Porta MaggioreImpressive gate built by Claudius in AD 52 and formed by the arches of two aqueducts. It was subsequently incorporated into the Aurelian walls. Nearby is the "Baker's tomb", erected for himself and his wife by a freed slave who became a rich baker. Note the friezes round the top representing the stages of breadmaking.
Do
Drinking in the open. Do what Romans (students in particular) do: buy a cheap beer in one of the countless bar around and just hang out or stroll, observing people and enjoying the mildness of a Roman evening.
Eat
Drink
Pourquoi!

address: via dei Sardi & via dei Volsci

Impressive selection of (mostly Belgian) beers. A bit on the pricy side (a beer is 5E), but they have a nice buffet for appetizers which comes with your drink for only 2-3E more.
Sleep
Budget
phone: +39 06 44362110

address: Via Dei Reti 27

Guest house in the characteristic neighbourhood of San Lorenzo. Single, double and triple rooms with private bathroom and kitchen. Single: €45. Double: €60. Rates vary according the availability and season.

phone: +39 06-443-62722

address: Viale Ippocrate 91

Metro station 5 minutes on foot/ 10 min walk from Termini, include free breakfast, free linens, no curfew, free internet, free WIFI in all rooms, complete kitchen facilities and utilities, tours and pub crawls.

phone: +39 0644704553

address: Via Marghera 8

Two minute walk from the Termini. Entrance is buzzer-controlled around-the-clock. The decor is clean and fresh, with rooms spacious and outfitted with comfortably firm beds and large pillows. In-room wifi is included in the price, though some basic TCP/IP configuration knowledge is required to manually set IP and DNS addresses. Ingmar, the somewhat overweight hostel cat, freely roams the public area of the hostel, so visitors with cat allergies should be aware.
Mid-range
Splurge
phone: +39 06 44250077

address: Via Nomentana 29

Four star hotel with 47 bedrooms. Also available private bath, breakfast and modern services and facilities. The guest rooms are divided in single, twin, double, triple and suite. Single is €150. Double €200. Suite €300.