Rome/North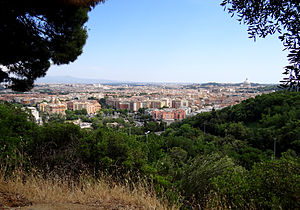 The
North
of
Rome
is comprised of Municipi III, XI-XV.
See
Villa Doria PamphiliA large villa and 180 ha. park that is a major recreation area for Romans, and a popular spot for joggers. One unusual feature of the grounds is the colony of coypus (swamp beavers) around the lake. Natives of South America these ones are descended from some who wisely escaped from a fur farm. There are also colonies by the Tiber.

Monte MarioThe highest hill in Rome at 139m, with sweeping views of the Vatican and Rome across the Tiber.

Olympic StadiumThe stadium is on the west bank of River Tiber, about three km directly north of the Vatican. It is part of a sports complex that was built for the 1960 Olympic Games, including the Olympic swimming pool and the tennis complex where the annual ATP/WTA Italian Open is held. The main stadium holds more than 80,000 and was extensively rebuilt, with a roof added, for the 1990 World Cup (soccer) finals.

address: Isola Farnese

An archaeological site near the ancient Etruscan city of Veii. Veii (or Veio) was a major Etruscan city until its defeat at the hands of the Romans in 396 BC. The Temple of Apollo is located here, which is the site where the famous Apollo of Veii statue was discovered in 1916. These days there is little left to see but a few ruins, although the area has yielded up many excellent artefacts that are now mainly in the Etruscan museum at Villa Giulia in Rome/North Center. The surrounding area is a national park, Parco di Veio, that contains Etruscan ruins that, for the most part, are not easily accessible.
Do
Take in a soccer match at the Stadio Olimpico. The stadium is shared by Rome's two main teams, Rome and Lazio, usually playing there on alternate Sunday afternoons, with occasional games on Saturday or Sunday evenings or midweek evenings. Games between these two clubs are well worth avoiding as they often turn violent but the stadium is rarely full for other matches. However, past crowd troubles mean that you can no longer just turn up: you need to buy tickets in advance at one of the agencies around town, and show some ID when you do!
Eat
phone: +39 06 6574 3230

address: Via Affogalasino, 40

In the natural park Valle dei Casali they have very good meat. They also offer a fixed price menu for pizza (only for more than 4 people) which is good for a large gathering dinner. You need a car to reach the place.

La Pergola

phone: +39 06-35092152

address: Hotel Cavalieri Hilton, Via A. Cadlolo 101

Awarded three stars in the Guide Rouge. The chef, Heinz Beck, is German in origin and has set a style which combines Italian fresh produce with exceptional creativity and presentation. The restaurant overlooks Rome, so be sure to get a table by the window. The wine cellar is exceptional. Expect to have to book months in advance, but the trip is well worth it.

Taverna Pio Bove

phone: +39 06 553 011 35

address: Via Alessandro Cruto 9

Good steak house in the suburbs, but not too far from Basilica di San Paolo fuori le mura.

phone: +39 06 858 00315

address: Via Silvestro Gherardi 51

Kosher steak house.
Sleep
Budget
phone: +39 06 3337264

address: Piazza Monteleone di Spoleto, 20

North of the Tiber. 300 bedrooms.

phone: +39 329-25-74-360

address: Via Edoardo Ferravilla, 4

Adema Bed and Breakfast is located in a quiet area near the underground station Battistini. Just a few minutes from the Vatican and Rome centre.
Mid-range
Splurge