Roorkee
Roorkee
is a small town in the northern
Indian
state of
Uttarakhand
. It is situated approximately 170 km from the capital of India,
New Delhi
.
Get in
By car
Traveling from Delhi, Roorkee is located towards north approximately 170 km. Take the highway NH-58 (Delhi - Haridwar - Sri Badrinath Ji)
, and it passes through Roorkee. The city of Haridwar is located further on the same highway about 29 km from Roorkee. In addition, the Panchkula (Chandigarh) - Yamunanagar - Roorkee NH-73 also serves an important route while coming from Himachal Pradesh, Haryana, J & K etc.
By bus
The main bus depot of Roorkee is located on NH-58. Several buses run from various cities in North India (includes the cities from Uttarakhand, Uttar Pradesh, Haryana, Himachal Pradesh, Rajasthan, Madhya Pradesh, New Delhi, J & K and Punjab).
By plane
Nearest airport to Roorkee is
Dehradun
's Jolly Grant airport which has Air India services from Delhi. New Delhi International Airport is about 200 km away.
By train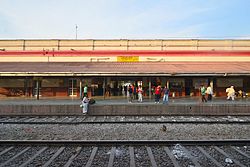 The easiest way to get to Roorkee is by train. The Roorkee city station is located on Kolkata (Howrah) - Amritsar Main Railway Line. There are several trains connecting Roorkee daily from various cities of India.
IMPORTANT TRAINS:
Mumbai (Lok Manya Tilak Terminus) - Haridwar A/c Special S/F Exp.
Mumbai (Bandra Terminus) - Dehra Dun Exp.
Chennai - Dehra Dun S/F Exp.
Kolkata (Howrah Jn) - Amritsar Punjab Mail
Kolkata (Sealdah) - Jammu Tawi Exp.
New Delhi - Dehra Dun A/c Exp.
New Delhi - Dehra Dun Shatabdi Exp.
New Delhi - Dehra Dun Janshatabdi Exp.
Guwahati - Jammu Tawi Lohit Exp.
Gorakhpur - Jammu Tawi Amarnath Exp.
Jamshedpur (Tata Nagar) - Amritsar Jalianwala Bagh Exp.
Ahmedabad - Haridwar Haridwar Mail
Indore - Dehra Dun Intercity Exp.
Sri Ganga Nagar - Haridwar Intercity Exp.
Lucknow - Chandigarh Intercity Exp
Amritsar - Haridwar Jan Shatabdi Exp.
Ujjain - Dehra Dun Ujjayni Exp.
Puri - Haridwar Kalinga-Utkal Exp.
Kochuveli - Dehra Dun Super Deluxe Exp
Jodhpur/Barmer - Haridwar Link Exp.
Okha - Dehra Dun Uttaranchal Exp.
Muzaffarpur - Ambala Cantt. Harihar Exp.
Dhanbad - Firozpur Ganga-Satluz Exp.
Valsad - Haridwar S/F Exp.
In addition, several other express/mail trains, passenger/shuttle trains, summer special trains and festival special trains etc. are also having their stoppages at Roorkee City Station.
Get around

The common ways to get around the City: Vikram Auto Rickshaw and Cycle Rickshaw. Walking is recommended in certain Old City areas.

See
Main building & IIT Campus, IIT Roorkee
War Memorial, Roorkee Cantt.
Bann Ganga Wetland
Himalayan Eco Park, Haridwar Road
Boat Club, IITR, Roorkee
A walk along Canal Banks (Roorkee Haat)
Solani River - Upper Ganga Canal Aqueduct
Walk around Upper Ganga canal near IRI
Civil Lines, Main Bazar, Sapper Bazar etc. for shopping
Temples: Shiv Mandir, Prem Mandir, Saraswati Mandir, Sri Ram Mandir etc.
Shopping Complexes: Vishal Mega Mart, Shiv Complex, Tyagi Market etc.
Institutions:College of Engineering Roorkee, Indian Institute of Technology, Roorkee; Irrigation Research Institute, Roorkee; Irrigation Design Organisation, Roorkee; National Institute of Hydrology, Roorkee; Central Building Research Institute, Roorkee, District Institute of Education and Training, Roorkee; Roorkee School for Deaf and Dumb, Roorkee; Bengal Engineers Group and Centre, Roorkee Cantt. etc.

Jain Mandir

address: Kanoongoyan

Patanjali Yogpeeth

address: New Haridwar Road
Do
Events
# Flower Shows organised by National Institute of Hydrology, Central Building Research Institute, Bengal Engineers Group and Centre, Afro Asian Hoste, IIT Roorkee etc.
# All India Festivals like THOMSO (IIT Roorkee Annual Cultural Show), COGNIZANCE (IIT Roorkee All India Annual Technical Festival), SHRISHSTI (All India Techno Hobby Exhibition, National and International Conferences/Seminars etc.
# Different Business Fairs
# All India Mushaira by Anjuman Farog-E-Adab
# Kanvan Festival during July-August

Eat
Hotel & Restaurants
Motel Polaris
Hotel Godavari
Hotel Centre Point
Hotel Grand Premdoot
Hotel Divine International
Hotel Siddharth
Restaurants
Dynasty
Divine
Rustic
Desi Tadka
Olive
Prakash
Kavery
Mayur etc.
Fast Food Joints
Dominos
Pizza Hut
Patiala Lassi Centre.
Oldy Goldy
Andhe Ke Chole
B.T.Ganj
Punjabi Dhaba, Opp. State Roadways Bus Stand, etc.
Drink
Food
Hotel Center Point Roorkee 01332274050
Coffee
Cafe Coffee Day, Haridwar Road
Nescafe Cafetaria, Near Campus Post Office, IIT Roorkee
Other Coffee Shops and Restaurants
Bars
Hotel Urvashi
Hotel Divine International etc.
Cold Drinks/Lassi etc.
Patiala Lassi Centre
Hapineez, GPO Road etc.
Sleep
Hotel Center Point
Hotel Godavari
Hotel Divine International
Hotel Dynasty
Hotel Urvashi
Hotel Siddharth
Hotel Prakash

Hotel Krish Residency

address: 22, Civil Lines, Near IIT Centuy Gate, Roorkee

Air-conditioned rooms, parking, 24 hours room service. 500 m away from City Bus Stand.