Roses
Roses
is a city in
Catalonia
.
Get in
Empuriabrava AerodromeAirfield in the nearby town of Empuriabrava.
See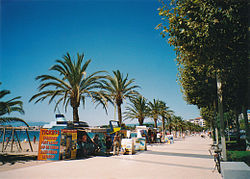 Castrum o Ciudadela visigoda del Puig Rom

Castell de la Trinitat

Castell de la Garriga

Castell de Bufalaranya

Stella Maris

Santa Maria Church

CitadelLarge fortifications in the centre of the city.

Llit de la Generala

Ciste de la Casa Cremada

Casa Cremada menhir

Dolmen del Cap de l'Home

Dolmen de la Creu d'en Cobertella
Do
Kart racing, buggy
Waterpark "Aquabrava"

Beach of CanyellesNice beach for bathing or beach volleyball.
Eat
Budget
Mid-range
phone: +34 972 45 96 87

address: Avinguda de la Platja, 21

Mediterranean cuisine specializing in fresh fish and seafood collected directly in the Bay of Roses.
Splurge
phone: +34 972 256 008

address: Av. Díaz Pacheco 30

1 Michelin star. Creative cuisine, fine dining, great views of the Mediterranean Sea.
Sleep
phone: +34 972 256 200

address: Av. Díaz Pacheco 26

On top of a small cliff between Canyelles and the Bonifaci beach, quite distant from much of the summer crowds.